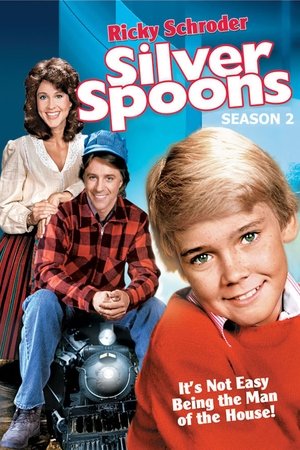 Episodes List
Ep.1

Passports to Pleasure
Air Date: 1983-10-15
Derek and Ricky pick up cheerleaders while in Chicago for a Badger Patrol convention.
Ep.2

Attack of the Giant Frog People
Air Date: 1983-10-22
Derek and JT put frogs in Freddy's sleeping bag during a slumber party. Ricky hurts Freddy by saying that he isn't his friend.
Ep.3

A Fair to Remember
Air Date: 1983-10-29
Ricky impresses his science teacher by doing a project with laser beams. Kate is promoted to Vice President of Eddie Toys.
Ep.4

Hospital
Air Date: 1983-11-12
Edward is hospitalized when he has a gallstone attack.
Ep.5

Mr. President
Air Date: 1983-11-19
Ricky daydreams that he is the President of the United States.
Ep.6

Driver Ed
Air Date: 1983-11-26
While Edward and Kate are away Grandfather tries to teach Ricky to drive.
Ep.7

Menudo Madness
Air Date: 1983-12-03
To impress a girl, Ricky promises to have the pop group Menudo play at his private party.
Ep.8

Happy Birthday
Air Date: 1983-12-10
The family celebrates Ricky's 13th birthday with an evening of arguments.
Ep.9

Sounds of Silence
Air Date: 1983-12-17
Ricky pretends to play in the school orchestra's production of Peter and the Wolf so Edward won't be disappointed that he isn't musical.
Ep.10

Rick the Greek
Air Date: 1984-01-07
Ricky gets in over his head when he, Derek and Freddy bet on football games.
Ep.11

Uneasy Rider
Air Date: 1984-01-14
Ricky manipulates Evelyn into buying him a motor bike after Edward said he couldn't have one.
Ep.12

The World's Greatest Father
Air Date: 1984-01-21
JT's father is offended by how much time Edward is spending with his son.
Ep.13

I Want to Be Alone
Air Date: 1984-01-28
Dexter gets dragged to the country for a camping trip by the family.
Ep.14

Mr. Cool
Air Date: 1984-02-04
Ricky turns punk rocker to try to impress a girl.
Ep.15

St. Louis Blues
Air Date: 1984-02-11
After his parents have an argument, Derek hides out at Ricky's. His mother arrives to take him to St. Louis. ** This is Jason Bateman's final appearance.
Ep.16

A Hunting We Will Go
Air Date: 1984-02-18
Against his better judgment Edward agrees to let Ricky go hunting with Grandfather.
Ep.17

Changes
Air Date: 1984-03-03
Ricky thinks that a fellow baseball player likes him when in all actuality it's Edward that she wants.
Ep.18

A Summer's Romance (1)
Air Date: 1984-03-10
Edward's former girlfriend decides she wants him back.
Ep.19

A Summer's Romance (2)
Air Date: 1984-03-17
Edward is forced to choose between Kate and Veronica.
Ep.20

Spare the Rod
Air Date: 1984-03-24
Ricky discovers that a friend is being beaten by his father.
Ep.21

Blazing Hotel Rooms
Air Date: 1984-03-31
Edward, Ricky and Dexter are trapped as their hotel catches on fire during a toy convention.
Ep.22

Hi, Mom
Air Date: 1984-04-07
Kate's mom arrives for a surprise visit and discovers that Kate and Edward are involved.