Episodes List
Ep.1

Mon 2 Jan 2012
Air Date: 2012-01-02
Charity is alarmed to be questioned by the police. Ashley considers a fresh start. Nicola is on a mission to help Rodney.
Ep.2

Tue 3 Jan 2012
Air Date: 2012-01-03
Jai uses the excuse of offering Sam a few more hours work at the factory to attempt try and find out why the police are sniffing around. James and Cain fuss around Moira who is still in agony with her ankle.
Ep.3

Wed 4 Jan 2012
Air Date: 2012-01-04
Two police officers arrive at Wishing Well Cottage to search for evidence. Ali and Ruby are delighted to discover that they're having a baby after taking a pregnancy test. Rachel sheepishly tells Lisa about her and Sam stealing the Christmas presents from Home Farm, explaining that that is why he's on the CCTV. Debbie tells Cain that for a second Ross reminded her of Cameron and she just lost it, she assures him that she'll be fine with him.
Ep.4

Thur 5 Jan 2012
Air Date: 2012-01-05
Ruby announces to Rachel that she's pregnant. Jai continues to try and get information over Sam's arrest. James drops an unenthusiastic Finn off for his first day of work at the B&B. Finn instantly takes a dislike to the job as Eric barks orders at him and gets his name wrong.
Ep.5

Thur 5 Jan 2012
Air Date: 2012-01-05
Finn feigns incompetence in an attempt to get fired from the B&B. Aware of his game, Val tells him the only way he is likely to be sacked is for sexual harassment. Ruby tells Bob that she's pregnant.
Ep.6

Fri 6 Jan 2012
Air Date: 2012-01-06
Eric asks Diane about Val as she has been irate all night. Diane covers for her. When alone, Diane questions Val on what happened with Ian, but Val refuses to say. Ali and Ruby tell Sean and Amelia their pregnancy news.
Ep.7

Mon 9 Jan 2012
Air Date: 2012-01-09
Eric tries to get Val to tell him what's troubling her, but she won't budge. Alicia considers ringing Leyla but David reacts badly to the idea. Ali tries to comfort Ruby as they prepare to leave hospital. News spreads around the village about Ruby's ectopic pregnancy as Dan breaks the news to Sean and Amelia.
Ep.8

Tue 10 Jan 2012
Air Date: 2012-01-10
Georgia tells David that Priya is still suffering from morning sickness and she has a doctor's appointment in the afternoon. Leyla gets back to Alicia and agrees to meet her when Alicia won't take no for an answer. Val tries to apologise to Eric for her behaviour, blaming it on missing Amy but he tells her he doesn't believe her.
Ep.9

Wed 11 Jan 2012
Air Date: 2012-01-11
A disgusted Alicia drags Leyla off the stage. Dom arrives back at Brook Cottage to find Declan has evicted him for breaking the terms of his lease - subletting to Alicia. Witnessing the incident, Vanessa invites Dom and Gemma back to Victoria Cottage. Priya explains to Dr Cavanagh that she's not been eating. Leyla begs Alicia to not allow her job change things between them.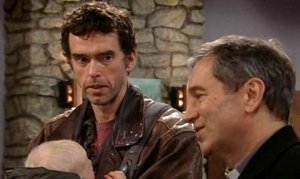 Ep.10

Thur 12 Jan 2012
Air Date: 2012-01-12
Alicia and Leyla are let out of prison. They plan to go back to Leyla's flat and collect her stuff. Ali and Lisa gather Rachel and Sam to make plans for the wedding. Dom shows his gratitude to Vanessa by fixing things around the house and offering to cook dinner.
Ep.11

Thur 12 Jan 2012
Air Date: 2012-01-12
Sam voices the idea of leaving the village to Rachel but she doesn't take it seriously. David is still wary over Leyla spending time with Jacob. Priya continues to avoid eating. Brenda's disappointed when she misses Nikhil and Molly when Georgia speaks to them on Skype.
Ep.12

Fri 13 Jan 2012
Air Date: 2012-01-13
Sam sits alone in his cell. Charity offers support to the Dingles. Leyla states that she's having lunch with Priya. Alicia warns her not to wind David up if she wants to build bridges with Jacob. Charity's conscience starts to kick in when she realises that Sam might not get bail. Brenda and Ruby attend the bereavement counselling group session. Nicola calls round to see Megan.
Ep.13

Mon 16 Jan 2012
Air Date: 2012-01-16
Cain tells the Dingles he's got them a new lawyer. Samson asks when Sam is coming home. Lisa lies that he's off looking for work. Alicia wants to take David for a meal and Leyla offers to look after the shop again. Jacob complains of feeling sick while on the way to school. Charity tells Declan that she told Rachel the truth and is blackmailing her into taking the blame to get Sam out of prison.
Ep.14

Tue 17 Jan 2012
Air Date: 2012-01-17
News of Sam's arrest reaches the Hotten Courier. Leyla offers to look after Jacob when he's still not well enough to go to school. Brenda's upset when Georgia says she's booked her flight to Canada. Val continues to avoid spending time alone with Eric. Some of the residents gather in The Woolpack to see Jude off.
Ep.15

Wed 18 Jan 2012
Air Date: 2012-01-18
Ali sees Rachel getting off the bus from Hotten and realises she's been to say goodbye to Sam. Alicia forces Jacob to stay in bed as punishment for faking being ill. Leyla buys Alicia her favourite bottle of wine and leaves to give her and David some alone time. Rachel finishes packing her things as an oblivious Jai arrives back at Wishing Well Cottage to drop Archie off.
Ep.16

Thur 19 Jan 2012 - Part 1
Air Date: 2012-01-19
The Dingles celebrate having Sam home, but Zak is curious as to why the charges against him were dropped. Declan and Charity break the news to Megan and Robbie that Rachel has confessed to starting the fire at Home Farm. Harriet talks Ashley into staying out for more drinks. Alicia reluctantly allows Leyla to babysit Jacob. Ruby tries to get Ali to tell her what's going on.
Ep.17

Thur 19 Jan 2012 - Part 2
Air Date: 2012-01-19
Jai and Sam are both still trying to get hold of Rachel. Debbie's surprised when Charity refuses to gloat about Rachel leaving the village and is confident she won't return for the court hearing. Brenda sets out in public for the first time without a wig. Jai harasses Ali trying to get information on Rachel and Archie's whereabouts. Vanessa tries to spend some time with Dom but is unsuccessful.
Ep.18

Fri 20 Jan 2012
Air Date: 2012-01-20
Priya thinks she has a solution for Leyla on the job front and asks Rishi to consider giving Leyla a job at the factory. He agrees to think about it. As Charity and Declan set off on their business trip to Germany, Debbie privately wonders about her mother's involvement in the fire.
Ep.19

Mon 23 Jan 2012
Air Date: 2012-01-23
Sam rings in sick to the school for Samson, waiting to hear from Rachel. James and Pete are optimistic about a new tenant farm that is up for grabs. Val and Eric are frosty with each other. Eric is hurt that she won't tell him what he's done wrong, whilst she is unable to tell him the truth. Leyla sets off for her first day at the factory, whilst David throws a strop when Alicia avoids telling Leyla to move out.
Ep.20

Tue 24 Jan 2012
Air Date: 2012-01-24
Ruby, Amelia and Sean arrive home to find the house trashed. Ali storms out, determined to finish it once and for all. Leyla jumps at the chance to look after Jacob, while Alicia dreads telling her she has to move out. Adam offers to wait in at Tug Ghyll for a washing machine delivery while Katie and Vanessa leave to tend to a horse.
Ep.21

Wed 25 Jan 2012
Air Date: 2012-01-25
Alicia and David are left worried about how to break the news to Jacob that they have asked Leyla to leave. Ruby's frosty with Ali when she tells her she can't come to the doctor's with her to see if they can try again for a baby. Eric looks awful as he is full of flu. Val panics, terrified that she may have caused it. Ali and Dan visit Megan and Ali makes her listen as she explains how Declan set Rachel up.
Ep.22

Thur 26 Jan 2012 - Part 1
Air Date: 2012-01-26
Kerry is all over Dan as she tends to his wounds, under the illusion that he was mugged. Ali and Dan reluctantly decide that they have no choice but to let things lie with Charity and Declan, worried about what they are capable of. Jacob makes it clear that he's not happy about David and Alicia's decision to kick Leyla out.
Ep.23

Thur 26 Jan 2012 - Part 2
Air Date: 2012-01-26
Marlon convinces Sam to let Samson go to school, but he snaps at him when he tries to get Sam to move on from Rachel. Eric milks the situation as Val panders to him, worried about his health, she calls Dr Cavanagh. Sam's surprised and intrigued when Jai suggests that they can unite in their quest to find Rachel and Archie. Dr Cavanagh assures Val that Eric has only got the flu, but she is upset when she finds out that Eric didn't receive a blood test and her plan has been thwarted.
Ep.24

Fri 27 Jan 2012
Air Date: 2012-01-27
Brenda offers comfort to Alicia who is worrying over Jacob's situation. James uses his charm to get Bernice to increase her order from the farm for the planned beer festival, he's pleased with himself when she agrees knowing that it will keep Moira happy. Declan and Charity continue their romantic display for everyone to see.
Ep.25

Mon 30 Jan 2012
Air Date: 2012-01-30
Jacob questions why Eric is allowed to stay with them but Leyla isn't. Brenda can't help but show her envy as she and Bob watch a video that Georgia has sent over from Canada of her and Molly. Moira is sad as Adam leaves home, but Cain is pleased that he is one step closer to having Moira all to himself.
Ep.26

Tue 31 Jan 2012
Air Date: 2012-01-31
James refuses to believe that Pete isn't covering for Ross. Jimmy gets drunk in The Woolpack at the beer festival, with all of the barrels to himself as nobody else is drinking them. James is appalled when he finally realises that Pete is telling the truth as he explains that he started selling drugs to keep them afloat.
Ep.27

Wed 1 Feb 2012
Air Date: 2012-02-01
Ross tells Debbie that he's staying at Dale View now, but she mentions that Andy told her he was letting him stay for one night. Cathy has sneaked into Bob and Brenda's bedroom and discovered that her MP3 player isn't the colour she wanted, Brenda promises to change it. Jai is worrying as he's not heard anything from Sam yet.
Ep.28

Thur 2 Feb 2012 - Part 1
Air Date: 2012-02-02
Moira tries to be supportive of James, doing her best to line him up for the deal with Charlotte. However, when Moira then announces that she's not interested in being part of it, James is flummoxed. Charlotte insists they don't need Moira for the deal to go ahead, but James seems fixated on getting her involved.
Ep.29

Thur 2 Feb 2012 - Part 2
Air Date: 2012-02-02
James tries to persuade Moira to meet Charlotte with him, but she reiterates her choice to pass on this deal. Pete tries to convince James to go it alone, but is then shocked when James lies to Charlotte, telling her that Moira is interested but otherwise engaged.
Ep.30

Fri 3 Feb 2012
Air Date: 2012-02-03
Megan, Declan and Robbie discuss new beginnings as they stand at the burnt-out wreck of Home Farm, but Declan is anxious about costs, conscious of his promise to Charity. Charity is furious when she finds out they've already received their insurance payout and is apoplectic when Declan confesses that all the money is accounted for and he can't pay her anything.
Ep.31

Mon 6 Feb 2012
Air Date: 2012-02-06
At a meal to celebrate Georgia's return from Canada, Leyla's suspicions are seemingly confirmed when Priya makes her excuses and abandons her plate of food. Leyla lays her suspicions on the line to Priya and they argue, but are embarrassed to realise that everyone is watching them.
Ep.32

Tue 7 Feb 2012
Air Date: 2012-02-07
Leyla lies about why she and Priya were arguing. Feeling humiliated, Priya leaves in tears and a guilty Leyla follows. Leyla is shocked by Priya's threat to turn the tables on her if she dares to tell anyone about her problem.
Ep.33

Wed 8 Feb 2012
Air Date: 2012-02-08
Moira and James are excited about the possibility of landing a new contract and it seems Charlotte and Tim are impressed with what they've seen at Butlers Farm, inviting them to carry on negotiations at the hotel. At the same time, Dan fears that he's made a big mistake after letting slip to Cain about James's feelings for Moira.
Ep.34

Thur 9 Feb 2012 - Part 1
Air Date: 2012-02-09
Moira is set to back out of the business deal, unable to trust James after the previous night's revelations. Alone in the meeting, James is in trouble as Tim makes his displeasure about Moira's non-appearance clear. When Cain presses Moira about what is wrong, she braces herself to tell him.
Ep.35

Thur 9 Feb 2012 - Part 2
Air Date: 2012-02-09
Moira and Cain arrive back at the farm. Bob shows Harriet where he's planted the camera in the café. Cain presents Moira with her engagement ring and they break the news to Adam, Zak, Andy, Pete and James as they arrive for dinner. Bernice is gleeful as Anton keeps texting her.
Ep.36

Fri 10 Feb 2012
Air Date: 2012-02-10
Chas surprises Diane by arriving back at the pub with Katie, she informs them that Aaron and Ed have broken up. Betty tries to con Bob out of another free cake at the café but he becomes annoyed with her. Victoria calls on David to try to talk to Eric as he begins to talk to solicitors about divorcing Val.
Ep.37

Mon 13 Feb 2012
Air Date: 2012-02-13
The morning after and Diane tries to talk to Eric about what happened but he runs out. Val writes letters addressed to Eric, Diane and Victoria. Ruby suspects Gemma of fancying a lad at school when she notices her appearance and eagerness to get to school. Dom is suspicious. Bernice makes sure that Jimmy and Nicola will be out the house for Anton's visit later.
Ep.38

Tue 14 Feb 2012
Air Date: 2012-02-14
Diane silently realises that Eric may potentially have HIV and could have passed it onto her too. Bob apologises to Ruby and they make up. Bernice relives her humiliation to PC Swirling as the burglary is reported. Diane tells Val she knows about Ian and her HIV problem. Gemma's upset as the boy who she arranged a date with stood her up after finding out about the abortion.
Ep.39

Wed 15 Feb 2012
Air Date: 2012-02-15
Bob tries to prepare himself for confronting Brenda about her thieving. Victoria catches Diane searching for HIV treatment options. She tells her she's found information on a blocking treatment - PEP, but Victoria points out that it's only useful if you've been newly exposed to the virus in the past 72 hours. Brenda gives Bob his Valentine's present - a 100% cashmere jumper. He's suspicious when she says she hasn't got the receipt.
Ep.40

Thur 16 Feb 2012
Air Date: 2012-02-16
Brenda's appalled when Bob tells her he and Ruby have seen footage of her stealing. Diane secretly takes her anti-HIV drugs. She tells Val she's made an appointment at the clinic for her tomorrow.
Ep.41

Fri 17 Feb 2012
Air Date: 2012-02-17
Victoria tries to make Eric see that he should be at the clinic with Val as she sits in the waiting room on her own. Bernice helps Nicola set up a fake profile on a dating website to ensnare Anton. Bob confides in Dan that it was Brenda stealing in the café and explains Harriet's theory over her grieving for Gennie.
Ep.42

Mon 20 Feb 2012
Air Date: 2012-02-20
Diane throws away her PEP treatment pills, now realising she doesn't need them. She frets to Eric about Val's situation and struggles with the guilt of them sleeping together. Val awakes on her birthday to find Eric had disappeared.
Ep.43

Tue 21 Feb 2012
Air Date: 2012-02-21
Diane confides in Victoria that she slept with Eric. Victoria can't believe it. Nicola's forced to tell Jimmy about her and Bernice's plan to catch Anton. He makes her see that it's a bad idea considering what he did to Bernice and that Anton could be dangerous. Kerry arrives to pick up Brenda for their shopping trip.
Ep.44

Wed 22 Feb 2012
Air Date: 2012-02-22
Kerry feels guilty over Bob and Brenda spending the night apart. Eric forces Val to accept a lift to the clinic. Victoria continues to give Diane a hard time over sleeping with Eric, but sympathies with her when she explains she made a mistake because she's lonely. Jimmy asks Nicola to take the afternoon off to do a delivery for him but she's unable to due to taking the previous day off to get revenge on Anton.
Ep.45

Thur 23 Feb 2012 - Part 1
Air Date: 2012-02-23
Val steals the paintbrush off a painter touching up the paintwork at The Woolpack and daubs the word 'TART' over the front entrance. Brenda decides to subtly pay people back in the café for the things she's stolen and invents 'Customer of the Month' when David walks through the door as an excuse to ply him with free coffee. Robbie asks Jimmy for a job at Emmerdale Haulage after completing the delivery successfully yesterday.
Ep.46

Thur 23 Feb 2012 - Part 2
Air Date: 2012-02-23
Priya passes on the baby scan picture to David. Leyla arranges her an appointment with the counselor, Robyn. Charity goes to the factory with the excuse of the decree nisi being due to see what information she can obtain about Mark. He arrives in the office shortly after her and she gets a look at him but is ushered out by Jai. Brenda prepares for her court case with the support of Bob, Kerry and Dan.
Ep.47

Fri 24 Feb 2012
Air Date: 2012-02-24
Charity is anxious to find out exactly where Jai is heading in order to find Rachel. Lisa reassures Charity that she will help her find out. Ruby suggests to Sean that Belle and Gemma are fighting for his affections; he wonders if she might be right. Leyla voices her worries to Jai about Priya's eating disorder and he is deeply shocked. Lisa manages to find the details in Jai's diary.
Ep.48

Mon 27 Feb 2012
Air Date: 2012-02-27
Declan and Charity realise Rachel may have gone back to her old flat. David wishes Leyla a happy birthday and is informed that it's her birthday next week, but Alicia's today. He dashes off. Mark tells Jai that he wants another £7,000 to make it worth his while. Jai is fuming, but is also thrilled when Mark claims that he knows Rachel is alone today and readily pays up.
Ep.49

Tue 28 Feb 2012
Air Date: 2012-02-28
Sam's upset to hear that Jai's been trying to track down Rachel again without informing him. He confronts him at the factory and gives him a piece of his mind. Gemma's mortified at having to attend the party at the Village Hall. She bargains with Dom saying if she's going to the party, he has to trust her enough to allow her to stay at Belle's afterwards. Sam turns up drunk in the café.
Ep.50

Wed 29 Feb 2012
Air Date: 2012-02-29
Sam wakes up with a bad hangover and realises he needs to put Rachel behind him. Dom wakes up on the sofa at Victoria Cottage having given Harriet the bed for the night. He assures Vanessa they just kissed as she teases him. Chas tries to get information on James from Moira as she frets about him not calling, but Moira won't dish any dirt. Dom tells Vanessa he'll probably see Harriet again.
Ep.51

Thur 1 Mar 2012 - Part 1
Air Date: 2012-03-01
Dom waits by Gemma's bedside, hoping she'll wake up soon. Belle waits at home for news and begins to receive text messages from her schoolmates asking about Gemma, she struggles with her guilt. Harriet is also feeling guilty as she admits to Ashley that she told Dom not to check up on Gemma the night she was missing. Moira learns that Pete used to look after the accounts for his dad's farm.
Ep.52

Thur 1 Mar 2012 - Part 2
Air Date: 2012-03-01
Belle is full of guilt and can't face Dom. She feels anxious as she waits for the police. On being quizzed about Gemma's last moments, Belle desperately tries to hold off her emotions, but it's clear to Lisa that her daughter is not telling the full truth. Zak thinks Lisa is reading too much into it, but Lisa knows there's more to the story. Meanwhile, Dom beats himself up over Gemma's death, aware that he was with Harriet.
Ep.53

Fri 2 Mar 2012
Air Date: 2012-03-02
Lisa is reeling from what Belle has just told her. When Zak returns from seeing Dom, Lisa doesn't inform him of the full extent of the situation, but they both agree that telling Dom about the girls' argument won't help him. Belle tells her mother she wants to come clean with the police, but Lisa is desperate for her to keep quiet. Lisa is also worried to realise that Sean could be a problem, as he knows Belle and Gemma argued. The police question Sean and Lisa worries about what he will say.
Ep.54

Mon 5 Mar 2012
Air Date: 2012-03-05
Belle struggles with her best friend's death after seeing Gemma's tribute page on a social network site. Lisa tries to help distract her, desperately hoping that her daughter can find a way to cope. Later, when Dom visits the Dingles' to return a casserole dish, Belle answers the door.
Ep.55

Tue 6 Mar 2012
Air Date: 2012-03-06
Eric can't deny that he finds Val having HIV hard to accept, and Val is wounded when he refuses to show her any physical attention. Later, a hurt Val lays into Diane, but is struck when Diane tells her that Eric still loves her - he just needs time. Meanwhile, Belle is thrown when a determined Lisa tells her that they're going away, despite Belle being adamant that she doesn't want to miss Gemma's funeral.
Ep.56

Wed 7 Mar 2012
Air Date: 2012-03-07
With Eric and Val walking on eggshells around each other, Eric confides in Diane. As he opens up to her, he finds strength and soon becomes resolute that he won't let Val's HIV status ruin their marriage. With a new sense of purpose, Eric sets about wooing Val. Val is wary when he suggests they go upstairs, not wanting to rush him. Eric assures her that he is ready.
Ep.57

Thur 8 Mar 2012 - Part 1
Air Date: 2012-03-08
Ross is intent on impressing Debbie, but is later cross to note the obvious sexual tension between Debbie and Pete. Ross confronts Pete and is surprised to learn that Pete is Debbie's Barton boy of choice. Seething, Ross finds himself taking his anger out at the garage on Ashley's car, leaving Debbie fuming.
Ep.58

Thur 8 Mar 2012 - Part 2
Air Date: 2012-03-08
It's the day of Gemma's funeral and Belle prepares to speak. With all eyes on her, she begins to read the lyrics of Gemma's favourite song. Once finished, and overcome with guilt, Belle leaves the church. A worried Lisa goes after her, but Belle is nowhere to be found. Later, Chas finds letters addressed to Lisa, Dom and Sean and seems instantly alarmed.
Ep.59

Fri 9 Mar 2012
Air Date: 2012-03-09
Zak becomes increasingly confused and suspicious of Lisa's behaviour as she monitors Belle's every move. Lisa and Cain lie about where they went yesterday after the funeral. Later, Chas discovers Belle in her pub back room, where she makes every effort to convince Belle not to confess to what she has done.
Ep.60

Mon 12 Mar 2012
Air Date: 2012-03-12
Lisa feels guilty about keeping Zak in the dark, especially as he is aware that she is hiding something from him. At the same time, Sean finds Belle drinking at Gemma's shrine and is concerned by her behaviour. Later, Zak urges Cain to tell him what is really going on, but Cain is distracted when he clocks Belle and Sean in the distance.
Ep.61

Tue 13 Mar 2012
Air Date: 2012-03-13
David is stunned to learn that Alicia already knew about Priya's eating disorder. Jai braces himself to tell Georgia and Rishi the truth about their daughter.
Ep.62

Wed 14 Mar 2012
Air Date: 2012-03-14
A tired and dishevelled David is frustrated when he tries to talk to Priya's doctor. David approaches Priya when she is en route to the psychotherapist. He admits to seeing her doctor and profusely apologises for all that he has done and the damage he has caused.
Ep.63

Thur 15 Mar 2012 - Part 1
Air Date: 2012-03-15
Marlon's 40th birthday celebrations are in full swing. Paddy arranges for him and Marlon to go quad biking, but when April is almost run over, Marlon rescues the young girl, oblivious to who she is. Marlon is startled when Donna arrives and the young girl runs over to her.
Ep.64

Thur 15 Mar 2012 - Part 2
Air Date: 2012-03-15
Much to Marlon's relief, Donna assures him that she does not want him back. Charity fumes at Jai for getting hold of the contract, but Megan has got a final blow to strike her with. Declan warns Megan. Alicia is shocked when David arrives back after being dismissed by the Sharmas.
Ep.65

Fri 16 Mar 2012
Air Date: 2012-03-16
A hungover Marlon remains adamant that he wants nothing to do with Donna or his daughter April, despite Laurel's efforts to change his mind. Laurel, Paddy and Rhona go with Donna to persuade him to be part of his daughter's life, angering Marlon further.
Ep.66

Mon 19 Mar 2012
Air Date: 2012-03-19
As Donna prepares to leave the village, Laurel makes one last attempt to persuade Marlon to be part of his daughter's life. At the same time, Rhona is adamant that Leo should know his sister and takes him to meet April, but Marlon is less than impressed to see them together.
Ep.67

Tue 20 Mar 2012
Air Date: 2012-03-20
The Barton boys are still at each other's throats after Ross's meddling, which continues when Ross goes to see Debbie to give her cash from the dodgy cars. Later, Moira tells James about Pete's relationship and decides to take matters into her own hands by suggesting to Debbie that she should give Pete another chance. Meanwhile, Rhona is still angry that Marlon won't allow Leo to see his sister.
Ep.68

Wed 21 Mar 2012
Air Date: 2012-03-21
Lisa's anxiety over Belle continues. When her request for time off work is denied, Lisa hastily quits her job, much to Zak's shock. At the same time, Belle almost confesses to Dom about the night Gemma died, but quickly backtracks.
Ep.69

Thur 22 Mar 2012 - Part 1
Air Date: 2012-03-22
Zak visits Dom and expresses his concerns over Belle. Dom suggests that the three of them could go and scatter Gemma's ashes together. Belle attempts to hide her dread. Lisa decides that she needs to take her daughter away, scared that Belle may be on the verge of revealing all.
Ep.70

Thur 22 Mar 2012 - Part 2
Air Date: 2012-03-22
Zak struggles to absorb Belle's revelation and is aghast when she asks for his help. Zak explains that he knows what guilt feels like, telling Belle what he once did to Cain. Zak reflects on his own experience and concludes that the only way to get through the turmoil is by confessing. Zak agrees to go with Belle to the police.
Ep.71

Fri 23 Mar 2012
Air Date: 2012-03-23
Zak is more worried than Belle. Lisa's worst fears are confirmed when officers arrive at the Dingles' to seize Belle's belongings. When Zak arrives home with their daughter, Lisa is furious, promising that she will never forgive him if anything happens to Belle.
Ep.72

Mon 26 Mar 2012
Air Date: 2012-03-26
News of Belle's confession spreads among the Dingle family, who are quick to rally round and support the teen as they accompany her to the police station. Devastation soon hits when Belle is charged with murder. Meanwhile, when James gives Katie the necklace he bought for Chas, Katie is keen to pass on the gift to her friend.
Ep.73

Tue 27 Mar 2012
Air Date: 2012-03-27
Zak offers a nervous Belle comfort as she prepares for court, but Dom struggles to contain his anger when she's released on bail; Lisa begs Jai for her job back and continues to blame her husband for the drama that has unfolded; Debbie's shady dealings with Ross attract unwanted attention from Cain and, with the B&B in high demand, Val returns to the barn.
Ep.74

Wed 28 Mar 2012
Air Date: 2012-03-28
A guest posts a review on the B&B's website announcing that a member of staff is HIV positive, and news of the online comment quickly spreads around the village; and Zak and Lisa remain at odds over Belle, with their marriage on the verge of collapse.
Ep.75

Thur 29 Mar 2012 - Part 1
Air Date: 2012-03-29
Debbie is arrested for assaulting a customer, Val uncovers clues suggesting the malicious online reviewer is Ian, and Belle decides to plead guilty, much to Zak's surprise.
Ep.76

Thur 29 Mar 2012 - Part 2
Air Date: 2012-03-29
Debbie is released on bail and explains the situation to Pete, who pays the client a threatening visit to make him drop the charges; Jacob initially denies the accusations when Val tells David and Alicia he's been stealing; and Lisa tries to convince Belle to rethink her plea.
Ep.77

Fri 30 Mar 2012
Air Date: 2012-03-30
Eric organises a romantic lunch to impress Val, but his plans are scuppered by the arrival of Ian; Debbie is grateful to Pete when the charges against her are dropped; and Priya opens up to Diane.
Ep.78

Mon 2 Apr 2012
Air Date: 2012-04-02
David urges Priya to move in with him after she is rushed to hospital; Val continues to see Ian while secretly hoping Eric will fight for her; and Ross finds a new romance.
Ep.79

Tue 3 Apr 2012
Air Date: 2012-04-03
Priya decides to see a GP. Ross and Victoria cause a stir after spending the night together, with Adam feeling a pang of jealousy. Kerry pulls out all the stops to prove she deserves a job in Bernice's salon, giving Pearl a Helen Mirren-style makeover.
Ep.80

Wed 4 Apr 2012
Air Date: 2012-04-04
Cain goes to see Dom in the hope he might intervene and stop her from pleading guilty. Priya checks into a clinic and asks David to visit regularly. Marlon faces a big decision when Donna returns to the village.
Ep.81

Thur 5 Apr 2012 - Part 1
Air Date: 2012-04-05
Marlon ends up looking after April when Donna goes for a check-up at the hospital; Megan questions Jai's motives; and Vanessa hands Dom a letter that angers him.
Ep.82

Thur 5 Apr 2012 - Part 2
Air Date: 2012-04-05
Left alone to bond with his daughter, Marlon's fears are confirmed when she struggles to warm to him, but Donna then arrives to collect April and is overjoyed by what her ex-husband suggests; and Harriet comforts Dom as he takes in the news about Gemma.
Ep.83

Fri 6 Apr 2012
Air Date: 2012-04-06
Dom finds a mysterious envelope containing £300 for him; Val keeps up the pretence with Ian; and Adam suffers the consequences of his actions.
Ep.84

Mon 9 Apr 2012
Air Date: 2012-04-09
Declan grows tense about the launch, especially as Charity is missing - little realising she has gone to buy a pregnancy testing kit; and Finn is upset to hear about Victoria and Ross.
Ep.85

Tue 10 Apr 2012
Air Date: 2012-04-10
Charity is in no mood for Declan when he criticises her absence from the launch, but it's only later that she confesses the reason for her short temper to Debbie - she is pregnant; and Marlon is hit with emotion when he visits April, although Rhona remains suspicious of Donna's true intentions.
Ep.86

Wed 11 Apr 2012
Air Date: 2012-04-11
Charity makes a doctor's appointment to discuss a termination, only for Megan to find the pregnancy test box and confront Declan; Val decides to dump Ian; and Cain wants to postpone the wedding.
Ep.87

Thur 12 Apr 2012 - Part 1
Air Date: 2012-04-12
Declan tells Megan that Charity is planning to end her pregnancy, but that he remains hopeful he can change her mind; and Dom speculates about his mystery benefactor.
Ep.88

Thur 12 Apr 2012 - Part 2
Air Date: 2012-04-12
Jai causes a scene in The Woolpack when he confronts Charity, furious after learning of her pregnancy; Harriet thinks she knows the identity of Dom's mystery benefactor; and Finn receives a phone call about a job.
Ep.89

Fri 13 Apr 2012
Air Date: 2012-04-13
Megan suggests Jai is playing right into Charity's hands; a mix-up over Adam's age sends James's mind racing; and Eric gets his hopes up when Victoria tells him about Val's current relationship status.
Ep.90

Mon 16 Apr 2012
Air Date: 2012-04-16
James is struck by and old photo of himself and makes it clear to Moira that he thinks Adam may be his son; and Charity goes for her appointment and opens up to the consultant.
Ep.91

Tue 17 Apr 2012
Air Date: 2012-04-17
Moira tells James that Adam was born prematurely, meaning he must be John's son. Debbie talks to Belle about the realities of life in prison. Zak decides drastic measures are required. Charity discovers Declan has told Noah about the baby.
Ep.92

Wed 18 Apr 2012
Air Date: 2012-04-18
Cain finds Zak having a panic attack in the barn; Finn masquerades as Declan at an expensive champagne bar; and James takes £10,000 out of the bank - only for it to go missing.
Ep.93

Thur 19 Apr 2012 - Part 1
Air Date: 2012-04-19
Cain piles the pressure on Belle and gives her an ultimatum as her court date arrives; and Chas invites James to stay at the pub following the incident with the £10,000.
Ep.94

Thur 19 Apr 2012 - Part 2
Air Date: 2012-04-19
After Cain's scare tactics, Belle arrives at court with seconds to spare. Pete arrives for a meal with Debbie, but finds that she is more preoccupied with Belle's situation than him. He is taken aback when she suggests that he takes Sarah out on her bike. Jimmy locks Bernice out of Pear Tree Cottage as she measures up outside.
Ep.95

Fri 20 Apr 2012
Air Date: 2012-04-20
Jimmy and Kerry have spent all night at Pear Tree Cottage during their stand off. They both wake up, still refusing to budge and resort to competing over who will let go of the keys first. Chas continues to play wedding planner and sets a date for Cain and Moira's wedding - but James seems less than impressed by the news.
Ep.96

Mon 23 Apr 2012
Air Date: 2012-04-23
With Belle's baby plans on his mind, Sean blurts out the truth to a shocked Chas when she finds him skipping school.
Ep.97

Tue 24 Apr 2012
Air Date: 2012-04-24
Charity discovers Cain's wedding is planned for the same day as hers when they bump into each other trying on outfits in a shop; Ali and Dan catch Belle and Sean together; Donna and Marlon take April to her first day at school; and Pete confronts Debbie.
Ep.98

Wed 25 Apr 2012
Air Date: 2012-04-25
Charity cancels her reception, knowing none of the Dingles will attend her big day over Cain's; and Donna decides to tell Marlon about her condition.
Ep.99

Thur 26 Apr 2012 - Part 1
Air Date: 2012-04-26
Donna tells Rhona about her diagnosis when she encounters her at the hospital; the delivery man tries his luck with Val; and Kerry drops a few hints to Dan about getting married.
Ep.100

Thur 26 Apr 2012 - Part 2
Air Date: 2012-04-26
Donna confides in Rhona about why she came back to the village and asks her to keep her secret; and Diane reminds Val of the need to tell Tiny she is HIV positive.
Ep.101

Fri 27 Apr 2012
Air Date: 2012-04-27
Val starts having doubts about sleeping with Tiny; Alicia worries it's something to do with her car when a solicitor arrives to see her; and Dan explains to Bob he won't be bullied into marriage.
Ep.102

Mon 30 Apr 2012
Air Date: 2012-04-30
Eric is furious to realise it was Tiny who caused the bruise on Val's cheek and challenges him to a fight; and a confused Alicia discovers she has inherited a mystery £70,000.
Ep.103

Tue 1 May 2012
Air Date: 2012-05-01
Alicia realises the money was meant for Leyla; having spent the night in a police cell, Diane and Eric are released without charge, but Val is not so lucky - fuelling her anger further; Kerry enlists the help of Amelia and Brenda to make a wedding video; and Edna slips an envelope of money into Ruby's bag.
Ep.104

Wed 2 May 2012
Air Date: 2012-05-02
An angry woman throws a drink over Alicia; Val talks to the villagers about living with HIV; and Dan interrupts Kerry filming her video in a wedding dress.
Ep.105

Thur 3 May 2012 - Part 1
Air Date: 2012-05-03
Donna resorts to stealing jewellery from the police station after discovering she has lost her invested savings; and Leyla breaks into the safe, only to find the money missing.
Ep.106

Thur 3 May 2012 - Part 2
Air Date: 2012-05-03
Donna tries to sell the stolen jewellery to an old contact; and Alicia, David and Leyla find Jacob at the riverbank, where he throws the money into the water.
Ep.107

Fri 4 May 2012
Air Date: 2012-05-04
Moira arrives at The Woolpack to find the locals are throwing her a surprise hen party, but James could be about to burst her bubble as he makes a discovery while packing his things.
Ep.108

Mon 7 May 2012
Air Date: 2012-05-07
Pete finds his relationship with Debbie in tatters; and Charity tells a horrified Chas she has scheduled a termination.
Ep.109

Tue 8 May 2012
Air Date: 2012-05-08
Chas shares her concerns with Cain about Charity's wedding and planned termination, and asks him to talk some sense into her; James receives the DNA test results; Vanessa thanks Pete for making her realise she likes men after all; and Dan remains determined to keep Sean and Belle apart.
Ep.110

Wed 9 May 2012
Air Date: 2012-05-09
An argument erupts between James and Moira when he confronts her with the DNA test results and shows her the bag of cash; and Pete and Debbie decide to give their relationship another shot.
Ep.111

Thur 10 May 2012
Air Date: 2012-05-10
On the morning of her wedding, Moira leaves James a voicemail, pleading with him not to spoil things; and Charity is upset as she gets ready for her own big day - alone.
Ep.112

Fri 11 May 2012
Air Date: 2012-05-11
The wedding guests become suspicious when Moira fails to show on time after becoming trapped in her bedroom, and the bride's woes continue when she sees James in the crowd; and Megan causes trouble at Declan and Charity's wedding by setting off the fire alarm.
Ep.113

Sun 13 May 2012
Air Date: 2012-05-13
Priya panics when her waters break; Charity faces an obstacle in her plan to have a termination; and Chas Dingle tries to talk to James about his behaviour.
Ep.114

Mon 14 May 2012
Air Date: 2012-05-14
Priya and David fear for their baby as the medical team rushes over to the incubator; and Moira worries about what James might do next.
Ep.115

Tue 15 May 2012
Air Date: 2012-05-15
Megan is dubious when Charity claims to feel a cramp in her stomach, but Declan instructs her to go home and rest. Later the two women get into an argument and Charity is unintentionally knocked to the ground by Megan; Finn continues to lie about his identity; Donna braces herself to steal money from the police station; and Priya and David receive news about their baby.
Ep.116

Wed 16 May 2012
Air Date: 2012-05-16
At the hospital, a guilty Charity hopes her miscarriage story will ring true and her recent termination will not be apparent during the ultrasound. Declan breaks down in distress when it is confirmed they have lost the baby, and Megan later asks if Charity is going to tell him about the fall. Ross tries to ascertain whether Donna is a crooked cop, while Finn finally admits to Victoria he is seeing someone.
Ep.117

Thur 17 May 2012 - Part 1
Air Date: 2012-05-17
Megan makes two life-changing decisions, terrified Declan will find out about Charity's accident; and Donna tries to gain Ross's trust.
Ep.118

Thur 17 May 2012 - Part 2
Air Date: 2012-05-17
Megan comes clean to Declan - just as Charity walks into the room; Ross agrees to help Donna with a job; and Finn braces himself to tell Simon the truth about his identity.
Ep.119

Fri 18 May 2012
Air Date: 2012-05-18
Charity enlists Nicola's help at Home Farm so she can whisk Declan off on a late honeymoon, but she's left shocked when her new husband makes his own suggestion; Donna must decide whether to quit the criminal life; and Robbie takes the blame for Finn over a credit card bill.
Ep.120

Mon 21 May 2012
Air Date: 2012-05-21
Donna hatches a plan to burgle the home of a well-known criminal before the police have time to raid it; Robbie realises he may have outstayed his welcome at the Sharmas'; and Charity plays the victim.
Ep.121

Tue 22 May 2012
Air Date: 2012-05-22
Donna and Ross find the stash in Gary North's house and make a run for it, but when they see the criminal approaching, the pair kiss to cover their tracks, which ends up bringing them closer together for real; and Kerry offers a French cyclist a place to stay after accidentally causing him an injury.
Ep.122

Wed 23 May 2012
Air Date: 2012-05-23
With Chas's confession playing on his mind, James ignores Moria's objections and tells her the truth about Adam - but her reaction isn't what he expected; Dan grows jealous of Kerry and new houseguest Laurent; Diane discovers Eric's big plans for Val; and Donna warns Ross not to sell on the stolen goods as the police are looking for them. However, he soon arranges a meeting with a buyer.
Ep.123

Thur 24 May 2012 - Part 1
Air Date: 2012-05-23
Moira tries to persuade Chas to keep her secret; and Eric organises a charity skydive for the Valerie Pollard Foundation.
Ep.124

Thur 24 May 2012 - Part 2
Air Date: 2012-05-24
At the cricket pavilion, Val is overwhelmed by the scale of the fundraiser, but disappointed to hear Eric is taking part in the skydive, thinking he's trying to steal the limelight. Upset with her reaction, he decides to pull out; Kerry seems determined not to watch Dan do the jump, unaware he's planning a mid-air marriage proposal; Chas's efforts backfire when she tries to build bridges between James and Adam; and Zak considers going on the run with Lisa and Belle as the trial looms.
Ep.125

Fri 25 May 2012
Air Date: 2012-05-25
Sam takes action to save Belle; Val plans to show her commitment to Eric; Moira is unnerved by James and Adam's apparent truce; and Megan takes revenge on Leyla.
Ep.126

Mon 28 May 2012
Air Date: 2012-05-28
Dom bursts into the Dingles', telling Zak and Lisa he knows Belle is about to flee the village, before calling the police; Eric gets off to a shaky start with the vows at the church; and Harriet grows closer to Ashley.
Ep.127

Tue 29 May 2012
Air Date: 2012-05-29
As Belle's trial begins, Sean decides it is pointless him attending as he will just make things worse for her; and Bernice tells Kerry they must stop relying on men and finish the salon themselves.
Ep.128

Wed 30 May 2012
Air Date: 2012-05-30
Lisa risks making things worse for Belle when she visits Dom; and the attraction grows between Ashley and Harriet.
Ep.129

Thur 31 May 2012 - Part 1
Air Date: 2012-05-31
Dom has a change of heart and rushes into the courtroom. Bernice and Andy are caught in an embarrassing situation. Donna finds she just can't stay away from bad boy Ross.
Ep.130

Thur 31 May 2012 - Part 2
Air Date: 2012-05-31
Alicia confronts Priya about her feelings for David; Lisa struggles with what the future holds; Sean discovers Sam is being charged for attempting to flee with Belle; and Ross offers Donna another job.
Ep.131

Fri 1 Jun 2012
Air Date: 2012-06-01
Priya is furious to discover Rishi has been looking to hire a nanny for baby Amba; Donna agrees to Ross's job; Bernice takes revenge on Andy at the salon; and Harriet suspects Ashley's new woman is a work of fiction.
Ep.132

Mon 4 Jun 2012
Air Date: 2012-06-04
It's a big day for Donna as she prepares for the christening and talks Ross through the last-minute details of the robbery, but things quickly go wrong when he's caught off guard and has his balaclava ripped off; and the Dingles brace themselves for Belle's sentencing.
Ep.133

Tue 5 Jun 2012
Air Date: 2012-06-05
Donna discovers what Ross has done to George; the Dingles' problems continue as Sam receives his sentence for attempting to flee the village with Belle; and Bernice tells Andy to decide whether he wants a relationship with her or not.
Ep.134

Wed 6 Jun 2012
Air Date: 2012-06-06
Donna gets April to pack, determined to flee the situation. Ross overhears and realises what she is up to. Megan slips a file into her bag and, concerned by what she sees, tells Jai she knows how much financial trouble he's in.
Ep.135

Thur 7 Jun 2012 - Part 1
Air Date: 2012-06-07
Marlon questions Bob about Donna's whereabouts. Ross is desperate for an update on George. Megan catches Jai off guard with a business proposition. Robbie realises Brook Cottage is free and swipes the keys.
Ep.136

Thur 7 Jun 2012 - Part 2
Air Date: 2012-06-07
Finn and Victoria discover some old home movies in James's clear-out boxes and enjoy watching footage of the younger Barton boys on Diane's old VHS player. The pair decide to bring the tapes to Finn's party later that day - little realising there's some rather less innocent material on one of them; Ross places his heart on the line; and Sean struggles without Belle.
Ep.137

Fri 8 Jun 2012
Air Date: 2012-06-08
Adam hits James after discovering his mum slept with him. Leyla tells Jai she wants to invest her money in his business. Dan asks Sean to be best man at the wedding.
Ep.138

Thur 14 Jun 2012
Air Date: 2012-06-14
Adam is devastated to discover James is his father and heads to the Dingles' in search of Zak's shotgun; and Leyla and Megan compete to see who can make the most money.
Ep.139

Fri 15 Jun 2012
Air Date: 2012-06-15
Life at the Bartons' is in pieces and the scandal is the talk of the village; Donna gives Ross mixed signals; and Leyla enlists the help of Katie and Alicia to outdo Megan.
Ep.140

Sun 17 Jun 2012
Air Date: 2012-06-17
Debbie and Chas set off in search of Cain, worried he may have gone off the rails following the revelations; and Jai begins to regret his decision to accept Leyla's investment.
Ep.141

Mon 18 Jun 2012
Air Date: 2012-06-18
In The Woolpack, Adam is determined to drown his sorrows, and shows interest when Ross suggests they steal vodka from the cellar; and Zak and Lisa worry about what Sam is up to.
Ep.142

Wed 20 Jun 2012
Air Date: 2012-06-20
A drunken Adam causes Andy a serious injury; Chas and Debbie track down Cain; and Priya warns Georgia not to spoil things as she prepares to meet a potential suitor.
Ep.143

Thur 21 Jun 2012 - Part 1
Air Date: 2012-06-21
At the hospital, the doctor explains Andy needs an urgent operation, and a tearful Bernice vows not to leave her lover's side; and Leyla tries to persuade Nicola to let her have a stall at the Home Farm launch.
Ep.144

Thur 21 Jun 2012 - Part 2
Air Date: 2012-06-21
Andy is shocked to hear how long he will have to stay in hospital; Jimmy gives Victoria Pendleton a tour of Home Farm; and Donna agrees a cover story with Ross regarding the robbery.
Ep.145

Fri 22 Jun 2012
Air Date: 2012-06-22
Declan discovers Charity's deceit; Andy learns it will take months for him to recover from his injury; Sam offers his new friend a place to stay; and Priya, Jai and Rishi attend an awkward dinner with a potential husband and his mother.
Ep.146

Sun 24 Jun 2012
Air Date: 2011-06-24
Frustrated after learning he may have permanent nerve damage, Andy lashes out at Adam; Ross steals petty cash and valuables from the factory; and Dan receives a visit from his brother Daz
Ep.147

Mon 25 Jun 2012
Air Date: 2012-06-25
Andy threatens to sue the Bartons for compensation after he's forced to return to hospital in pain; Declan offers Tracy a place to stay and Dan feels left out as Daz continues to win over his friends.
Ep.148

Tue 26 Jun 2012
Air Date: 2012-06-26
Marlon discovers Donna's secret as he snoops around her room; Adam quits his job after being made homeless by Andy; and Zak asks Robbie to keep a close eye on Tracy.
Ep.149

Wed 27 Jun 2012
Air Date: 2012-06-27
Marlon is overcome by emotion as Donna explains she is dying, while Rhona ushers Laurel to the cafe, aware the pair have a lot to talk about; Cain tries to settle out of court with Andy; Alicia disturbs a break-in at the shop; and Adam tries his luck with Leyla.
Ep.150

Thur 28 Jun 2012
Air Date: 2012-06-28
Laurel receives a shock when Donna asks her to be April's mother after she's gone, while an emotional Marlon turns to Paddy; and Moira is pleased when Cain tells her about the offer to Andy.
Ep.151

Fri 29 Jun 2012
Air Date: 2012-06-29
Marlon asks Laurel to move their wedding day forward for Donna; Priya tells Jai she has decided not to pursue an arranged marriage; and Katie's concern for Andy grows.
Ep.152

Mon 2 Jul 2012
Air Date: 2012-07-02
After passing out in pain, Andy admits to Katie his arm is getting worse and she takes him to get it checked out. Bernice is upset to learn the pair have been to the hospital together, but there's a further shock in store when she later sees them kissing; Priya discovers Jai already knows - and dislikes - Rakesh; and Ross is surprised to hear Donna's true feelings.
Ep.153

Tue 3 Jul 2012
Air Date: 2012-07-03
Priya goes on a date with Rakesh, despite Jai's objections, and prepares to tell her suitor about her eating disorder; and Diane tells Andy that Bernice has booked a last-minute flight to Australia.
Ep.154

Wed 4 Jul 2012
Air Date: 2012-07-04
Priya decides whether to take the plunge with Rakesh; Adam's anger boils over when he begins working at the pub; and Victoria pleads with Eric to help make Finn see sense.
Ep.155

Thur 5 Jul 2012 - Part 1
Air Date: 2012-07-05
David Metcalfe is shocked to discover Priya's plans and his concerns later grow when Jai explains Rakesh cannot be trusted and vows to stop the wedding; Adam kisses Chas to annoy James; and Daz gets to know Kerry.
Ep.156

Thur 5 Jul 2012 - Part 2
Air Date: 2012-07-05
Dan confides in Bob that he thinks Daz may be a threat to his relationship; and David asks Jai for evidence before he will agree to keep Priya and Rakesh apart.
Ep.157

Fri 6 Jul 2012
Air Date: 2012-07-06
Daz tries to kiss Kerry on her hen night - unaware Dan has seen everything; and Finn, drowning his sorrows, tells Eric and Victoria he needs to know why his mother left.
Ep.158

Sun 8 Jul 2012
Air Date: 2012-07-08
Kerry tries to convince Dan the kiss was all Daz's doing. Marlon's continuing concern for Donna drives a wedge between him and Laurel. Katie tells Andy he must move on from the kiss as she doesn't want to lose him as a friend.
Ep.159

Mon 9 Jul 2012
Air Date: 2012-07-09
Following their unexpected visit to the police station, Kerry pleads with Dan to let her explain her side of the story; and Ross warns Debbie to keep quiet about his relationship with Donna.
Ep.160

Tue 10 Jul 2012
Air Date: 2012-07-10
Brad deliberately bumps into Finn and offers him a drink, but things turn sinister when he slips something into it and bundles him into a car; and Kerry tries to win Dan back.
Ep.161

Wed 11 Jul 2012
Air Date: 2012-07-11
An unconscious Finn is rushed to hospital, where the doctor explains his condition is critical; and Kerry heeds advice from Bob and vows to prove to Dan she is a new woman.
Ep.162

Thur 12 Jul 2012 - Part 1
Air Date: 2012-07-12
Finn's family and friends are still deeply worried as they sit in silence at the hospital. James goes to get the doctor as he starts to wake up. Bob and Brenda prepare for Gennie's memorial. The doctor inform Finn's friends and family that his toxicology report showed traces of Midazolam.
Ep.163

Thur 12 Jul 2012 - Part 2
Air Date: 2012-07-12
Ross receives a visit from Gary North, who reveals he was behind Finn's attack - and then blackmails him into doing a job for him; and Andy tries to tell Bernice about him and Katie.
Ep.164

Fri 13 Jul 2012
Air Date: 2012-07-13
James becomes impatient with Ross. Donna comes up with a plan to deal with Gary. Megan is furious when Charity tells her it will cost a small fortune to use Home Farm as a wedding venue, leading to an argument with Jai and unexpected feelings of jealousy for Leyla.
Ep.165

Sun 15 Jul 2012
Air Date: 2012-07-15
Gary orders Ross to break into a safe and retrieve a cash-stuffed envelope; and the hostility between Jai and Rakesh leads to violence - with David caught slap bang in the middle.
Ep.166

Mon 16 Jul 2012
Air Date: 2012-07-16
Adam spots a money-making opportunity when he finds drugs that Vanessa dropped out of her bag; and Harriet agrees to help Ashley plan a holiday with Carole.
Ep.167

Tue 17 Jul 2012
Air Date: 2012-07-17
Adam collapses after taking the missing drugs, leading to an emergency trip to the hospital; and it becomes clear there is unfinished business between Jai and Leyla.
Ep.168

Wed 18 Jul 2012
Air Date: 2012-07-18
Moira is shocked by Adam's drug taking; Jai and Leyla's flirting is interrupted; the Dingles receive news about Belle's sentence; and Pete finds out about Finn's plan to trace their mother.
Ep.169

Thur 19 Jul 2012 - Part 1
Air Date: 2012-07-19
Moira decides tough love is the best way to handle Adam; and Ali realises Belle's future doesn't include Sean.
Ep.170

Thur 19 Jul 2012 - Part 2
Air Date: 2012-07-19
Donna and Marlon are devastated to learn the cancer has spread and she might now only have weeks left to live. Struggling to take in the news, Donna reveals she's reluctant to have further treatment and Marlon finally cracks, leaving her taken back at the depth of his feelings.
Ep.171

Fri 20 Jul 2012
Air Date: 2012-07-20
A guilty Marlon tells Paddy he kissed Donna; Jai and Leyla continue to flirt under Megan's nose; and Robbie feels a duty to warn Sam about Tracy, but realises he's already smitten.
Ep.172

Mon 23 Jul 2012
Air Date: 2012-07-23
Moira is determined to rekindle her love with Cain, but her happiness is short-lived when he rushes out, leaving her alone; and Donna confronts Ross about a gun in his possession.
Ep.173

Tue 24 Jul 2012
Air Date: 2012-07-24
Donna tells Ross she wants in on a big-money job; Jai asks for Leyla's help in setting up a honey trap to blackmail Rakesh; and Moira asks Cain to forgive and forget.
Ep.174

Wed 25 Jul 2012
Air Date: 2012-07-25
Rakesh tells Priya his son has missed his flight so he won't be at the engagement ceremony; and Diane and Katie are concerned by Andy's behaviour as he becomes increasingly frustrated
Ep.175

Thur 26 Jul 2012 - Part 1
Air Date: 2012-07-26
Andy breaks up with Katie, afraid of what he might do to her; David proves eager to help Rakesh move in with Priya; and Finn learns Adam is heading abroad to see Aaron and asks to tag along.
Ep.176

Thur 26 Jul 2012 - Part 2
Air Date: 2012-07-27
Diane tries to get Andy and Katie to patch things up; Ross tells Donna he has made plans for them to leave with April after the big-money job, but picks up on her hesitancy; and Megan sees a chance to cause trouble between Declan and Charity.
Ep.177

Fri 27 Jul 2012
Air Date: 2012-07-27
Donna slips away from April's birthday party to meet Ross, who is making the final preparations for the job; and Charity is disarmed by her new client's good looks and charisma.
Ep.178

Mon 28 Jul 2012
Air Date: 2012-07-28
Dressed as police officers, Donna and Ross prepare to search the club, but the return of Aaron throws a spanner in the works; and Charity tries to resist temptation with Harvey.
Ep.179

Tue 31 Jul 2012
Air Date: 2012-07-31
Adam warns Aaron that Ross and Donna will be in trouble if he fails to prevent Stephen from finding them. Seemingly on side, Aaron insists he is driving and the pair speed off; and Laurel plans a day out for April.
Ep.180

Wed 1 Aug 2012
Air Date: 2012-08-01
Ross reels in shock following the day's events and, after the police arrive at the cafe, Debbie serves him one final blow; and Adam and Aaron head to the cricket pavilion to decide their next move.
Ep.181

Thur 2 Aug 2012 - Part 1
Air Date: 2012-08-02
Ross is racked with guilt over how Donna died and decides to tell Marlon the truth; Aaron turns up at the Dingles' hoping to stay the night; and Megan asks Jimmy to spy on Charity.
Ep.182

Thur 2 Aug 2012 - Part 2
Air Date: 2012-08-02
Determined to find out the truth, Marlon demands answers from the police about why Donna was operating alone that day; Ross gives April the money her mother left for her; Moira tries to get to the bottom of what Aaron has got Adam into; and Jimmy tells Charity that Megan asked him to spy on her.
Ep.183

Fri 3 Aug 2012
Air Date: 2012-08-03
After Moira reveals Aaron is hiding out at the farm, Paddy heads straight there to see him; and Marlon refuses to believe Donna was corrupt and confronts Ross, assuming he must have blackmailed her.
Ep.184

Mon 6 Aug 2012
Air Date: 2012-08-06
Determined to protect Aaron, Chas decides the only solution is to give Adam up to the authorities; and a grief-stricken Ross spots a police car and is torn over what to do.
Ep.185

Tue 7 Aug 2012
Air Date: 2012-08-07
With Moira and James horrified to hear of her plans, Chas picks up the phone to call the police about Adam, but Aaron proves determined to talk his mother out of it. However, Edna's detective work looks set to complicate matters.
Ep.186

Wed 8 Aug 2012
Air Date: 2012-08-08
April takes the opportunity to run off during a picnic with Bob; Cain's new escape plan goes awry when the police find Aaron's driving licence; and Vanessa is officially introduced to Kirin.
Ep.187

Thur 9 Aug 2012 - Part 1
Air Date: 2012-08-09
Ross finds April hiding at the garage, while Marlon, unaware the crisis is over, prepares to come clean to the police; and Paddy realises it was Edna who turned Aaron in to the authorities.
Ep.188

Thur 9 Aug 2012 - Part 2
Air Date: 2012-08-09
Aaron returns to the village with Cain having successfully misled the police, but everyone knows he is far from safe and urges him to leave sooner rather than later. After Pc Stone spots the fugitive in the street, Edna offers him a place to hide out; and Ross threatens to tell Laurel about Marlon and Donna's kiss.
Ep.189

Fri 10 Aug 2012
Air Date: 2012-08-10
Adam tries to persuade Aaron not to turn himself in, offering to go on the run with him instead - but he is unable to stop the fugitive heading to the police station; Marlon continues to struggle with his emotions; and Ross drowns his sorrows.
Ep.190

Mon 13 Aug 2012
Air Date: 2012-08-13
Cain locks Ross in the garage to prevent him from attending Donna's funeral; Adam has an announcement to make in The Woolpack; and Pete plans to ask Debbie if he can move in.
Ep.191

Tue 14 Aug 2012
Air Date: 2012-08-14
Marlon scuffles with Ross as he tries to stop him entering the church, while Brenda takes April to Gennie's grave in an attempt to help her understand what a funeral is; and Moira offers Adam his old job back.
Ep.192

Wed 15 Aug 2012
Air Date: 2012-08-15
As the wedding party discusses plans for the big day, Marlon pretends that Chas needs his help and escapes, but Laurel discovers his deceit; and a grief-stricken Ross kisses Debbie.
Ep.193

Thur 16 Aug 2012 - Part 1
Air Date: 2012-08-16
Ross's grief turns to fury when Pete reaches out to him; Laurel opens up to Ashley; and Andy is pleased when Katie talks about them growing old together - giving him an idea
Ep.194

Thur 16 Aug 2012 - Part 2
Air Date: 2012-08-16
Victoria warns Andy he is making a mistake proposing to Katie; Sean tries one last time to bring his dad and Kerry back together before he leaves for the Army, but with emotions getting the better of Dan and Ali, his efforts look set to fail; Declan decides Megan has outstayed her welcome; and Pete refuses to hear Debbie out
Ep.195

Fri 17 Aug 2012
Air Date: 2012-08-17
Robbie makes a shocking discovery about Charity when he uses her sat-nav; and Dan and Ali struggle with their guilt.
Ep.196

Mon 20 Aug 2012
Air Date: 2012-08-20
Megan shows Declan the evidence, insisting Charity aborted their baby; Robbie asks Chas about the termination; Vanessa and Kirin risk being caught together; and Katie reassures Andy that Robert shouldn't be a problem.
Ep.197

Tue 21 Aug 2012
Air Date: 2012-08-21
Robbie and Megan are determined to find further evidence against Charity, with Robbie enlisting the help of Tracy; and Vanessa struggles with her feelings for Kirin when she sees him with another woman.
Ep.198

Wed 22 Aug 2012
Air Date: 2012-08-22
Following Robbie's arrest for breaking into the abortion clinic, Declan wonders if there is any truth to Megan's accusation, and Charity knows she must think quick to throw her husband off the scent; Priya stirs up trouble for Kirin and Vanessa; and Jimmy plays Nicola at her own game.
Ep.199

Thur 23 Aug 2012 - Part 1
Air Date: 2012-08-23
Declan asks Charity to accompany him to the abortion clinic to dispel his doubts; Laurel has growing concerns about Marlon; and Sam receives a worrying credit card statement.
Ep.200

Thur 23 Aug 2012 - Part 2
Air Date: 2012-08-23
Bride-to-be Laurel slips away from her hen party, followed by Ashley, and tells him her concerns - before drunkenly trying to kiss him; and Debbie is left reeling by Charity's request for help.
Ep.201

Fri 24 Aug 2012
Air Date: 2012-08-24
With Marlon and Laurel in turmoil on their wedding day, Doug tells Nicola what he overheard in the pub toilets, but she urges him to avoid spoiling the occasion; and Charity fears what Declan will do if he learns the truth.
Ep.202

Mon 27 Aug 2012
Air Date: 2012-08-27
Just as the service is about to start, Marlon and Laurel realise they have a lot of talking to do and head home in an attempt to work things out; and Debbie prepares to make Declan believe she was the one who had the termination.
Ep.203

Tue 28 Aug 2012
Air Date: 2012-08-28
Megan is stunned by how things have turned out, but Charity cannot abide her sister-in-law and sets about taking revenge, and Ruby is curious about the tension between Ali and Kerry.
Ep.204

Wed 29 Aug 2012
Air Date: 2012-08-29
Megan and Jai find evidence against Charity and go to Home Farm to tell Declan; Paddy and Chas worry about Aaron's state of mind; and Debbie asks Pete to move in.
Ep.205

Thur 30 Aug 2012 - Part 1
Air Date: 2012-08-30
Pete is shocked when Megan confronts Debbie publicly in The Woolpack about aborting his baby, and to make matters worse, Debbie can't deny it without betraying Charity; a secret from Edna's past is revealed when she visits Aaron in prison ahead of his sentencing; and Jimmy tries to put Nicola off the idea of them joining a gym together.
Ep.206

Thur 30 Aug 2012 - Part 2
Air Date: 2012-08-30
Aaron puts on a brave face as his day in court arrives; Cain is determined to get to the bottom of Pete and Debbie's argument; Declan blames stress when Charity falls ill; and Jai prepares to dump Megan.
Ep.207

Fri 31 Aug 2012
Air Date: 2012-08-31
Noah meets Jacob and takes a few swigs from a bottle of wine stolen from Home Farm, before collapsing; and Aaron wakes up hung-over and regretful about his night with Finn.
Ep.208

Mon 3 Sep 2012
Air Date: 2012-09-03
At the hospital, Noah's account of seeing Megan with the bottle of wine appears extremely incriminating; Aaron does his best to ignore Ross, who is determined to cause trouble; and Alicia plays Cupid for Leyla.
Ep.209

Tue 4 Sep 2012
Air Date: 2012-09-04
When the police reveal they found pesticide in the wine Noah drank, Charity is certain Megan is responsible; Ross leaves the village; and Priya is horrified to discover Leyla's new love interest is Jai.
Ep.210

Wed 5 Sep 2012
Air Date: 2012-09-05
Megan tries to protest her innocence at the police station; Declan suggests a cottage break to Charity; and Priya confronts Jai and Leyla about their affair.
Ep.211

Thur 6 Sep 2012 - Part 1
Air Date: 2012-09-06
Declan sinisterly watches over Charity as she sleeps at the cottage. Jai arrives at Debbie's to see Noah. Moira worries as Adam tries to be as upbeat as possible. Marlon is suspicious.
Ep.212

Thur 6 Sep 2012 - Part 2
Air Date: 2012-09-06
Declan sets his plan in motion. Moira continues to fret about Adam. Doug is invited to a give a talk at a gardening exhibition as a guest speaker. He offers to take Diane along but she declines.
Ep.213

Fri 7 Sep 2012
Air Date: 2012-09-07
Charity lies motionless on the floor in a pool of blood as Declan drops to his knees and checks for a pulse before dashing out the room. Megan finds a booking confirmation for a cottage she and Declan used to go to as kids on his laptop and rushes off with Robbie.
Ep.214

Mon 10 Sep 2012
Air Date: 2012-09-10
Declan makes it clear to Charity that he intends to kill her. Noah surprises Jai when he arrives at the factory asking if Megan tried to poison him.
Ep.215

Tue 11 Sep 2012
Air Date: 2012-09-11
Megan stands alone at Kilbeck Water, eagerly watching the police divers start searching for Robbie and Declan. Charity and Debbie are both safe back at Emmerdale as news that Robbie and Declan are suspected to be dead travels.
Ep.216

Wed 12 Sep 2012
Air Date: 2012-09-12
A petrified Charity has had Lisa stay the night with her at Home Farm and asks Sam to keep checking the grounds. Nicola is surprised. Megan struggles to accept that Robbie's dead having only known him for two years.
Ep.217

Thur 13 Sep 2012 - Part 1
Air Date: 2012-09-13
Jimmy has spent the night on Bob, Brenda and Rodney's couch. He tries to collar Nicola as she leaves the café but she ignores him. Laurel tells Doug that she's just heard from Hilary and she's getting engaged to Alberto
Ep.218

Thur 13 Sep 2012 - Part 2
Air Date: 2012-09-13
Edna gets a shock when Lawrence arrives in the village to see her. Pete reluctantly takes Sarah to school when Debbie's car breaks down. Priya's concerned about how many of Rakesh's family will be at the wedding, knowing she's barely met any of them.
Ep.219

Fri 14 Sep 2012
Air Date: 2012-09-14
Lisa has gone to the doctors' and he refers her for more tests at the chest clinic immediately. He prescribes her a GTN spray. Alicia plans to set Leyla up with Pete. Sandy tries to persuade Edna to abandon her guilt. Lisa covers her trip to the doctors' and arrives back home to greet Belle who arrives home on day release.
Ep.220

Mon 17 Sep 2012
Air Date: 2012-09-17
Lisa lies outside the factory unable to reach the GTN spray in her bag. Kerry finds her and gets Rishi and Jai to ring an ambulance. She rushes off to break the news to Zak and Belle. Belle panics as the STC Staff Members refuse to let her leave the cottage and take her back to prison.
Ep.221

Tue 18 Sep 2012
Air Date: 2012-09-18
Lisa discharges herself out of hospital against Dr Wainwright's wishes. Pete has spent the night on Leyla's couch. He apologises for spending all night talking about Debbie. They agree to meet for a coffee later. Debbie is upset as she spots Pete leaving Tug Ghyll. Zak and Sam get a surprise when Lisa arrives home.
Ep.222

Wed 19 Sep 2012
Air Date: 2012-09-19
Rakesh asks Priya if she'll change her mind about not marrying him if he sorts out the business between Lisa and Jai. She agrees. Jimmy rushes out, avoiding Nicola's attempts to meet him later in the day. Lisa tells Rakesh that she has no intention of going to court. Jimmy meets with Juliette in secret at Home Farm to sign her No Contact form.
Ep.223

Thur 20 Sep 2012 - Part 1
Air Date: 2012-09-20
Priya avoids her breakfast as Georgia fusses around her with preparations. Charity continues to feel guilty. Leyla warns Rakesh that Jai is planning not to come to the wedding again. Nicola is surprised when Juliette arrives to collect the no contact forms from Jimmy.
Ep.224

Thur 20 Sep 2012 - Part 2
Air Date: 2012-09-20
Nicola is uneasy as Jimmy receives news that Juliette and Carl are leaving hospital. She worries that he'll go back on his promise to have no contact. Priya sneaks out of Victoria Cottage after having secretly spent the night with Rakesh. Jai tiptoes around an emotional Megan as she struggles with her grief for Robbie and Declan. Ashley and Harriet move into Brook Cottage.
Ep.225

Fri 21 Sep 2012
Air Date: 2012-09-21
Megan receives news that Robbie's dad, Simon Beck, won't be attending the funeral. She explains to Jai how Simon didn't want anything to do with Robbie, causing her to lie that his dad was dead. Moira and Cain are back at Butler's Farm and catch up on the latest goings on from Zak and Finn. Aaron tells Moira that he has a visiting order to see Adam that afternoon to her upset.
Ep.226

Mon 24 Sep 2012
Air Date: 2012-09-24
The Dingles try to get Declan to tell them what he's done to Charity. He prevents Chas from calling the police as he tells Sam he has knowledge of why Rachel left the village. Moira worries to James about not being invited to visit Adam. Declan admits he was responsible for starting the fire at Home Farm, not Rachel.
Ep.227

Tue 25 Sep 2012
Air Date: 2012-09-25
Charity sleeps in a chair at Home Farm clutching a baseball bat. Ruby tells Bob about Declan and Charity's blackmailing of Rachel and explains that Rachel could come home how if anyone knew where she was. Zak leaves Charity a message at Home Farm on behalf of Sam saying she can stuff her job and warns her to steer clear of them.
Ep.228

Wed 26 Sep 2012
Air Date: 2012-09-26
Charity wakes and finds herself chained and locked in a storage container. DI Bails arrives in the village looking for her. Rakesh tells Priya he wants to see her again but she makes excuses. Moira's upset as she receives a call from prison saying Adam has been involved in another altercation and one of his fingers may be broken.
Ep.229

Thur Sep 2012 - Part 1
Air Date: 2012-09-27
Charity is in despair as the chains begin to cut into her ankles and she runs out of water. Katie is surprised when she finds out Rakesh is taking Leyla to a lawyer's event as his date. Aaron is disappointed to discover Moira paid Maxine off. Katie lies to Doug that Diane wants to apologise for how she treated him yesterday.
Ep.230

Thur 27 Sep 2012 - Part 2
Air Date: 2012-09-27
Priya and Rakesh have spent the night together again and arrange to keep seeing each other. Kirin overhears them talking. Charity repeatedly bangs on the storage container for help. Megan's concerned when Jai is distant with her. Debbie worries to Pete that Declan has gotten to Charity. Doug is pleased as his Twitter account continues to grow and proves to be popular in Wales.
Ep.231

Fri 28 Sep 2012
Air Date: 2012-09-28
Sam anonymously calls an ambulance for Jai. Kirin blackmails Priya into getting Rakesh to give him the money for Amsterdam by letting on he knows about the two of them. Megan and Leyla are shocked as they arrive back at Holdgate Farm to see Jai being stretchered out to an ambulance. Sam arrives at Frampton Wood and hears a distressed Charity talking to herself in the container.
Ep.232

Mon 1 Oct 2012
Air Date: 2012-10-01
Diane convinces Doug to fight for his vlog. Debbie becomes frustrated at the Dingles lack of progress in finding Charity. Sam refuses to help them search again. Megan and Georgia weep as they await news on Jai. Kerry considers selling Charity's life story to a gossip magazine for £500. Noah expresses his hate for Charity deserting him again.
Ep.233

Tue 2 Oct 2012
Air Date: 2012-10-02
Alicia warns Leyla to stay away from Jai when she finds out she visited him in hospital. Megan tells Priya she thinks Jai is cheating on her with Leyla. Priya tries to convince her the stress is making her see things that aren't there. Rodney overhears Jimmy on the phone to Juliette about Carl. Priya warns Leyla that Megan suspects her of having an affair with Jai. Sam and Charity row over each other's actions.
Ep.234

Wed 3 Oct 2012
Air Date: 2012-10-03
Leyla arrives at work to find Megan has changed the locks. Vanessa and Rhona arrive back from their holiday. Kirin rushes off to his driving test. Megan refuses to go to the hospital and tells Priya that she's found out about the affair. Leyla has the locks changed back. Jai is brought out of his coma but Georgia, Rishi and Priya are quietly concerned when his first words are asking after Charity.
Ep.235

Thur 4 Oct 2012 - Part 1
Air Date: 2012-10-04
Noah persists in giving Charity a hard time. Megan demands the office keys back from Leyla. Noah turns up at Mulberry Cottage telling Debbie he's not staying with Charity anymore. Leyla explains to Katie about her affair with Jai. Katie encourages her to put Jai behind her and fight for her business. Vanessa tells Rhona that her drink with Nigel was a disaster and she still misses Kirin.
Ep.236

Thur 4 Oct 2012 - Part 2
Air Date: 2012-10-04
Robert Sugden is back in the village and lays flowers on Jack's grave. Moira's irritated when she finds out Cain has offered to let Charity stay longer at the farm. At Wishing Well Cottage, the Dingles are preparing a party for Lisa's return but Zak decides not to tell her about Charity's latest news.
Ep.237

Fri 5 Oct 2012
Air Date: 2012-10-05
Robert explains to Chrissie who 'Andrew' and 'Katherine' really are. Megan rejects Jai's offer of a loan when he leads her to believe it's money that he would have been using to find Archie. Robert enjoys winding her and Andy up as he and Chrissie look around Home Farm as prospective purchasers.
Ep.238

Mon 8 Oct 2012
Air Date: 2012-10-08
Andy refuses to work at Home Farm, not wanting to give Robert the satisfaction. Lisa is determined to lose weight before Belle comes home and secretly begins taking her diet pills. Amelia puts a wedding proposal in Ruby's mind to cheer up Ali. Leyla asks to be Katie's wedding planner, but Katie turns her down.
Ep.239

Tue 9 Oct 2012
Air Date: 2012-10-09
On the day of Ali and Ruby's anniversary, Ruby prepares herself to propose to an unsuspecting Ali. Katie tries to persuade Andy to take the job at Home Farm, believing it to be a step in the right direction. Aaron goes behind Moira's back, telling Cain about Maxine. Laurel and Marlon return from their honeymoon.
Ep.240

Wed 10 Oct 2012
Air Date: 2012-10-10
Kerry tells Dan that Ali might be pregnant. They both push Ali to take the pregnancy test. Ruby walks in on their conversation and detects an atmosphere. Moira, Aaron and Cain visit Adam in hospital. Moira tells Adam that she's told the prison authorities. He tries to cover his worry. James discovers a dead cow in a field at Butler's Farm. Dan and Ali confess that they slept together as Sean's leaving and that she might be pregnant.
Ep.241

Thur 11 Oct 2012 - Part 1
Air Date: 2012-10-11
Ruby has spent the night at Connelton View. Exhausted after patrolling the farm all night, Cain and Aaron decide to pay Maxine a visit to tell her that she has picked the wrong family to mess with. Katie tries to get Andy to endorse her plans to move her stables back to Home Farm but he insists he doesn't want her near Robert.
Ep.242

Thur 11 Oct 2012 - Part 2
Air Date: 2012-10-11
Ruby tells Ali and Amelia that she is leaving for Leeds and doesn't think she'll ever be back. Juliette arrives at Mill Cottage and dumps a crying baby Carl on Jimmy, desperate for some sleep. Cain plans to bring Maxine down once and for all and enlists the help of Ross and Aaron. Finn suspects Ross is planning on leaving the village again and tampers with his car so he can't leave. Kerry is working on Chrissie at the salon when Katie arrives about moving her horses back to Home Farm.
Ep.243

Fri 12 Oct 2012
Air Date: 2012-10-12
Maxine struggles to appear calm as Charity takes both of their lives in her hands, taking them on a hell drive. Reckless Charity drives dangerously fast, making it clear that she has nothing to lose. Back at the container, Cain makes it clear to Debbie how important it is to get Maxine back in one piece, with Adam's life depending on it. Katie and Robert snipe at each other at the stables.
Ep.244

Mon 15 Oct 2012
Air Date: 2012-10-15
Nicola is thrown when she sees Jimmy cradling his son and realises that she needs to tell Angel about her little brother. Marlon and Arthur excitedly prepare for their Halloween party, which has fancy dress and decorations. Cain expresses his gratitude to Charity when he discovers that Adam has returned to prison with no problems. Ross breaks the news to Finn that he doesn't think he can stay on long and becomes emotional at the mention of Donna.
Ep.245

Tue 16 Oct 2012
Air Date: 2012-10-16
Rhona and Vanessa leave Kirin's party the next day, both extremely drunk. Vanessa is pleased when Kirin tells her that his friends all approve of her. Their happiness is quickly shattered however when Rakesh arrives back in time to witness Sandy complaining about the noise lasting all night and vows to punish him.
Ep.246

Wed 17 Oct 2012
Air Date: 2012-10-17
With April still not sleeping, Laurel suggests to Marlon that they should take her to a specialist to help her with grief, but Marlon denies they need help. Laurel meets Nicola for lunch and discusses her marital problems over a glass of wine, only to be interrupted by a call from April's school. Laurel is pulled away to go and collect her.
Ep.247

Thur 18 Oct 2012 - Part 1
Air Date: 2012-10-18
Marlon is still furious with Laurel, who insists that she didn't know she was over the limit. She tries to cover her distress as Doug returns. Doug is later concerned that Marlon is neglecting Arthur as he and April prepare for the bonfire party. They clash as Doug tries to discipline April. As the adults squabble, Arthur finds the box of fireworks and takes them outside on his own.
Ep.248

Thur 18 Oct 2012 - Part 2
Air Date: 2012-10-18
Diane and Victoria make plans for Katie and Andy's engagement party. Lawrence and Robert continue to irritate each other and Lawrence suggests Chrissie gets a pre-nup but she refuses. He reminds her how even Robert's own family don't trust him, but Chrissie still won't listen.
Ep.249

Fri 19 Oct 2012
Air Date: 2012-10-19
Katie warns off Robert when he suggests that Andy could lose his temper with her. Later Andy and Katie discuss what has gone on, but Katie is thrown when Lawrence makes her an offer - she can have the farm if she colludes in exposing Robert.
Ep.250

Mon 22 Oct 2012
Air Date: 2012-10-22
Katie has not yet told Andy about Lawrence's offer and is thrown when Lawrence asks her if she's made up her mind yet. Katie knows she has to tell Andy.
Ep.251

Tue 23 Oct 2012
Air Date: 2012-10-23
Belle is nervous over her first day back at school. Lisa is also worried and tells Laurel how Gabby gave Belle a hard time this morning. Soon afterwards, Lisa is beside herself with worry when she learns that Belle never got to school.
Ep.252

Wed 24 Oct 2012
Air Date: 2012-10-24
When Belle insists that she is not going back to school, a worried Lisa makes plans to get a home tutor. Marlon gives Belle confidence when he asks her to look after April for him later. Belle is secretly pleased for the opportunity and Lisa feels hopeful. However, when Gabby declares that Belle has threatened to kill her, a shocked Marlon retracts the offer.
Ep.253

Thur 25 Oct 2012 - Part 1
Air Date: 2012-10-25
Jai praises Priya's work and asks her to stay on longer. However, she feels awkward when Jai insists that she doesn't need Rakesh in her life anymore. Jai also announces that he is treating his family to a thank you meal. Priya invites Rakesh and suggests they could use the opportunity to come clean about their relationship, but Jai is shocked to walk in on them kissing and his animosity towards Rakesh is still apparent.
Ep.254

Thur 25 Oct 2012 - Part 2
Air Date: 2012-10-25
Jai follows up a lead on his missing son. Debbie tells Lisa that Lachlan gave Belle some grief yesterday, which leaves Lisa worried. Later, Zak confronts Lachlan, unaware that Belle is listening. Nicola comforts Jimmy as he prepares for his vasectomy reversal.
Ep.255

Fri 26 Oct 2012
Air Date: 2012-10-26
Everyone is shocked to see Jai with Archie and he lies about how Rachel has handed him over. However, Ali suspects that Jai may have done something to Rachel and calls the police. Robert tells everyone that Lawrence was sent to prison for being gay and taunts him for it.
Ep.256

Mon 29 Oct 2012
Air Date: 2012-10-29
Ali is furious that the police believe Jai and almost gets arrested for her behavior. However, Rakesh sees an article in the paper about a woman's body having been found.
Ep.257

Tue 30 Oct 2012
Air Date: 2012-10-30
Rakesh tells a determined Ali that she could apply for a child arrangement order to get access to Archie. When Jai confronts Rakesh over Ali, Rakesh has further news for Jai as he's done some digging on the murdered girl.
Ep.258

Wed 31 Oct 2012
Air Date: 2012-10-31
Ross gives a false alibi to the police, saying Aaron was with him. Aaron reluctantly covers for him but Chas is unconvinced. Later, Pete's drug past returns to haunt him when the police call asking him to come to the station tomorrow. Pete decides to keep his visit from the police a secret from Debbie.
Ep.259

Thur 1 Nov 2012 - Part 1
Air Date: 2012-11-01
Pete reels to learn that he is being accused of previously selling ecstasy, which resulted in a girl dying. Pete is further shocked when he is arrested for supplying drugs. Meanwhile, Robert drowns his sorrows after learning that Nicola got the job. Ross spots him leaving his car keys behind and swipes them.
Ep.260

Thur 1 Nov 2012 - Part 2
Air Date: 2012-11-01
Aaron and Ross realise they have no other choice but to go ahead with Robert's raid at Home Farm. Whilst first ensuring that Chrissie and Lachlan are both out for the day, Robert sets Lawrence up. Later, Ross and Aaron arrive at Home Farm wearing balaclavas. Ross whacks Lawrence out unconscious with a baseball bat and then they set about raiding the house, watched by Robert.
Ep.261

Fri 2 Nov 2012
Air Date: 2012-11-02
Masked raiders Aaron and Ross attempt to disguise their voices as they play the part, blocking Chrissie's exit. Meanwhile, Pete's past and Debbie's lies send Andy raging as he decides that he wants to keep the kids full-time. Elsewhere, the Dingles are on edge following the smashed window and they worry for Belle's welfare. Lisa worries further when Sam tells her that he saw Belle arguing with Lachlan in the café earlier. The Dingles are heartbroken as Belle worries about going to school. Also, Marlon asks Chas for a day off tomorrow, telling her about Laurel's court date.
Ep.262

Mon 5 Nov 2012
Air Date: 2012-11-05
At Home Farm, Nicola enjoys having authority and taking the upper hand as she insists that she'll sort the insurance out. Robert feels guilty when an upset Chrissie tells him that her mum's engagement ring is missing from the raid.
Ep.263

Tue 6 Nov 2012
Air Date: 2012-11-06
Chrissie puts on a brave face after the robbery, but Robert feels guilty over her mum's stolen ring. Aaron is relieved to learn that Ross hasn't yet sold the jewellery, but gets angry when Ross is adamant that Chrissie is not getting it back.
Ep.264

Wed 7 Nov 2012
Air Date: 2012-11-07
Chrissie is rattled when Cain warns her about letting Lachlan go near Belle. Chrissie later finds Lachlan skipping school and tells him about Cain's warning, worrying that he's doing the same as he did before. Chrissie is unconvinced as Lachlan reassures her. Later at the playground, Lachlan joins Belle as she sits alone.
Ep.265

Thur 8 Nov 2012 - Part 1
Air Date: 2012-11-08
Ashley and Harriet bring Belle home. She is scratched and upset and it appears she has been attacked. Belle's family try to get her to explain what happened, but she becomes distressed and refuses to go to the police.
Ep.266

Thur 8 Nov 2012 - Part 2
Air Date: 2012-11-08
Belle is living in fear, while Zak and Lisa are worried about who could be doing this to her. Later, Belle's problems exacerbate when Cain gets the wrong end of the stick regarding Lachlan. When Lachlan is found with cans of spray paint, the evidence against him seems to be apparent.
Ep.267

Fri 9 Nov 2012
Air Date: 2012-11-09
Cain and Moira are both furious when the police arrive at Butler's Farm, wanting to investigate stolen cars. They soon discover that Charity and Ross have been using the farm for their illegal business. Cain storms over to Charity and Ross, warning them to shift the cars.
Ep.268

Mon 12 Nov 2012
Air Date: 2012-11-12
Debbie is adamant that Pete is not going to prison, suggesting to him this is perhaps Charity's comeuppance. Later, DI Bails tells Pete that he's got until tomorrow to get Charity to confess to arson - and Debbie has a plan.
Ep.269

Tue 13 Nov 2012
Air Date: 2012-11-13
It's Cain's 40th birthday and he is grumpy, thinking no fuss has been made. What he doesn't know is that Moira is preparing a surprise party. Moira pulls together some surprises for Cain, who is bemused to turn up and find everyone with a mask of his face on. Unfortunately, Moira is nowhere to be seen and when Cain tries to call her, he is alarmed to get through to a nurse who explains that Moira has been run off the road.
Ep.270

Wed 14 Nov 2012
Air Date: 2012-11-14
A guilty Kirin shakily admits to Rakesh that he drove home drunk last night. He then takes a deep breath before admitting that he might have hit someone and he is concerned it was Moira. Rakesh cannot believe what has happened and is further incensed that Kirin has taken his damaged car to Cain's garage. At the same time, Cain has brought a shaken Moira home and is furious at whoever did this to her. Kirin is chilled to the bone to hear that Cain is out for revenge.
Ep.271

Thur 15 Nov 2012
Air Date: 2012-11-15
Cain is in a fury as he starts laying into Kirin, and it looks like nothing will stop him from beating him to a pulp. Rakesh sees what is happening and shouts at Cain, threatening to call the police. Knowing Rakesh has the weight of the legal system behind him, Cain snarls before shoving Kirin, telling him that he will be back later. Later, Moira is shocked to learn that it was Kirin who caused her accident, as Vanessa tries to stop her from calling the police.
Ep.272

Fri 16 Nov 2012
Air Date: 2012-11-16
Cain is pensive to hear Charity that has been charged. He feels protective, wanting to help. Debbie is also now worried about the consequences. At the same time, Moira is concerned that Cain won't let things drop with Kirin. Later Cain visits Rakesh, demanding a deal, as he wants Rakesh to legally represent Charity and uses Kirin as leverage.
Ep.273

Mon 19 Nov 2012
Air Date: 2012-11-19
Robert is stressed by Chrissie's accusations that Leyla is flirting with him. Feeling frustrated with how things are at home, Robert pulls over at the side of a road in a layby and texts Aaron, telling him that he has broken down.
Ep.274

Tue 20 Nov 2012
Air Date: 2012-11-20
Robert suddenly has second thoughts about his kiss with Aaron and pushes him away. He then drives off and Aaron is left feeling confused. Back home, Robert is feeling frustrated after his encounter with Aaron and soon he and Chrissie are passionately tearing at each other's clothes.
Ep.275

Wed 21 Nov 2012
Air Date: 2012-11-21
It's the day of Ali and Ruby's wedding, but things go awry when Ali takes a call from the registry office saying they've cancelled the wedding as the registrar has died. Ruby arrives to find Ali and Dan trying to find another registry office. Harriet takes the plunge by suggesting they still have a blessing from her, but later tells Ali they should just go the full hog and have a proper wedding.
Ep.276

Thur 22 Nov 2012 - Part 1
Air Date: 2012-11-22
It's the day of the craft fair in the village, so Zak encourages Belle to get involved and enter her picture into the art competition. Chrissie insists that she's not going to let Lachlan out of her sight all day as she brings in his art entry.
Ep.277

Thur 22 Nov 2012 - Part 2
Air Date: 2012-11-22
Belle seems determined to carry on as normal as her family discuss who might have damaged her painting. She plugs in her headphones and heads out, soon ending up in the woods. Belle then dials the number for her new school and starts shouting abuse, telling the person on the other end that she is never going back to their school.
Ep.278

Fri 23 Nov 2012
Air Date: 2012-11-23
Zak and Lisa are very worried about Belle and they are horrified to realise that someone has reported her when her youth offenders officer Pamela arrives. Pamela states that she's had a report of Belle going against her licence.
Ep.279

Mon 26 Nov 2012
Air Date: 2012-11-26
On a mission, Belle watches Edna's house but Harriet spots her and notices her troubled air. Back home, Belle hunts around for a sharp object and when Zak and Lisa return home, she is alarmed that they have arranged for her to speak with a doctor. Belle struggles as she talks to Dr Cavanagh who suggests counselling but Belle remains defiant and refuses to speak to anyone.
Ep.280

Tue 27 Nov 2012
Air Date: 2012-11-27
Edna is shaken following the burglary, while Alicia and Harriet are suspicious of Belle. Back at Wishing Well Cottage, Zak and Lisa insist Belle still considers counselling, but having burgled Edna, she secretly thinks everything will be alright now. However, she is alarmed when Lachlan sends her an incriminating photo.
Ep.281

Wed 28 Nov 2012
Air Date: 2012-11-28
Belle feels guilty when she sees how stressed Lisa is about recent events and arranges to meet with Lachlan later. At the cricket pavilion, Belle is prepared to do what is necessary in exchange for the photo and Lachlan is curious to see how far Belle would go.
Ep.282

Thur 29 Nov 2012 - Part 1
Air Date: 2012-11-29
When Robert learns that Andy has been given Jack's wedding ring, which is going to be melted down into two rings, he storms out in a fury. Aaron tracks down Robert, who climbs into his car and tells him to drive anywhere.
Ep.283

Thur 29 Nov 2012 - Part 2
Air Date: 2012-11-29
Robert panics when Chrissie suddenly recognises Ross's voice from the robbery and wants to call the police. A desperate Robert tries to calm her, knowing that he has to act fast. When Robert explains that Chrissie knows, Ross vows to drop him in it if she calls the police. Soon Ross and Robert are slugging it out. Meanwhile, an excited Moira arrives home with Adam.
Ep.284

Fri 30 Nov 2012
Air Date: 2012-11-30
Still bitter that Robert prevented her from reporting Ross to the police, Chrissie has now filled Lawrence in on what has happened. Robert naively hopes he has the situation under control, but things begin to slide when Chrissie returns home from the salon where she was fully filled in on Ross's previous crimes. Chrissie is now certain that Ross was behind their robbery and prepares to call the police.
Ep.285

Mon 3 Dec 2012
Air Date: 2012-12-03
Robert is uneasy when Lawrence hints that he has his own plans to deal with Ross and soon the Bartons realise something is awry. The local abattoirs are rejecting their business, there is an unannounced inspection at the garage and a tax enquiry occurs. It's clear foul play is at hand. It's Pete who makes the connection that their family is being targeted due to Ross.
Ep.286

Tue 4 Dec 2012
Air Date: 2012-12-04
Ross returns home to find Lawrence throwing his belongings into a fire, including a picture of Donna. Ross goes to attack Lawrence just as Robert arrives and pulls them apart. When Lawrence finds Ross's phone, it's clear he has hit a nerve. Lawrence smiles - enjoying seeing him sweat. Lawrence passes the phone to Robert, urging him to destroy it, but Robert is conflicted.
Ep.287

Wed 5 Dec 2012
Air Date: 2012-12-05
At Butler's Farm, the Bartons struggle to undo the damage done by Lawrence. At the same time, Robert is still scheming over how to get Lawrence off Ross's back. Later, Chrissie warns Ross that she will get him one day. Ross seethes and grows tired of Pete as he blames him for their recent trouble.
Ep.288

Thur 6 Dec 2012 - Part 1
Air Date: 2012-12-06
Jimmy is incredulous as Charity plans to hold their haulage firm Christmas party at Butler's Farm. Moira eventually agrees, though she stipulates some strict ground rules. Unfortunately, Moira quickly regrets her decision when she returns home to an unruly bash. This is the final straw - she wants Charity out.
Ep.289

Thur 6 Dec 2012 - Part 2
Air Date: 2012-12-06
When Charity spills something over Moira, a fight between the pair breaks out and Moira tells Charity to leave. Cain arrives home from France in the middle of their fight but seems disinterested over the angry scene. Moira is also thrown by Cain's attitude when he admits that his car went missing in Dover. Cain is exhausted at having to deal with Moira and Charity's incessant arguing, but he is adamant that he won't kick Charity out before Christmas.
Ep.290

Fri 7 Dec 2012
Air Date: 2012-12-07
Kerry finds a sobbing Bernice, who admits that she can't do Katie's hair and make-up for the wedding as she still loves Andy. Bernice's day gets worse when she is forced to cover the bar during Andy's stag do. As the stags gather in fancy dress in The Woolpack, Robert arrives and Andy reluctantly agrees that he can stay - but the brothers don't remain amicable for long and they end up having a fight over Jack and Sarah's graves.
Ep.291

Mon 10 Dec 2012
Air Date: 2012-12-10
It's Christmas Day and the morning of the wedding. Diane finds Robert at Jack's grave and is left deeply troubled as she worries what he will do next following the recent argument with Andy. Victoria is also stressed, so she leaves Robert a voicemail message warning him to stay away from the ceremony.
Ep.292

Tue 11 Dec 2012
Air Date: 2012-12-11
Megan has concerns that Jai only wants to marry her for Archie's sake. Later, Jai and Megan are out and are both alarmed when he suddenly sees Josh, the man who sold him Archie. Knowing it is Jai's only possible link to Rachel's whereabouts, Megan wants to do something and takes a photo of Josh's car number plate.
Ep.293

Wed 12 Dec 2012
Air Date: 2012-12-12
Megan struggles to forget about Rachel. Later, Charity arrives but is stunned when Megan admits to knowing about her kidnapping. Charity sows the seeds of doubt in Megan's mind, explaining how much Jai hurt her and implying he'll do the same to Megan. Meanwhile, Nicola is distracted throughout Bernice's party, aware that something is wrong. Everyone is left worried when Nicola reveals she is bleeding and is rushed to hospital.
Ep.294

Thur 13 Dec 2012 - Part 1
Air Date: 2012-12-13
Nicola struggles as she hides the truth from Rodney. With Jimmy so excited, she can't bring herself to tell him either. When Nicola finally builds up the courage, Jimmy is left hurt and shocked, but he can see that she blames herself and tries to reassure her. However, Nicola has another bombshell for Jimmy. Meanwhile, it's Belle's first day at the stables and all seems to be going well, until a client leaves when she recognises her.
Ep.295

Thur 13 Dec 2012 - Part 2
Air Date: 2012-12-13
Belle feels relaxed at the stables, but she panics when she realises that a pill is missing. Samson finds the pill and admits to Lisa and Zak that he has seen Belle with one. Later, Belle panics as Zak throws her remaining pills in the bin, but as everyone celebrates the New Year, a desperate Belle is searching through the rubbish, starting the New Year on a not-so-happy high.
Ep.296

Fri 14 Dec 2012
Air Date: 2012-12-14
Ep.297

Mon 17 Dec 2012
Air Date: 2012-12-17
Ep.298

Tue 18 Dec 2012
Air Date: 2012-12-18
Ep.299

Wed 19 Dec 2012
Air Date: 2012-12-19
Ep.300

Thur 20 Dec 2012 - Part 1
Air Date: 2012-12-20
Ep.301

Thur 20 Dec 2012 - Part 2
Air Date: 2012-12-20
Ep.302

Fri 21 Dec 2012
Air Date: 2012-12-21
Ep.303

Mon 24 Dec 2012
Air Date: 2012-12-24
Ep.304

Tue 25 Dec 2012 - Part 1
Air Date: 2012-12-25
Ep.305

Tue 25 Dec 2012 - Part 2
Air Date: 2012-12-25
Ep.306

Wed 26 Dec 2012
Air Date: 2012-12-26
Ep.307

Thur 27 Dec 2012 - Part 1
Air Date: 2012-12-27
Ep.308

Thur 27 Dec 2012 - Part 2
Air Date: 2012-12-27
Ep.309

Fr i 28 Dec 2012
Air Date: 2012-12-28
Ep.310

Mon 31 Dec 2012
Air Date: 2012-12-31
Ep.311

Episode 311
Air Date: