Episodes List
Ep.1

Mon 2 Jan 2017
Air Date: 2017-01-02
Kerry takes drastic action. Emma meddles . Aaron plays matchmaker.
Ep.2

Tue 3 Jan 2017
Air Date: 2017-01-03
In the salon, Bernice looks at herself in the mirror and imagines how she'd look with smoother skin. Kerry's suspicions are raised when Bernice is secretive about a parcel, so when Bernice heads out jogging with Liam Kerry looks at the package. A frantic Moira leaves Cain a voicemail begging him to come home.
Ep.3

Wed 4 Jan 2017
Air Date: 2017-01-04
Charity apologises to Ryan for interfering in his life, although once Ryan is out of earshot, she warns Dawn she's got her eye on her. Nicola fears Bernice won't cope if her face is permanently paralyzed. Victoria calls by the farm and is shocked to see the state of Cain's face. She encourages Matty to report Isaac to the police but that's the last thing Cain wants.
Ep.4

Thur 5 Jan 2017
Air Date: 2017-01-05
A barely conscious Dawn lies on the floor of the Cricket Pavilion with a used needle beside her. Cain orders Matty to call the police off but it's too late as PC Swirling has already arrived at the farm. Charity is adamant she did the right thing but sending Dawn away and can't understand why everyone is annoyed with her.
Ep.5

Fri 6 Jan 2017
Air Date: 2017-01-06
Marlon decides to head into work like nothing's happened, but just as he's leaving, he receives a text from Chas reminding him not to come in until Billy has gone. Billy wonders if it's best he leaves although Marlon refuses to let Chas dictate who can stay in his house.
Ep.6

Mon 9 Jan 2017
Air Date: 2017-01-09
It's the day of Marlon and Jessie's legal wedding but the couple don't yet have a second witness. Mandy and Vinny have spent the night at Wishing Well Cottage. Sam soon realises Mandy isn't really back for Marlon's wedding so suggests it's best she doesn't attend as Paddy will be there.
Ep.7

Tue 10 Jan 2017
Air Date: 2017-01-10
Marlon bumps into Paddy in Main Street and tries to establish if Mandy has spoken to him yet. After concluding she hasn't, Marlon ushers Paddy into the pub then takes Mandy to the café to prevent from her talking to her ex-husband. At Wishing Well Cottage, animal loving Vinny asks to feed the Dingle pigs. Vinny reminds Sam of Paddy.
Ep.8

Wed 11 Jan 2017
Air Date: 2017-01-11
The Dingles are woken early by noises outside. They fear an intruder is breaking into Wishing Well Cottage but it's really Faith coming to check up on them. At Butlers Farm, Debbie speaks with DS Sanders about Joe's disappearance. Cain and Moira are unsettled to learn Debbie has reported Joe as a missing person.
Ep.9

Thur 12 Jan 2017 - Part 1
Air Date: 2017-01-12
Belle listens in as Sam, Lydia, Charity and Vanessa discuss the strange goings on. Sam doesn't believe Lachlan is behind it although Vanessa isn't so sure. At the prison, Lachlan is put into a prison van. Graham pours whisky into his coffee mug.
Ep.10

Thur 12 Jan 2017 - Part 2
Air Date: 2017-01-12
Belle receives a call from Rebecca informing her Lachlan has been sentenced to life. Everyone in the pub is delighted, unaware of what's unfolding outside. An injured Vanessa crawls away from the flames and phones Charity. Inside the pub, the smoke alarm begins going off so everyone evacuates.
Ep.11

Fri 13 Jan 2017
Air Date: 2017-01-13
At the hospital, a Doctor informs Vanessa's loved ones that they've found another internal bleed so Vanessa will need another operation. Graham pays Cain a visit and warns him the police have been asking questions about Joe so he needs to do something about Debbie. As Vanessa is wheeled into theatre again, DS Shaw asks Charity for a word.
Ep.12

Mon 16 Jan 2017
Air Date: 2017-01-16
Charity gets annoyed when Tracy and Frank take ages to get ready. She is confused when Cain wishes Vanessa well and tells Charity to be grateful that Vanessa will be OK. David is concerned by how irritable Maya. Moira tells Debbie that she's pleased that she's liking Richard. DC Meaden arrives and tells Debbie they have recovered a body they believe is Joe. Belle apologises to Vanessa but Vanessa thanks her. Belle asks if she can do anything, and Vanessa asks if she can do a bit of work at the vets. Belle offers to work unpaid, but Vanessa jokes that after a morning with Pearl, she will want paying. Debbie struggles to process the fact Joe could be dead.
Ep.13

Tue 17 Jan 2017
Air Date: 2017-01-17
Debbie has slept the night in her car. She gets upset when she gets another phone call from Cain. Moira is disappointed that Cain told Debbie. Jacob and Maya are interrupted by Tracy and Jacob leaves disappointed. Debbie visits Graham and tells him there's something she needs to stay.
Ep.14

Wed 18 Jan 2017
Air Date: 2017-01-18
Debbie rejects a call from Charity. Sarah is confused by Debbie's behaviour, as is Faith. Graham visits Cain to discuss how they're going to keep Debbie quiet. Jacob is annoyed with Maya's coldness. Graham tells Cain not to make him regret not selling him out. Moira thinks Debbie might listen to her.
Ep.15

Thur 19 Jan 2017 - Part 1
Air Date: 2017-01-19
Jacob doesn't want to attend the careers fair although David insists they need to show Maya their support. Charity struggles to come up with the perfect way to propose to Vanessa. Graham and Noah speak in the café. When Debbie walks in, Graham leaves. Bob apologises to Cathy and Heath for not getting their second video game yet although Heath explains Brenda has already got them it. Eric appears in the café and hands Bob his B&B bill.
Ep.16

Thur 19 Jan 2017 - Part 2
Air Date: 2017-01-19
Vanessa realises Charity has hijacked Miles' proposal and demands the horse and carriage to be turned around. Jacob and Maya lock themselves in a classroom. They kiss and begin to undress but are interrupted when someone tries to open the locked classroom door. The pair quickly get themselves together then open the door for Jessie.
Ep.17

Fri 20 Jan 2017
Air Date: 2017-01-20
Maya tries to talk to Jacob as he walks to the bus stop but Jacob insists there's nothing to talk about - she needs to decide to who wants to be with. At the farm, Cain stares at a picture Kyle drew their family. He calls Moira and leaves her a voicemail begging her to come home.
Ep.18

Mon 23 Jan 2017
Air Date: 2017-01-23
Matty isn't impressed to find Cain asleep on the sofa surrounded by empty beer cans and a half-eaten takeaway. He wants Cain out of the house but Cain refuses to leave until Moira returns home. Charity tries to get to the bottom of why Debbie moved out of the farm but doesn't get very far. Faith, Charity, Chas and Vanessa are all worried about Cain but none of them want to go and see him so they draw straws.
Ep.19

Tue 24 Jan 2017
Air Date: 2017-01-24
Matty isn't happy that Moira has allowed Cain to stay at the farm. Bob has spent the night in the pub cellar. He accidentally knocks over a box of wine glasses which Charity, Vanessa, Chas and Paddy hear smash from the back room. Paddy goes to investigate the commotion although Bob manages to escapes the cellar via the barrel hatch.
Ep.20

Thur 26 Jan 2017 - Part 1
Air Date: 2017-01-26
Bob has spent a cold and sleepless night in Brenda's car. At the farm, Moira calls the police station to establish what's happening with Cain but she doesn't get very far. Ellis is annoyed when Billy walks in on him and Victoria kissing. Victoria tells the brothers they have no idea how lucky they are to have each other and compares them to Robert and Andy.
Ep.21

Thur 26 Jan 2017 - Part 2
Air Date: 2017-01-26
Cathy and Heath are disappointed that Bob hasn't picked them up for the school trip, unaware their dad lays unconscious on a bench. With a pregnancy test box in hand, Victoria calls Ellis and tells them they need to talk. When Victoria hears Marlon and Jessie coming downstairs, she quickly kicks the pregnancy test box under the sofa.
Ep.22

Fri 27 Jan 2017
Air Date: 2017-01-27
Brenda shouts at Laurel telling her if Bob had died, it would've been her fault. It soon dons on Brenda that Bob was planning to sleep in her car and she feels awful for asking for the car back. Dr Ashraf returns to the waiting are and informs Brenda, Laurel and Harriet that Bob is waking up so Brenda and Laurel head into see him.
Ep.23

Mon 30 Jan 2017
Air Date: 2017-01-30
Robert worries Aaron is refusing to leave the house to avoid Billy. Priya tells Rishi that Manpreet wants to move in, but Rishi wants her and Jai to keep their noses out and ignores their advice. Brenda tells Dan, Jimmy and Marlon that Bob is in hospital and asks for them to help cheer him up and make sure he knows they're there for him.
Ep.24

Tue 31 Jan 2017
Air Date: 2017-01-31
Ellis ignores Billy. April tells Marlon how she hates all the conflicts going on. He tries to talk to Jessie about it. Kerry thinks Daz is trying to worm his way back into the family by trying to help out financially. She finds a letter that has fallen out of Daz's pocket. Doug isn't happy when Brenda wants Doug to keep a low profile around Bob. Jessie tries to sort out the conflict between Ellis and Billy.
Ep.25

Tuesday 29th January 2019
Air Date: 2019-01-29
Jessie worries about Billy potentially going back to prison. Ellis is sour towards Billy. Kerry tries to convince Daz to accept the job, and is pleased to learn Daz has already accepted. Kerry wants Daz to leave and they can tell Amelia, but Dan doesn't want her going searching for Daz. Harriet tells Dawn that the factory may have temp work for her. Ellis tells Robert that Billy got arrested, and confronts him over his lies.
Ep.26

Wednesday 30th January 2019
Air Date: 2019-01-30
Daz tells Bernice that he's moving to Croydon for his job. She is shocked to hear Amelia is going with her. Kerry tries to talk Amelia out of going. Dan threatens to go to social services but Amelia threatens to never talk to her again. Dan admits defeat but Kerry tells him that this is how she lost Amy.
Ep.27

Thursday 31st January 2019 (Part 1)
Air Date: 2019-01-31
Graham has had Nicola working all night. He reminds Nicola she'll only stay out of prison his plan pays off. Jacob tries to talk to Liv, but she ignores him then walks off with Gabby. Dan and Kerry continue to subtly try to persuade Amelia to stay. Dan tells Amelia that if she leaves, they won't be able to see her much although Amelia states she'll be able to visit on the holidays and they can video chat. Dawn's first day at the factory hasn't lasted long as a molasses spillage has resulted in all the workers being sent home.
Ep.28

Thursday 31st January 2019 (Part 2)
Air Date: 2019-01-31
Bernice questions if Dan is really going to allow to leave Amelia with Daz. After getting redressed, Robert checks the Home James Haulage account and realises it's been cleared out so he gets straight on the phone to Nicola. Amelia finds Kerry crying in the pavilion at the park. Kerry tells Amelia she's terrified of losing her. Amelia admits she wants to stay; she's only going because Daz has no one. Kerry reminds Amelia that's not her problem.
Ep.29

Friday 1st February 2019
Air Date: 2019-02-01
Dawn is suffering the effects of going cold turkey. Harriet informs Dawn that social services have been in touch and they want to meet with her tomorrow. She again tries to persuade Dawn not to go cold turkey but Dawn insists she knows what she's doing.
Ep.30

Monday 4th February 2019
Air Date: 2019-02-04
Dawn feels great in the morning, and feels fine with the withdrawal. She is still determined to go cold turkey, but is grateful for Harriet's help. Nicola is furious about being thrown out by Jimmy but Laurel tries to make her see that she did wrong. She also advises Nicola to begin grovelling.
Ep.31

Tuesday 5th February 2019
Air Date: 2019-02-05
Harriet is relieved when she finds Dawn outside the shop, worried she may have gone after Lucas. She tells Harriet that if she takes Lucas, there's nowhere she can go. Jimmy is in a mood with Robert. Jai tells Priya that he's suspicious of Manpreet after yesterday. Jacob is still cold towards Maya and turns down a lift.
Ep.32

Wednesday 6th February 2019
Air Date: 2019-02-06
Doug comes to fix the front door of Connelton View and is put out when Brenda tells him that Bob has fixed it. He is saddened when he is barely taken notice of. Maya is upset when she receives her decree absolute. Leyla tries to comfort her. Jacob is cold towards Maya again. Nicola tells the Sharma's that she's coming back full time and Rishi is shocked at how polite Jai is with her. Moira tries to assure Cain that Kyle won't think less of him.
Ep.33

Thursday 7th February 2019 (Part 1)
Air Date: 2019-02-07
Jacob and Liv are the talk of the shop. Jacob confirms he and Liv are seeing each other which earns him some light-hearted teasing from Faith although Maya isn't so happy about Jacob's new relationship. Jai has got Nicola working on the factory floor much to her horror. In the café, Doug invites Brenda out for dinner. Leyla gossips about Cain killing Joe which annoys Aaron and puts Debbie off ordering anything.
Ep.34

Thursday 7th February 2019 (Part 2)
Air Date: 2019-02-07
Leyla finds a barely conscious Maya and calls for an ambulance. Manpreet thanks Jai for not telling Rishi about her shopping addiction. Jai doesn't believe Manpreet really understands her addiction so decides to take her to a support group. David tells Eric that he really loves Maya and feels like he's in a proper grown up relationship that could last. At that moment, David receives a call from Leyla and rushes to the hospital. Cain admits to DS Sanders and DC Meaden that he did see Joe on the day he disappeared.
Ep.35

Friday 8th February 2019
Air Date: 2019-02-08
Cain spots Debbie leaving the café. When Debbie sees Cain, she walks in the opposite direction but Cain catches up with her and they have a brief exchange. Maya is released from hospital. Chas and Paddy return from an awkward grief counselling session in which they ended up talking about their parents. Marlon wonders if Paddy mentioned Bear Wolf but he's the last person Paddy wants to talk about right now. Cain pays Graham a visit.
Ep.36

Monday 11th February 2019
Air Date: 2019-02-11
Marlon calls in sick at work to go meet Bear Wolf. Laurel is rushed off her feet and is relieved when Doug helps. Arthur complains of feeling ill and goes to throw up. Graham anonymously phones the police, putting on an accent, telling them to go to Barton and Dingle Automotives. Jessie struggles to keep Marlon's lie. Jacob misses the bus and David has to give him a lift.
Ep.37

Tuesday 12th February 2019
Air Date: 2019-02-12
Paddy is unsure about meeting Bear Wolf, but Marlon and Chas convince him to come. Moira worries about Cain. She tries to convince him that Debbie won't go to the police because she would have done it by now otherwise. Debbie tells Sarah that Cain told Joe to leave and never come back, to stop her from asking about why she's being cold towards Cain.
Ep.38

Wednesday 13th February 2019
Air Date: 2019-02-13
Chas lies to Paddy that she wants to take him out for dinner but refuses to have a day in with him. He is made suspicious by Chas and Marlon's behaviour. Doug is surprised to hear that Laurel is wanting to turn the pirate ship into a room to rent but Doug points out how Arthur might object. He offers her some money but she turns him down. Laurel tries to talk Doug into helping convert the pirate ship.
Ep.39

Thursday 14th February 2019 (Part 1)
Air Date: 2019-02-14
It's Valentine's Day in Emmerdale. Doug gets started working on the Pirate Ship. Dan surprises a down in the dumps Kerry with flowers but it does nothing to lighten her mood. Things get worse when Dan informs her that they can no longer stay at the B&B he booked them into. Paddy reminisces as he looks at a picture of him and his dad. Chas hands Paddy a Valentine's card and informs him she's got the afternoon off but Paddy would rather go for a walk alone.
Ep.40

Thursday 14th February 2019 (Part 2)
Air Date: 2019-02-14
Ellis speeds towards Billy but swerves at the last second and crashes into the Pirate Ship, sending garden furniture flying. Jai wants to fill Nicola's old position but refuses to give Nicola her job back, instead tells Laurel that she'd be the ideal candidate. Laurel is unsure about taking Nicola's job but the prospect of more money and better hours is too tempting for the struggling single mother. Marlon returns to Tall Trees Cottage to find Jessie and April are out.
Ep.41

Friday 15th February 2019
Air Date: 2019-02-15
Nicola tries to make things up to Jimmy but he isn't ready to forgive and forget, reminding Nicola two families are being made homeless because of her. Nicola insists if she could put it right, she would then makes excuses not to go into work. Jai is annoyed to see a dent in the factory van and tells Billy the repairs come out of his wages.
Ep.42

Monday 18th February 2019
Air Date: 2019-02-18
Billy flirts with Tracy. Gabby complains about sharing a room with Leanna. Jimmy tries to assure the kids that Nicola will be released soon. Manpreet turns down lunch with Rishi and he is disappointed. Harriet tries to talk Dawn into going on a date with Ryan. Dawn doesn't notice Leon checking her out.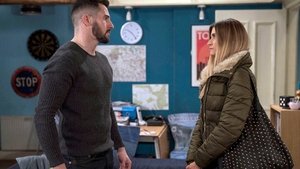 Ep.43

Tuesday 19th February 2019
Air Date: 2019-02-19
Dawn is downbeat after her failed date with Ryan. She refuses to tell Harriet about what happened last night. Rishi gives Manpreet a chance to tell the truth about yesterday but she continues to lie. Tracy and Billy arrange to meet up for a drink. Ryan gets advice from Tracy over apologising to Dawn.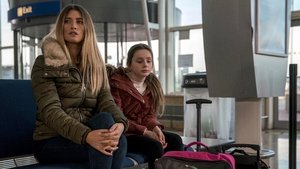 Ep.44

Wednesday 20th February 2019
Air Date: 2019-02-20
Bernice doesn't want to move back to Brook Cottage. Laurel tries to talk to Manpreet about the accounts. Nana Barton has had a fall but Pete and Moira can't visit her as the farm is full. Cain suggests she asks Matty to return. Jimmy is annoyed when Nicola blows. Dawn is sour towards Ryan and snaps.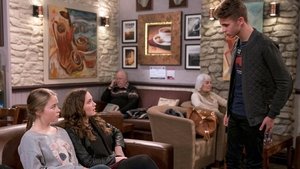 Ep.45

Thursday 21st February 2019 (Part 1)
Air Date: 2019-02-21
A hungover Matty arrives at the farm hours late which earns him a telling off from Cain. Before Cain leaves, he warns Matty that the tractor is out of order although Matty believes Cain's only saying that as he doesn't think he's capable of changing the forks. Rishi goes through the factory accounts. An excited Vanessa tells Rhona that she and Charity are going to look at a wedding venue.
Ep.46

Thursday 21st February 2019 (Part 2)
Air Date: 2019-02-21
Pete attempts to stem the flow of blood from the wound in Rhona's abdomen as Matty calls for an ambulance. Debbie refuses to attend Chas' birthday party due to Cain. As Rhona is wheeled into an ambulance, Matty tells Pete he's sorry. Chas finds Paddy in the backroom and apologises for sending the DNA samples off. Paddy reveals Bear Wolf is his dad.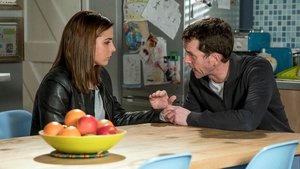 Ep.47

Friday 22nd February 2019
Air Date: 2019-02-22
Pete gives Matty the cold shoulder when he asks how Rhona is doing. Jai knows Rishi loves Manpreet and wants to save her but he and Priya are determined to protect their father. Sarah pretends to be ill in hope of scuppering Debbie's job interview. As Debbie has already left the house, Sarah asks Lydia to call her and tell her to come home but instead Lydia calls Cain.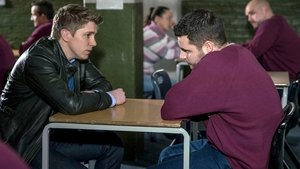 Ep.48

Monday 25th February 2019
Air Date: 2019-02-25
Liv wants to do something for Jacob's upcoming birthday. She and Gabby are slightly awkward with each other. Debbie gets a phone call informing her that Cain gave her a bad reference and she hasn't got the job. She sees Cain and snaps at him. Rhona is reluctant to accept painkillers from the nurse. Ms Elliot asks her if she has any support, and Pete walks in. Liv is uncomfortable when Maya jokes with Jacob.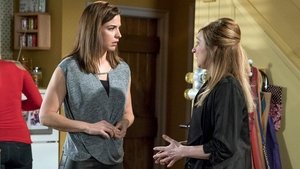 Ep.49

Tuesday 26th February 2019
Air Date: 2019-02-26
Cain is in a bad mood. Faith tells Cain he is not going anywhere. Sarah is sour towards Debbie. Debbie tells Charity that Cain is using the family to get what he wants and tells Charity that he wants Cain out of the village. Kerry feels bad for calling social services but snaps at Dan. Dan thinks she's reading too much into what Debbie said, which makes Kerry furious.
Ep.50

Wednesday 27th February 2019
Air Date: 2019-02-27
Dan is surprised when Kerry is friendly with him in the morning. Debbie arrives to talk to him, pleading with Kerry not to say anything bad against Cain. She refuses to back down and kicks Debbie out. Ellis angers Pete in the shop. Maya expresses her jealousy over seeing Jacob and Liv together. Kerry meets with the social worker and informs her that Cain has been arrested for murder twice.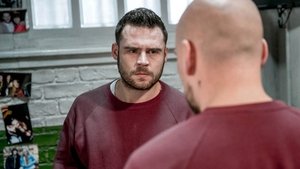 Ep.51

Thursday 28th February 2019 (Part 1)
Air Date: 2019-02-28
It's Jacob's sixteenth birthday. Maya seductively tells the teen that her present isn't something you wrap up then instructs him to meet her at the Summerhouse in an hour. In the meantime, Jacob and Liv play with the drone Eric gifted him. Leyla notices something is off with Megan and tries to get to the bottom of what's wrong. Jacob tells Liv he needs to get ready for the party then sneaks off to meet Maya.
Ep.52

Thursday 28th February 2019 (Part 2)
Air Date: 2019-02-28
Liv can see there's something wrong with Jacob. She apologises for earlier then asks if she's ruined his birthday. Kerry is hurt that Eric received a card from Amy but she didn't.
Ep.53

Friday 1st March 2019
Air Date: 2019-03-01
It's the morning after Jacob's birthday party and Jacob has a hangover. Maya reminds Jacob he could've blown everything last night and orders him to be more careful. Jacob apologises and assures her it won't happen again. Maya orders Jacob to apologise to Liv too ash she's their cover so they need her onside. David and Leyla are annoyed to learn Maya gave Jacob a beer last night.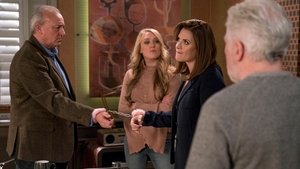 Ep.54

Monday 4th March 2019
Air Date: 2019-03-04
An excited David asks Jacob to cover the shop and confirm the meat order whilst he gets ready for his his romantic night with Maya. Jacob can't believe Maya is letting this happen although she insists if she could get out of it, she would. Robert promises to join Aaron at the surrogacy group tonight after an important meeting.
Ep.55

Tuesday 5th March 2019
Air Date: 2019-03-05
DAs Maya drops Jacob off on the edge of the village, Jacob is forced to duck behind the car to avoid being see by Leyla and Megan. Aaron receives a text message which he tells Robert was about scrap metal. When Robert leaves, Liv asks Aaron who the text was really from. Aaron maintains it was about scrap so Liv grabs the phone and reads the message from Jeremy about introducing Aaron to someone.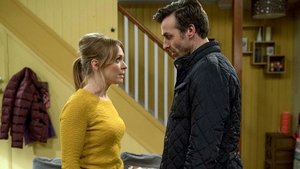 Ep.56

Wednesday 6th March 2019
Air Date: 2019-03-06
After Robert heads off to a meeting, Aaron takes the cash from the jiffy envelope. Kerry informs Eric that she's tracked down Amy to Belfast. Jacob tells Maya they need to find somewhere where they can be alone properly as Farrers Barn is too risky. In hushed tones, Dawn asks Kerry if she's thought anymore about Amy.
Ep.57

Thursday 7th March 2019 (Part 1)
Air Date: 2019-03-07
Marlon, Jessie, Paddy and Kerry finally arrive at the hotel in Belfast after a long night of travel. The journey has worn the four of them out and they all snap at each other. Back in the village, Dan can't get hold of Kerry so decides to take Amelia to Croydon to see Daz. Paddy tries to check him and Kerry in but there's no record of his booking on the system.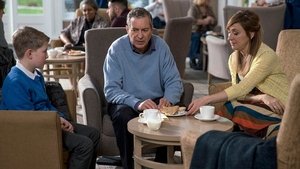 Ep.58

Thursday 7th March 2019 (Part 2)
Air Date: 2019-03-07
As stunned Amy questions what Kerry is doing here, the man she was arguing with puts his hands on her. Kerry leaps to Amy's defence but Amy doesn't need her mother's backing and knees the man in his groin. Kerry concludes Amy is a prostitute and the man was a punter although Amy states she actually works at a woman's shelter. Bear Wolf can't believe Paddy is his son as he didn't think he could have children after an incident with a circular saw.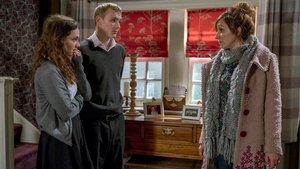 Ep.59

Friday 8th March 2019
Air Date: 2019-03-08
Charity pulls up outside a cottage in the middle of nowhere. Meanwhile, Chas lays flowers on Grace's grave. Moira returns to the farm. At Smithy Cottage, Rhona prepares her hospital bag ahead of her hysterectomy, whilst April studies her face in a mirror at the Community Garden. After paying her respects to Grace, Chas approaches Laurel at Daniel's grave and thanks her.
Ep.60

Monday 11th March 2019
Air Date: 2019-03-11
Rhona is nervous ahead of her hysterectomy. She puts on a brave face for April and Leo but admits to Marlon and Vanessa that she's scared about taking painkillers during her recovery. Vanessa promises Rhona they'll get her through this. Faith can't understand why Cain isn't putting his foot down with Amy. She's adamant they need to stop Amy from getting anywhere near Kyle so she decides to pay her a visit.
Ep.61

Tuesday 12th March 2019
Air Date: 2019-03-12
Charity prepares to face the village but struggles to act normal. Chas worries to Laurel about telling Paddy about being pregnant. Paddy tells Chas that the Vet's Surgery is not liable for Rhona's accident, so he will have to talk to Moira. Chas tries to talk herself out of telling Paddy but Laurel urges her to tell him.
Ep.62

Wednesday 13th March 2019
Air Date: 2019-03-13
Megan tells Diane that Graham is taking her and Eliza on a holiday. Faith and Eric argue and Kerry and Faith snap at each other in the cafe.Jacob feels guilty about what he said to David. David tells Leyla that he thinks Jacob stole the earrings. Chas makes a special breakfast to tell Paddy the news but Vanessa interrupts. Pete breaks the news to Moira that the vets surgery wants to sue the farm. Liam tells Bernice about wanting to buy a house on the other side of Hotten.
Ep.63

Thursday 14th March 2019 (Part 1)
Air Date: 2019-03-14
Megan is excited ahead of her trip to the Lakes with Graham and Eliza. Meanwhile at Home Farm, Graham receives a call from Kim demanding he collects her from prison. David attempts to prove to Jacob that he and Amba are his priority but a moody Jacob doesn't want to spend time with him Maya follows Jacob outside to try to find out what's wrong.
Ep.64

Thursday 14th March 2019 (Part 2)
Air Date: 2019-03-14
Graham suggests he and Megan talk somewhere else but Megan doesn't believe there's anything to say. She tells Graham and Kim that scum like them deserve each other then storms out. Unable to handle Maya's declaration, Jacob walks away. Maya desperately tries to stop Jacob but her demeanour quickly changes when Liv appears at Farrers Barn. Cain lets himself into Dale Head and demands Kerry tells him where Amy and Kyle are.
Ep.65

Friday 15th March 2019
Air Date: 2019-03-15
Kim is still annoyed with Graham for keeping the truth about Joe's death from her and refuses to draw a line under things until the police investigation is finished. Graham assures Kim that all the evidence has been covered up but Kim doesn't know if she can believe that. Cain has a word with Charity about letting Amy see Kyle yesterday although Charity doesn't see what she's done wrong by letting Amy see Kyle and compares it to her own situation with Ryan.
Ep.66

Monday 18th March 2019
Air Date: 2019-03-18
Kim meets with an associate named Marcus and instructs him to find out who's making withdrawals from an offshore business account. Nicola resolves to get herself onto the council planning committee to make herself indispensable to Kim. Amy is upset that Kerry is getting to see Kyle but she isn't.
Ep.67

Tuesday 19th March 2019
Air Date: 2019-03-19
Graham tells Kim that she won't find Joe. Kim tells him that she never wants to see Joe, but is more than happy to deal with him herself. Lydia suggests that they hold the party at Wishing Well Cottage. Charity tries to make up some sort of excuse to get out of going to the party. Pete tells Marlon that now might not be the best time for Leo to see Rhona. Nicola practices speaking in front of the mirror. Jimmy suggests that Nicola joins the council for herself.
Ep.68

Wednesday 20th March 2019
Air Date: 2019-03-20
Cain is surprised to see Graham. Cain convinces Moira to let Noah visit Home Farm. Jacob's family think that he is doing too much extra tuition. Belle tells Vanessa that she wants to volunteer at an Orangutan sanctuary in Borneo. Vanessa tries to talk her out of it, especially when Belle thinks that she may not even return. Kim vents to Graham about Cain, and isn't impressed when Noah turns up to play pool with him.
Ep.69

Thursday 21st March 2019 (Part 1)
Air Date: 2019-03-21
DC Meaden quizzes Cain about why he was found shovelling earth from what appeared to be a grave. Cain states he got a text from Noah saying he was in trouble so he went to find him and that's when he found the hole in the ground with the phone in it. Cain's solicitor, Mr Drake, reminds DC Meaden that there's no evidence a crime has been committed and suggests an apology is in order.
Ep.70

Thursday 21st March 2019 (Part 2)
Air Date: 2019-03-21
Billy reiterates that nothing happened between him and Leyla but Tracy doesn't believe it. She begs Leyla to tell her the truth but instead Leyla tells her she's got a screw loose. Tracy goes for Leyla and Billy is forced to break it up. Jacob wants to intervene but Maya talks him out of it. Back at Tug Ghyll, Leyla and Billy continue to protest their innocence.
Ep.71

Tuesday 26th March 2019
Air Date: 2019-03-26
An exhausted Jai and Laurel have spent all night at the factory completing the forgotten order. David gets Matty up to speed at the shop before he heads off to the Independent Retailers symposium. In the café, Billy lays sleeping on a couch. Tracy wakes him and gives him a coffee.
Ep.72

Wednesday 27th March 2019
Air Date: 2019-03-27
April asks Ellis if he ever gets treated differently because he's mixed race, commenting it's really wrong what happened to Billy yesterday. Charity believes the deal with Robert will be the gift that keeps on giving although Vanessa isn't happy that Charity will be flirting with a dodgy bloke in the name of business.
Ep.73

Thursday 28th March 2019 (Part 1)
Air Date: 2019-03-28
DS Sanders and DC Meaden pitch up at Wishing Well Cottage as Cain is fixing the Dingle van and ask after Debbie. DS Sanders proposes Debbie knows what happened to Joe so she can no longer stand to be around Cain. Vanessa is still hurt that Charity let Mike think she's single.
Ep.74

Thursday 28th March 2019 (Part 2)
Air Date: 2019-03-28
Robert, Charity and Aaron cannot believe Vanessa abandoned Mike's car in a field. Charity assures Vanessa she won't go down for this as long as she wiped away her fingerprints but Vanessa didn't. As Graham and Kim are talking, Graham hears noises on the other side of the door so he goes to investigate and finds Noah. Kim isn't happy to see Noah so orders him to go away.
Ep.75

Friday 29th March 2019
Air Date: 2019-03-29
Cain has spent the night in his car, leaving Moira frantic with worry. As Vanessa is about to head into work, Mike appears at the pub. Cain watches intently as Graham exits the shop. Faith approaches Cain and tries to talk to him but Cain gets in his car and follows Graham. At Dale Head, Dan and Kerry argue about Amelia seeing Daz which results in Dan walking out.
Ep.76

Monday 1st April 2019
Air Date: 2019-04-01
Graham wonders what Kim could possibly gain from telling Cain that Joe's alive. Kim admits she's blackmailing Cain - she made him an indecent offer. Graham is disgusted. As Cain gets Kyle ready for school, he explains to him that Amy will be picking him up as she has something very important to tell him.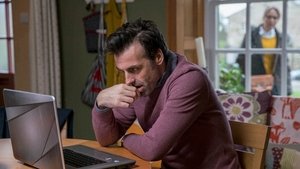 Ep.77

Tuesday 2nd April 2019
Air Date: 2019-04-02
Faith isn't happy with Amy's presence at Pollard's Barn and informs her she can only stay for two nights. It's Dan's birthday, but there's no let up in the strained atmosphere between him and Kerry. Maya and Jacob call in sick so they can make the most of their last day alone together before David returns home. A concerned Tracy offers to look after Jacob although Maya insists they'll be fine, commenting they'll probably spend the rest of the day in bed.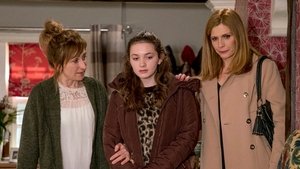 Ep.78

Wednesday 3rd April 2019
Air Date: 2019-04-03
Debbie is still ignoring Cain's calls although Cain believes things will change when she learns Joe's alive. Unaware that Kerry and Dan have split, an excited Amelia suggests they start on the wedding planning after school.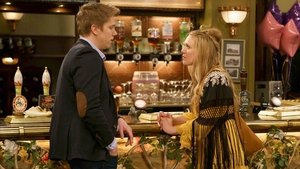 Ep.79

Thursday 4th April 2019 (Part 1)
Air Date: 2019-04-04
Chas and Paddy are nervous yet excited ahead of their ultrasound. Aaron texts to say he's thinking about them whilst Debbie and Faith pop into the backroom to wish them luck. Kerry hates pretending to Amelia that she and Dan are still together which isn't helped when Amelia reveals she had a dream about the wedding. Amelia notices Kerry isn't wearing her engagement ring although Kerry lies she took it off whilst showering.
Ep.80

Thursday 4th April 2019 (Part 2)
Air Date: 2019-04-04
Charity worries when Noah mentions that Debbie has gone off to Home Farm. At the farm, Moira reassures Cain that Debbie will come around in time. The couple begin to kiss but they're interrupted when Charity phones about Debbie. Faith is furious that Bear destroyed Grace's memorial although Paddy is more concerned about Bear's injured shoulder.
Ep.81

Friday 5th April 2019
Air Date: 2019-04-05
Gabby notices Laurel is hiding her phone so jokingly inquires if she's got a secret admirer. At the factory, Jai takes a call from an irate client whose order has been messed up. After hanging up, Jai informs Aiesha that she was the one working on that order and the whole thing was completely mixed up. Aiesha protests she checked it and it was fine.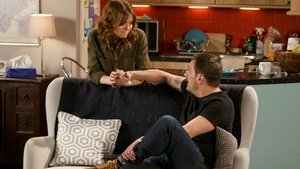 Ep.82

Monday 8th April 2019
Air Date: 2019-04-08
Chas urges Paddy to have a rethink about Bear, as if he leaves then that'll be it. Jacob asks Maya to meet at the pavilion later but Maya has a meeting she can't get out of. Pete is anxious ahead of Rhona's return to work although Rhona is raring to get back. Harriet feels like a fool for getting caught off guard and being mugged. As Dawn didn't come home last night, Pearl suspects she was responsible for the mugging although Harriet tells Pearl she's wrong.
Ep.83

Tuesday 9th April 2019 (Part 1)
Air Date: 2019-04-09
Bear tries to make himself useful at the pub but ends up doing more harm than good so Chas offloads him onto Aaron for the day. Pete presents Rhona with her birthday present - unicorn slippers and a dressing gown. Rhona is far from thrilled as last year he bought her sexy underwear. At Woodbine Cottage, an on-edge Harriet is startled by the clanging of the letterbox so arms herself with a candle stick holder which alarms Dawn.
Ep.84

Tuesday 9th April 2019 (Part 2)
Air Date: 2019-04-09
Rhona sits slumped against the stable gate clutching her abdomen. Dawn and Ryan are shocked to discover paint has been thrown over the church. Harriet tries to dismiss it as a prank but Dawn worries there's more to it. Kim finds Rhona collapsed.
Ep.85

Wednesday 10th April 2019
Air Date: 2019-04-10
Jacob tells Maya he's sick of lying to Liv and David and insists he can't keep faking it. At Holdgate Farm, Aiesha is upset that Manpreet didn't tell her about her money problems whilst Rishi is furious that Jai ruined his wedding party. Jai insists they can't blame him for being suspicious. Manpreet declares if this is the way Jai is going to treat her, she and Aiesha will find somewhere else to live.
Ep.86

Thursday 11th April 2019 (Part 1)
Air Date: 2019-04-11
Maya tries to talk to David but he's busy helping out at the B&B which is heaving with bird watchers as a Siberian Dusky Thrush has been spotted nearby. Robert tells Aaron about a surrogacy meeting in Hotten. Aaron points out the meeting is about domestic surrogacy. Robert is aware of that, and although he'd still prefer to do use a surrogate in the US, he knows that's now out of reach.
Ep.87

Thursday 11th April 2019 (Part 2)
Air Date: 2019-04-11
A teary Liv returns to Mill followed closely behind by Jacob who apologises and tells Liv never meant to hurt her. Maya appears and orders Jacob to go home whilst she talks to Liv. As Victoria and Ellis can't get out of Keepers Cottage, the decide to open a bottle of wine. Maya tells Liv it's not what she thinks and tries to twist things but Liv doesn't fall for her lies, revealing Jacob has already admitted it.
Ep.88

Friday 12th April 2019
Air Date: 2019-04-12
Robert tells Aaron he dreamt they had a baby girl but Aaron refuses to get his hopes up about expanding their family as they can't afford the repayments on the loan they'll need to cover the cost of the surrogacy. Robert insists they'll find a way. Maya informs Jacob that Liv is blackmailing them.
Ep.89

Monday 15th April 2019
Air Date: 2019-04-15
Liv sends Jacob the recording of their conversation yesterday. In the shop, David picks up Jacob's phone and informs him Liv has text. Jacob begins playing the recording just as Maya appears. Robert suggests to Aaron that they contact potential surrogate Natalie and invite her over so they can get to know her better. As Harriet and Amelia are working in the church, Amelia answers the church phone.
Ep.90

Tuesday 16th April 2019 (Part 1)
Air Date: 2019-04-16
Jacob and Maya worry what they're going to do about Liv. Still oblivious to what's going on right under his nose, David suggests Jacob could visit Alicia in Portugal whilst the dust settles but Jacob insists he can't go anywhere right now. Jacob texts Liv telling her they need to meet. Robert sees the text and advises Liv to ignore him. As Robert is about to head to Liverpool to collect Seb, a frantic Aaron returns home and reveals Natalie is coming over tonight. When Harriet enters the café, Dawn leaves.
Ep.91

Tuesday 16th April 2019 (Part 2)
Air Date: 2019-04-16
Locked in the church, a terror-stricken Harriet questions who else is inside. A light going out further terrifies an already petrified Harriet so she bangs on the church door begging to be let out. Liv explains to Gabby that she wanted to get her own back on Jacob and hurt him like he hurt her. Gabby tells Liv she's better off without Jacob, reminding her she's the innocent one in all of this.
Ep.92

Wednesday 17th April 2019
Air Date: 2019-04-19
Harriet has spent the night sitting in an armchair clutching a cricket bat. She's alarmed when she hears a noise but it's only Dawn who was passing and noticed the front door open. At Holdgate Farm, the Sharmas celebrate Rishi's birthday. Priya feels put out that Manpreet and Aiesha have spoiled Rishi although Jai orders her not to let it get to her as Rishi is happy. Aaron leaves Natalie a voicemail.
Ep.93

Thursday 18th April 2019 (Part 1)
Air Date: 2019-04-18
It's the day of Matty's operation. Cain offers to accompany Moira to the hospital for support but an irritable Moira orders him not to come. Paddy writes a speech for the beer garden opening. In the café, Sam invites Harriet and Dawn along to the beer garden opening but an on-edge Harriet isn't in the mood. Anaesthetist Dr Gibson performs Matty's final checks.
Ep.94

Thursday 18th April 2019 (Part 2)
Air Date: 2019-04-18
Moira is convinced something has gone wrong with Matty's surgery. A nurse agrees to find out what's happening whilst Victoria tries to reassure Moira that everything will be okay. An upset Aiesha insists all she's done wrong is be friendly although Priya states it feels like she's taking over. Aiesha grabs her belongings and walks out the pub in tears. Paddy makes his speech then Chas officially declares the new beer garden open.
Ep.95

Friday 19th April 2019
Air Date: 2019-04-19
Kerry texts Joel asking to meet for lunch then tells Dan they need to come clean to Amelia tonight. Bear has packed his bags. Jessie is impressed to learn the rates Ellis is charging for his personal training sessions which only makes Billy feel worse as he's fed up of his dead-end job driving for the Sharmas.
Ep.96

Monday 22nd April 2019
Air Date: 2019-04-22
At Pollard's Barn, Faith and Eric are alarmed by a strange noise. They creep downstairs where they find Kerry sleeping on the sofa snoring loudly. After some persuasion from Amy, Eric agrees to let their unwanted house guest stay a while longer much to Faith's annoyance. It's Robert's birthday and he and Aaron plan to spend the day in bed but their plans are scuppered when Diane informs them she's arranged a birthday lunch in the pub.
Ep.97

Tuesday 23rd April 2019 (Part 1)
Air Date: 2019-04-23
A nervous Paddy wishes Aaron and Robert luck ahead of their meeting with Natalie. Amelia is in a bad mood which is made worse when a wedding magazine arrives in the post. Dan asks if they can move on but Amelia can't see past the lies. A worked-up Dan apologises for loving Kerry and trying to stay a family. In the shop, David looks at flights to Portugal for Jacob whilst Maya checks an online valuation for her car.
Ep.98

Tuesday 23rd April 2019 (Part 2)
Air Date: 2019-04-23
Ellis returns home to find Billy and Max grappling so he pulls Max off Billy then Billy orders Max to do one. Max vows he'll be back which leaves Billy fearing Max will never leave him alone. Natalie reluctantly agrees to talk to Faith, Chas, Paddy and Bear. Rhona tells Pete about finding Kim's son.
Ep.99

Wednesday 24th April 2019
Air Date: 2019-04-24
Priya and Aiesha try to persuade David and Maya join them on a night out tomorrow. David isn't keen whilst Maya agrees to think about it. After Priya and Aiesha leave, David informs Maya that the money should be in her account and they kiss which is witnessed by Jacob. Jacob wishes things were different and he and Maya could be together.
Ep.100

Thursday 25th April 2019 (Part 1)
Air Date: 2019-04-25
Maya appears in Jacob's bedroom as he's packing for Portugal. She asks Jacob if David believed his story yesterday then tells him putting the ring back was a bad idea as no one was going to miss it for ages. Jacob reveals David asked Eric for the ring - he's planning to propose.
Ep.101

Thursday 25th April 2019 (Part 2)
Air Date: 2019-04-25
David and Tracy instantly regret their kiss. Maya storms over and confronts the pair. She makes a scene before storming off again. Victoria and Amy talk to a couple of men to make Ellis jealous. After Ellis walks away, Amy tells John and Lee that they can leave now. Ellis remains unaware Max that is watching his every move.
Ep.102

Friday 26th April 2019
Air Date: 2019-04-26
At Tug Ghyll, Leyla makes toast. Priya questions how she can even think about eating after what's happened. Pete brings a hungover Rhona a cup of tea and tries to talk to her but Rhona isn't in the mood. Billy phones Jessie from the hospital and orders her to get there as soon as possible as Ellis has been stabbed. At Keepers Cottage, a distressed Victoria ignores Amy's calls.
Ep.103

Monday 29th April 2019
Air Date: 2019-04-29
Rhona appears at Home Farm and informs Kim that Jamie is coming for an interview this afternoon. A delighted Kim can't believe she's finally going to see her son again after all these years. Tracy is having second thoughts about keeping quiet about Maya although Leyla reminds her the fall out will be hell if the truth comes out.
Ep.104

Tuesday 30th April 2019 (Part 1)
Air Date: 2019-04-30
Megan has a lunch date with Frank so Jai agrees to look after Eliza for the afternoon. Diane bangs at the door at Keepers Cottage until a dishevelled Victoria eventually answers. Victoria lies to Diane that she's got the flu and manages to get her to leave. David apologises to Liv for the way Jacob ended their relationship, commenting Jacob doesn't hurt people he cares about.
Ep.105

Tuesday 30th April 2019 (Part 2)
Air Date: 2019-04-30
Faith pushes Bear off her and tells him he's no Eric which Bear takes as a compliment. Moments later, Chas bursts into the backroom and informs Faith that Eric's in hospital. Leyla texts Tracy and Priya ordering them come to Tug Ghyll. She turns her attention back to Liv and tells her Maya has gone and the money isn't here.
Ep.106

Wednesday 1st May 2019
Air Date: 2019-05-01
Frank updates Megan on Eric's condition - it doesn't look good. He comments Jamie has a lot to answer for which only compounds Megan's feelings of guilt. At the B&B, Jamie is alarmed to learn Eric's in a coma so decides to head to the hospital. Diane believes Jamie is trying to salve his conscience although Jamie protests it was an accident and declares he's nothing like his mum, just as Kim appears at the B&B.
Ep.107

Thursday 2nd May 2019 (Part 1)
Air Date: 2019-05-02
It's election day in Emmerdale. Will brazenly drives through the village then parks up and watches Woodbine Cottage. Jimmy calls in past Woodbine Cottage to informs Harriet the village hall is flooded so people can't get in to vote. Harriet is convinced whoever's targeting her is behind the flooding. She heads out to sort things, unaware that Will is watching her. Doug offers to cover in the shop so David can be at the hospital.
Ep.108

Thursday 2nd May 2019 (Part 2)
Air Date: 2019-05-02
As Harriet and Dawn speak with PC Brauders, Cain and Ryan appear at Woodbine Cottage and question what's happened. Faith wonders how can she face Eric after this and worries what David will say when he finds out. Chas orders her mother to put her ego aside and stand by her man. Whilst the police search Woodbine Cottage, Cain and Harriet head to the café where an emotional Harriet admits this ordeal is killing her.
Ep.109

Friday 3rd May 2019
Air Date: 2019-05-03
Kim asks a reluctant Rhona to arrange for Jamie to be in the café this afternoon so she can have the chance to speak with her son. At the hospital, Eric admits to David that he's been going deaf. David encourages Eric to tell Faith too. Dawn meets up with Will just outside the village and orders him to stay out of sight as this will all be for nothing if Harriet gets wind that he's around. Will reminds Dawn that Harriet thinks he's dead.
Ep.110

Monday 6th May 2019
Air Date:
At Tall Trees Cottage, Billy and Ellis discuss Ellis' stabbing. All Ellis wants is for his attackers to be banged up although Billy warns him if he gets fixated on getting justice, he'll never get past this. Ellis is determined to get justice so asks Billy to take him to the police station later so he can look at the CCTV. Doug asks David if he's heard anything from Maya yet. David hasn't so Liam offers to find Maya's mother's phone number for him.
Ep.111

Tuesday 7th May 2019 (Part 1)
Air Date: 2019-05-07
Billy agrees to tell Ellis everything. He explains to Ellis how Max sent him a photo of him in the club so he went after him. He hates places like the nightclub after what happened with Riley, but he had to stop him from getting hurt. Billy recalls what Ellis said to him in the club and admits everything he said was true.
Ep.112

Tuesday 7th May 2019 (Part 2)
Air Date: 2019-05-07
At Tug Ghyll, an emotional Leyla apologises to Jacob. She acknowledges she hasn't been a mum to Jacob, but when she found what Maya had done to him, she was a mum and she had to protect him. She didn't plan it. and she didn't mean for it to happen, but she wanted Maya dead.
Ep.113

Wednesday 8th May 2019
Air Date: 2019-05-08
Victoria explains to Moira that she doesn't usually go to clubs, but Ellis was there and she was hoping they'd get together. All she wanted was her happy ever after. She was having a good night and didn't want it to end, not the way it did anyway.
Ep.114

Thursday 9th May 2019 (Part 1)
Air Date: 2019-05-09
Moira promises Victoria that she's safe now and Lee won't hurt her again. Ellis can't believe Billy didn't even wait for the ambulance before he left him. Billy states he only ran off at the last minute and apologises but it's not good enough for a disgusted Ellis. Leyla is stunned to learn from Jacob that Maya is still alive. Tracy realises this is why Leyla didn't want to go to the police. Moira inquires if Victoria saved her clothes for evidence.
Ep.115

Thursday 9th May 2019 (Part 2)
Air Date: 2019-05-09
David struggles to process that Jacob has been seeing Maya. He tries to tell himself that this is just crush on Jacob's end then begins throwing items from the shop shelves looking for a hidden camera to prove this is a prank. A teary Jacob declares he loves Maya and she loves him. At Tall Trees Cottage, Ellis informs Jessie that his stabbing has nothing to do with Max. Jessie doesn't believe it.
Ep.116

Friday 10th May 2019
Air Date: 2019-05-10
Moira has spent the night at Keepers Cottage looking after Victoria. Victoria tries to put off going to the police station although Moira reminds her the sooner she does, the sooner Lee faces the consequences. An emotional David leaves Jacob a voicemail asking him to come home so they can talk. Priya doesn't understand why David hasn't involved the police yet and questions what kind of father he is. Billy and Ellis head out to dispose of the knife used to stab Ellis.
Ep.117

Monday 13th May 2019
Air Date: 2019-05-13
Belle, Lydia and Sam prepare Wishing Well Cottage for Zak and Lisa's return. At the pub, Charity is apprehensive ahead of the Dingles' shindig whilst Chas and Paddy are unsettled to receive the date for their twenty-week scan. Robert wants to help Victoria but doesn't have a clue how. As Chas stares at the scan letter, Paddy tries to assure her everything will be okay.
Ep.118

Tuesday 14th May 2019 (Part 1)
Air Date: 2019-05-14
A brooding Cain is annoyed that Moira hasn't been around much the past few days. When she eventually returns to the farmhouse, Cain breaks the news that Lisa is terminally ill. Harriet receives a call from Geoff updating her on the investigation. Harriet assures Dawn she'd understand if she wanted to see her dad, although Dawn declares he's dead to her. At the Mill, Robert admits to Aaron he feels useless and wishes there was something he could do to help Victoria. Aaron queries what Victoria is going to do about the baby.
Ep.119

Tuesday 14th May 2019 (Part 2)
Air Date: 2019-05-14
Lisa apologises to Zak for being so emotional. When Belle and Sam return home, Belle tells Lisa doesn't need to protect her. Robert wants to do everything in his power to help Victoria although he upsets his sister when he comments he wouldn't have let Lee in the house. A distracted Zak decides to head out for a while. Sam offers to accompany him although Zak agrees to meet him in the pub later instead.
Ep.120

Wednesday 15th May 2019
Air Date: 2019-05-15
David and Leyla have both been dodging calls from Alicia so Leyla suggests they tell Alicia what's going on but David refuses. Harriet is on edge as the police still haven't caught up with Will. At Wishing Well Cottage, Lisa meets Ryan for the first time and jokes she could tell him all of Charity's grizzly secrets. As Jacob stares at his shattered phone, Maya apologises for yesterday.
Ep.121

Thursday 16th May 2019 (Part 1)
Air Date: 2019-05-16
David still hasn't called the police despite Jacob's no show yesterday as he fears the press will get hold of the story of a pupil running off with his teacher who also happens to be his dad's girlfriend. Leyla orders David to call the police anyway. At that moment, David receives a call from a withheld number. Jamie dodges Kim's calls. There's a knock at Jacob's hotel room door.
Ep.122

Thursday 16th May 2019 (Part 2)
Air Date: 2019-05-16
Harriet questions why Will let Dawn believe he was dead. Instead of answering, Will tells Harriet that any damage he's done to Dawn is nothing like the damage she's caused her. Will still can't comprehend that Harriet was with him for five years and all the time it wasn't real. Harriet apologises but she states she'll never regret the side she was on then declares they're finished. Will insists they aren't done - he's only just started.
Ep.123

Friday 17th May 2019
Air Date: 2019-05-17
Ryan checks up on Harriet and asks about calling the police but Harriet doesn't see the point as she doubts Dawn or Will will be back. Laurel appears at the church and is shocked to learn what's happened. Sam and Lydia are struggling financially so Lisa decides to convince Kim to take the pair back on at Home Farm. David informs Jacob that Jessie is concerned that he hasn't turned up for his exams.
Ep.124

Monday 20th May 2019
Air Date: 2019-05-20
Megan admits to Frank that she called the police yesterday and told them everything. Frank cannot believe it. David informs Leyla that he's got a plan to track down Maya although Leyla believes Maya is bound to come back sooner or later as her passport and money are still in a drawer at Tug Ghyll.
Ep.125

Tuesday 21st May 2019 (Part 1)
Air Date: 2019-05-21
Jacob checks his emails but Maya still hasn't replied. Once Jacob has left for school, Leyla looks in his laptop bag and finds the money as well as Maya's passport. She tells David it's game on. Frank informs Megan that he got in touch with a lawyer for her although Megan can't afford it and claims she deserves everything she gets. At Tug Ghyll, Leyla, Tracy and Priya discuss the Jacob and Maya situation.
Ep.126

Tuesday 21st May 2019 (Part 2)
Air Date: 2019-05-21
As handcuffed Maya is placed into the back of a police car, Jacob tells David and Leyla he'll never forgive them for this. Marlon is put out that Brenda was asked to cater for the wedding rather than him. He suggests it would be nice to have the family favourite of rabbit stew on the menu so Lisa gives Marlon her secret rabbit stew recipe.
Ep.127

Wednesday 22nd May 2019
Air Date: 2019-05-22
Lydia orders the Dingles about as they rush to get things ready for the wedding tomorrow. Once alone at Wishing Well Cottage, Lisa attempts to write a letter to Zak. At the Mill, Aaron tells Liv he's proud of her for doing the right thing by going to the police yesterday. DS Wise and DC Terry quiz Tracy about the night Maya claims she was attacked but Tracy sticks to the story she, Leyla, and Priya agreed.
Ep.128

Thursday 23rd May 2019 (Part 1)
Air Date: 2019-05-23
It's Zak and Lisa's wedding day and Lisa starts the day off by feeding the pigs. At Brook Cottage, a concerned Diane tries to check up on Victoria to no avail. Leanna refuses to go to school because she fears she'll be ridiculed as she's Maya's former step-daughter. Diane refuses to take any of Leanna's nonsense and orders her to get off to school.
Ep.129

Thursday 23rd May 2019 (Part 2)
Air Date: 2019-05-23
Sam, Aaron and Cain follow Zak out of the church and question what's going on. Zak admits he hasn't written any vows. When Lisa appears, Sam informs her of Zak's lack of vows. Zak explains to Lisa that he hasn't come up with anything as he's spent all week thinking how the next time they'll be in church is likely to be for her funeral. Lisa insists that's all the more reason to enjoy this.
Ep.130

Friday 24th May 2019
Air Date: 2019-05-24
The wedding guests enjoy themselves at the reception unaware of the tragic turn of events at Wishing Well Cottage. A heart-broken Zak places a blanket over Lisa then tearfully cradles his wife's lifeless body. At the Mill, Aaron and Diane look through a photo album Diane put together for Robert. They come to a picture of teenage Victoria and Diane questions what Jack would say if he knew what happened to his little girl. Diane feels useless and doesn't know how to help Victoria although Aaron tells her being on Victoria's side is enough.
Ep.131

Monday 27th May 2019
Air Date: 2019-05-27
It's the morning after Lisa's death and Zak and Belle are struggling to cope with their grief. At the farm, Cain sits Kyle down and breaks the news of Lisa's death whilst at the pub, no one can quite believe Lisa is gone. Paddy's excited about Chas' ultrasound scan tomorrow but Chas is preoccupied thinking about Lisa.
Ep.132

Tuesday 28th May 2019
Air Date: 2019-05-28
Chas is angered to learn Paddy has cancelled her scan. Debbie finds Nate stranded at the side of the road with a caravan due to a flat tyre. In the Take A Vow office, Megan and Frank attempt to drum up business to cover Megan's legal fees. Things begin to look up when Megan receives a call from a pharmaceutical company looking to arrange a team building event but Megan is forced to turn them down as they want to hold it at Home Farm. Sam bumps into Paddy in the café apologises for what he said about Grace yesterday.
Ep.133

Wednesday 29th May 2019
Air Date: 2019-05-29
FMegan tries to tell Frank about Graham's offer to cover her legal fees but ends up asking him to move back into Tenant House instead. After Megan walks off, Frank removes an engagement ring from his wallet. Liv bumps into Belle in the shop and asks how she's coping. Belle states she, Lisa and Zak were meant to be in Whitby this week but instead she and Zak are off to a funeral home.
Ep.134

Thursday 30th May 2019
Air Date: 2019-05-30
Harriet feels awful for the way she treated Dawn yesterday. As she prays for forgiveness and guidance, Will appears in the church. Kim requests Jamie checks over one of her horses. Megan is in good spirits ahead of her plea hearing tomorrow although Kim soon dampens her mood when she hints she there's a nasty surprise on the horizon.
Ep.135

Friday 31st May 2019
Air Date: 2019-05-31
It's the morning after the night before and Harriet ushers Will out the back door of Woodbine Cottage. Will worries that Dawn hasn't been in contact since yesterday so Harriet agrees to have a word with her if she can find her. Jai is excited ahead his date with Ariana. Harriet finds Dawn alive and well at the Cricket Pavilion. After Dawn informs Harriet that she didn't take the drugs.
Ep.136

Monday 3rd June 2019
Air Date: 2019-06-03
Kim has prepared a breakfast spread for Jamie's first morning back at Home Farm although Jamie orders his mother not to get carried away. Robert and Victoria return to Emmerdale. Dawn appears in the factory and asks for her job back. Jai initially refuses but soon changes his mind when Dawn offers to work for two-weeks for free and Laurel also speak up for her.
Ep.137

Tuesday 4th June 2019 (Part 1)
Air Date: 2019-06-04
Robert continues to try to persuade Victoria to have an abortion but Victoria is adamant she's keeping the baby. As Harriet goes over funeral preparations with the Dingles, Sam is put out to learn Lisa wanted to be cremated rather than buried next to Butch and Ben.
Ep.138

Tuesday 4th June 2019 (Part 2)
Air Date: 2019-06-04
Marlon struggles to take in the revelation that Victoria was raped. He asks if her rapist has been charged. Victoria explains she's waiting to hear back from the CPS but she's not holding her breath. Marlon takes Victoria in his arms and promises he's there for her so Victoria asks him to be present when she tells Charity and Chas.
Ep.139

Wednesday 5th June 2019
Air Date: 2019-06-05
News of Victoria's rape is beginning to spread around the village. Maya watches on from a far as Liv informs David and Leyla that the police aren't charging her with blackmail. Belle picks out an outfit for Lisa to be buried in then encourages Zak to clear out some of his old clothes ahead of a charity bag collection tomorrow. Robert is frustrated that the police have dropped the case against Lee so he tries to persuade Victoria to kick up a fuss but Victoria insists it's over. Maya spots a brooding Jacob siting on a bench.
Ep.140

Thursday 6th June 2019 (Part 1)
Air Date: 2019-06-06
It's the day of Lisa's funeral and Belle worries about the poem she's wrote for the service. Zak assures Belle it'll be great. Kim enlists a private investigator to do some digging on Andrea. Robert searches for Lee online but he quickly hides what he's doing when Aaron and Liv come downstairs. Lydia panics when she realises the charity bag where she stashed Lisa's letters has already been picked up.
Ep.141

Thursday 6th June 2019 (Part 2)
Air Date: 2019-06-06
As Lisa's friends and loved ones gather at Wishing Well Cottage for a pig race in her memory, Lydia tries to explain to an annoyed Sam why she was late for the funeral but Sam insists it's not the time. As Leyla and David get redressed, David suggests they get back together as a strong family unit might be what Jacob needs right now. Everyone has a great time watching the pig racing.
Ep.142

Friday 7th June 2019
Air Date: 2019-06-07
At Wishing Well Cottage, a preoccupied Zak sits in the middle of the pig-sty. When Jacob returns to Farrers Barn to collect his games console, David tells him he'll always be there when he needs him then wishes him luck with his exam today although Jacob states he's not going.
Ep.143

Monday 10th June 2019
Air Date: 2019-06-10
Leyla notices David is acting odd so quizzes him about his whereabouts yesterday. David states he went for a drive but before he can elaborate, PC Swirling appears in the shop to speak with David about Maya's assault. Andrea is upset that Kim won't rent Dale View to her and Jamie. She assumes Kim is renting it to Charity and Vanessa instead so she suggests Jamie has a word with his mother. Zak stares at his unopened letter from Lisa.
Ep.144

Tuesday 11th June 2019 (Part 1)
Air Date: 2019-06-11
Andrea get started redecorating Home Farm. Kim isn't a fan of the garish wallpapers her daughter-in-law has picked out but she holds her tongue and lets Andrea get on with it. Ellis is still out of sorts following his stabbing, but when Jessie tries to talk to him about it, Ellis insists he's fine. Belle, Zak and Sam have found Lisa's bucket list which includes making over the pig pen and fire walking.
Ep.145

Tuesday 11th June 2019 (Part 2)
Air Date: 2019-06-11
David feels awful for yelling at Amba but when Priya tells him he's out of order, David hits back that none of this would've happened if she hadn't of dumped Amba on him. An angered Priya informs David that she thought spending time with Amba might make him realise he's a good dad, but Eric was right about him. Graham conclude Andrea stopped reporting back to him all those years ago as she's set her eyes on the Tate fortune although Andrea states she stopped reporting back because she didn't want to keep spying on Jamie as fell in love with him.
Ep.146

Wednesday 12th June 2019
Air Date: 2019-06-12
Andrea tries to persuade Kim to keep quiet about her connection to Graham although Kim remains adamant that Jamie deserves to know the truth so she gives Andrea until lunch time to tell him. Whilst in the café, Bear spots a poster for a five-aside tournament with a £500 prize. Harriet receives another text from Will
Ep.147

Thursday 13th June 2019 (Part 1)
Air Date: 2019-06-13
Paddy puts up a poster for Bear's five-aside team meeting later today. Paddy hopes to be on the team but he realises his chances are limited as Bear has already promised Aaron, Ellis and Billy a place. Billy panics when he receives a text from Max warning him he's going to wish he never called him. Tracy and Nate have spent the night together at Tug Ghyll.
Ep.148

Thursday 13th June 2019 (Part 2)
Air Date: 2019-06-13
Billy returns home to find Ellis kneeling over Marlon's lifeless body. He fears this the work of Max and is shocked when Ellis admits he attacked Marlon. Harriet introduces Laurel and Jai to her "parishioner" Will and explains he's going through a tough time at the moment.
Ep.149

Friday 14th June 2019
Air Date: 2019-06-14
Following yesterday's events, Marlon isn't up to working so Victoria decides to return to work. After Victoria leaves, Robert informs Aaron that he's found out where Lee works. Aaron realises Robert is planning to pay him a visit. Marlon and Jessie understand Ellis attacked Marlon as he's likely suffering from PTSD although Ellis insists that's no excuse and again apologises.
Ep.150

Monday 17th June 2019
Air Date: 2019-06-17
Robert and Aaron sneak back into the Mill before Victoria has come downstairs. Things continue to be strained between Pete and Rhona. Robert and Aaron panic when Diane mentions Victoria went to retrieve a flask from Robert's car. The pair rush outside but it's too late as Victoria has already found posters branding Lee a rapist in the car. In the salon, a flirtatious Nate invites Amy for another drink which unsettles Kerry.
Ep.151

Tuesday 18th June 2019 (Part 1)
Air Date: 2019-06-18
Things are awkward between Amy and Nate when Amy arrives at the farm to collect Kyle. At Smithy Cottage, Pete makes Rhona breakfast and tries to persuade her to spend the morning in bed but it soon descends into another argument. Robert is struggling to cope with the Victoria situation. He breaks down and tells Aaron that all he wanted to do was protect his sister.
Ep.152

Tuesday 18th June 2019 (Part 2)
Air Date: 2019-06-18
Nate is unable to kick in the garage door so he grabs a crowbar from a nearby car. At the same time, a frantic Amy runs up to Moira and informs her Kyle is missing. Nate manages to force open the garage door and rescues Kyle from the fume filled garage. As Amy considers calling the police, Nate appears with Kyle in his arms.
Ep.153

Wednesday 19th June 2019
Air Date: 2019-06-19
David fills in Leyla on his therapy appointment yesterday and informs her he's booked further sessions. When Jacob appears in the shop, David suggests he would also benefit from therapy but Jacob is adamant he doesn't need it. In the café, Manpreet witnesses Rhona snapping at Leo so she suggests Rhona make an appointment with her. Amy and Moira coax Kyle into not telling Cain about yesterday.
Ep.154

Thursday 20th June 2019 (Part 1)
Air Date: 2019-06-20
Eric and Faith find Jacob packing up his belongings. Jacob lies he's moving back to Farrers Barn which delights Eric who believes it's the first step back to normality. Laurel discovers Jai has booked two tickets to the outdoor cinema she told him about yesterday. Moments later, Nicola appears in the factory office and steamrollers Laurel into practicing her dating skills in the pub at lunch time. Cain is still worked-up about Amy endangering Kyle.
Ep.155

Thursday 20th June 2019 (Part 2)
Air Date: 2019-06-20
As Maya is escorted from the dock, a distressed Jacob begs the judge to let her go, insisting he's got in wrong. Rhona believes Pete has been sexting Debbie so Pete unlocks his phone and reads out the message - Debbie was asking him to return the welder. Rhona feels awful. Jai jealously watches on as Tom gives Laurel dating advice.
Ep.156

Friday 21st June 2019
Air Date: 2019-06-21
Kim is enjoying spending time with Millie but Jamie believes Kim is using his daughter. Kim protests she's making an effort with her granddaughter like he asked and tells Jamie she wants them to be a family although an irate Jamie reminds his mother that she spent most of yesterday trying to convince Andrea he's having an affair with Rhona. Jamie warns Kim if she messes with his family again then they'll leave. Maya's conviction has made the front page of the Hotten Courier.
Ep.157

Monday 24th June 2019
Air Date: 2019-06-24
Ellis heads out for a run ahead of his first counselling session today. At Smithy Cottage, Pete wakes to find a note from Rhona apologizing for last night. Victoria is suffering the full effects of morning sickness. Rhona approaches Kim in the café. Kim assumes Rhona is going to confront her about kissing Pete, but instead she apologises for yesterday. When Peter enters the café, he sees Kim and Rhona talking and fears Kim will tell Rhona about the kiss.
Ep.158

Tuesday 25th June 2019 (Part 1)
Air Date: 2019-06-25
Rhona admits to Paddy that Pete proposed yesterday and she more or less turned him down. Paddy asks what happens next but Rhona doesn't have a clue. An on-edge Billy tries to get a hold of DS Sanders. Robert helps Victoria move her belongings back into Keepers Cottage. At the farm, Pete confides his troubles in Moira. Soon, Rhona appears so Moira leaves them alone to talk. Bear calls a team meeting ahead of the five-aside match today.
Ep.159

Tuesday 25th June 2019 (Part 2)
Air Date: 2019-06-25
Billy and Ellis watch as police vehicles race towards Tall Trees Cottage. Billy orders Ellis to keep the police distracted whilst he sorts this out. Ellis knows it's a bad idea but agrees. Meanwhile in the house, Max instructs Marlon and Jessie to close all the curtains and lock the doors. Whilst Marlon locks the front door, Billy sneaks in via the back door. Victoria is struggling being alone at Keepers Cottage so she arranges to meet Amy at the pub.
Ep.160

Wednesday 26th June 2019
Air Date: 2019-06-26
At the hospital, Marlon, Ellis and April wait nervously for Jessie to wake following surgery. Surgeon, Ms Booth approaches them and explains they've managed to repair the damaged the bullet caused; luckily the bullet missed all of Jessie's major organs. Kim informs Jamie that she's going off to Dubai to look at horses in a few days and asks him to keep an eye on things whilst she's gone. Jai invites Laurel out to dinner. Once Jessie has woken up, Marlon, Ellis and April head onto the ward to see her.
Ep.161

Thursday 27th June 2019 (Part 1)
Air Date: 2019-06-27
At the hospital, surgeon Ms Booth explains to Marlon and Ellis that Jessie is out of surgery and is doing really well. After the doctor has left, Marlon gets in Billy's face and demands to know what was said before Jessie collapsed. Billy admits he told Jessie he was guilty of GBH. Dawn is nervous ahead of her visit with Lucas. Harriet warns Dawn that Lucas will probably be distant at first, but assures her she and Lucas have a bond that cannot be broken.
Ep.162

Thursday 27th June 2019 (Part 2)
Air Date: 2019-06-27
Dawn asks Harriet and Will if they're together. Harriet insists it's nothing like that. Marlon is adamant Billy needs to leave Tall Trees Cottage although a worked-up Ellis believes now that Billy has admitted his guilt, that should be the end of things. Dawn asks Will if he came back for her or Harriet. Will tries to convince his daughter he came back for her but Dawn doesn't believe him. Harriet admits she and Will slept together but assures Dawn nothing else will happen as she only cares about her and Lucas. Dawn also doesn't believe that. She declares Lucas deserves better than this then walks out. Marlon and Jessie argue about Billy.
Ep.163

Friday 28th June 2019
Air Date: 2019-06-28
Marlon tells Paddy that he doesn't want Billy to stay at Tall Trees Cottage but Jessie made it impossible to say no. In the café, Harriet sits down next Dawn and asks to talk. Dawn can't see past Harriet lying to her. Harriet reminds Dawn she lied to her and terrorized her for months, which causes Dawn to storm out. Faith brings Chas a large present for the baby and instructs her not to open it until after the birth. Afterward, Chas overhears Faith and Bear talking which confirms her suspicions that they're having an affair.
Ep.164

Monday 1st July 2019
Air Date: 2019-07-01
As Chas opens up the pub, she discovers Faith has spent the night sleeping in the bar. Faith tells Chas that thanks to her words, Eric has virtually thrown her out. When Dawn pops back to Woodbine Cottage, Harriet promises her that she and Will are over and reveals Cain fired Will after he found out who he was. Chas presents Paddy with his birthday present - a watch inscribed with "Because every second is precious" then suggests they visit Grace and tell her she's having a little brother.
Ep.165

Tuesday 2nd July 2019 (Part 1)
Air Date: 2019-07-02
Eric and David dump bin bags full of Faith's belongings outside Jacobs Fold. Faith can't believe she's homeless and manless again although Debbie assures her grandmother that she's got a home at Jacobs Fold for as long as she wants. Victoria is on edge following Wendy's visit yesterday and is insistent that Lee and Wendy cannot find out about the baby. When Liam pops by Keepers Cottage to check over Victoria, Victoria admits she's scared something might be wrong with the baby because of how it was conceived although Liam assures her there's no reason to suspect the baby will be anything other than healthy.
Ep.166

Tuesday 2nd July 2019 (Part 2)
Air Date: 2019-07-02
Wendy demands to know if Victoria is pregnant but Victoria insists it's none of her business. When Lee tells Victoria he can't believe she's doing this to him, Robert goes for him then he and Aaron shove him out the house. As Wendy follows Lee out the door, she asks Victoria if she's having Lee's baby. Victoria doesn't respond. Eric moans to David about Faith.
Ep.167

Wednesday 3rd July 2019
Air Date: 2019-07-03
At Mulberry Cottage, a hungover Doug wakes up on the sofa. Laurel isn't impressed with her father's antics and refuses his request for her to speak to Brenda on his behalf. Belle asks Zak if he's thought anymore about where to scatter Lisa's ashes. Zak hasn't yet but he's determined to find the perfect place. Marlon is surprised when Victoria arrives for work and questions if she's up to it after yesterday. Victoria states she wants to keep herself busy. At the Mill, Aaron urges Robert to apologise to Victoria whilst Liv tells him that Victoria needs his support.
Ep.168

Thursday 4th July 2019 (Part 1)
Air Date: 2019-07-04
Jacob calls the prison to inquire about visiting Maya but quickly hangs up when Eric approaches. Doug is still in Brenda's bad books. He apologises, but it's not good enough for Brenda. Marlon isn't happy that Jessie is dealing with the discovery of the bones at the school when she's supposed to be off work sick. Victoria is nervous ahead of her first scan today. Zak decides to scatter Lisa's ashes at Robblesfield Reservoir. David calls Liv over to Farrers Barn and shows her the games console he's bought that he hopes will help him sort things with Jacob. Liv can't believe David called her over for this when they're scattering Lisa's ashes today.
Ep.169

Thursday 4th July 2019 (Part 2)
Air Date: 2019-07-04
Belle doesn't understand what Zak is saying and reminds her dad that the family watched him scatter Lisa's ashes. Zak admits the urn actually contained dust from the vacuum cleaner as he realised he couldn't let Lisa go. Diane tells Victoria that it's not like her to run away but Victoria doesn't view it as running away, she views it as self-preservation and states what matters is being able to bring her baby up without having to look over her shoulder. In the pub, the Dingles discuss the baby bones found at Hotten Academy. Jessie explains the land where the bones were found used to be a children's home.
Ep.170

Friday 5th July 2019
Air Date: 2019-07-05
Jai invites a giddy Laurel for lunch in the pub. David tells Leyla he was up until 3am talking to Jacob on the games console. Leyla isn't sure they should be encouraging Jacob to sit all day on the games console but David believes it's worth it if he gets the chance to speak to Jacob. Doug is agony due to his bad back so Brenda suggests he sees a doctor. At Wishing Well Cottage, Sam reads a letter from Lydia telling him that she's left him. Sam cannot believe it. David continues to communicate with Jacob via the games console. He explains to Leyla that he's told Jacob he's at university in the hopes that it might inspire Jacob to do something with his life.
Ep.171

Monday 8th July 2019
Air Date: 2019-07-08
Sam is perturbed as he still can't get hold of Lydia; he refuses to believe she has anything to do with the baby found at the school. David continues to talk to Jacob via the games console. Jacob replies that he's heading off to work and insinuates he's going to steal from the till. Kerry suggests she, Amy and Tracy have a girls night at Tug Ghyll. Amy thinks it'll be weird between her and Tracy due to her being in a relationship with Nate. Robert approaches Diane to talk about her and Victoria moving away.
Ep.172

Tuesday 9th July 2019
Air Date: 2019-07-09
As Victoria preps Keepers Cottage ahead of an estate agent's visit, Diane asks her if she's sure about moving away. Victoria is certain. News that someone has come forward regarding the bones of the baby found at Hotten Academy has made the front page the front page of the Hotten Courier. Although Lydia hasn't been named, Belle knows it's only a matter of time until people work out it's her.
Ep.173

Wednesday 10th July 2019
Air Date: 2019-07-10
Eric finds Diane in the café and asks if she's still serious about selling her half of the B&B. Diane comments she'd be off like a shot if she could get the money which leads Eric to question what's the rush so Diane divulges Victoria is pregnant. Nate bumps into Kerry and reveals he and Amy have split up thanks to her. Kerry tells Nate that Amy was too good her then walks out.
Ep.174

Thursday 11th July 2019 (Part 1)
Air Date: 2019-07-11
Amy invites Nate to join her and Kyle in the park later. Nate is busy but suggests he and Amy go to the pub for lunch instead. As Amy goes to kiss Nate, Moira strides over and questions why Amy hasn't gotten Kyle to school yet. Moments later, Cain's car pulls into the farm yard and Moira snaps at him. Robert can't bear the thought of losing Victoria and Diane. Aaron reminds Robert that Victoria is doing what's right for her although Robert insists what's right is finding something on Lee that will get him banged up.
Ep.175

Thursday 11th July 2019 (Part 2)
Air Date: 2019-07-11
After Cain and Nate are separated, Debbie demands to know if what Nate said about the garage is true so Zak explains Lisa inherited a garage in Scotland and she left it in her will to her and Belle. Debbie can't believe Cain was planning to sell the garage behind her and Belle's back. Will follows Dawn up Main Street and questions what she's doing with the misshapen chocolates. Dawn tells her dad she needs money for Lucas then orders him to do one. At Home Farm, Andrea informs Priya that she heard her being sick.
Ep.176

Friday 12th July 2019
Air Date: 2019-07-12
Lydia is still out of sorts and refuses to talk to Samson when he phones from France. Amy has been to seen a solicitor about access to Kyle but wants to keep it on the down low to avoid riling up Cain. Debbie offers Will his job back at the garage. At Home Farm, Andrea inquires if Priya has spoken to Jai or Rishi about the reoccurrence of her eating disorder although Priya insists it's a blip and it's under control so asks Andrea to back off. Sam worries about Lydia to Faith, Moira and Debbie.
Ep.177

Monday 15th July 2019
Air Date: 2019-07-15
Dawn has a pang of guilt when she sees a Yorkshire Mail news board outside the shop reading "Jenny Finn Found: Shocking truth of Lydia Hart, mother of buried baby". At Wishing Well Cottage, Zak and Sam tell Lydia she can't get the newspaper get away with publishing her name but Lydia doesn't see the point in suing them as the damage is already done. She grabs her bag and goes to leave but Sam blocks the door and insists she's not going anywhere. In the café, Victoria informs Robert and Aaron that she's put a deposit down on a little cottage in Cornwall.
Ep.178

Tuesday 16th July 2019 (Part 1)
Air Date: 2019-07-16
Robert calls by Woodbine Cottage to give Dawn instructions on how to trap Lee. Dawn soon realises Robert is trying to get revenge on the man who raped Victoria so refuses to take part in his scheme. Lydia still out of sorts so Sam suggests they go to the pub. David confides in Eric that he's got a hospital appointment later to receive the results from his annual check-up. Eric tries to assure David it's standard procedure but it doesn't stop David from fearing the worst. Debbie looks at estate agent details for the garage in Scotland but she quickly hides what she's doing when Cain appears and invites her to the pub.
Ep.179

Tuesday 16th July 2019 (Part 2)
Air Date: 2019-07-16
Aaron and Robert arrive at The Tipsy Monk but there's no sign of Dawn and Lee. Meanwhile, in the other Tipsy Monk, Lee flirts with Dawn over a drink. Dawn receives a call from Robert but rejects it in favour of downing shots with Lee and his mate John. David sits nervously in the hospital waiting room. Nicola continues to make snide remarks towards Lydia until Lydia responds. John passes Lee some drugs. Lee claims not to be into drugs so he offers them to Dawn then instead. Dawn refuses.
Ep.180

Wednesday 17th July 2019
Air Date: 2019-07-17
Robert worries about Lee's threats. Nicola learns Hotten General Hospital will be closing their children's ward so decides to organise a demo to protest the closure. Vanessa arranges a secret engagement party for Rhona and Pete. Despite Aaron's insistence that all that matters is keeping Victoria and the baby safe until Victoria moves away, Robert still wants Lee to pay for what he's done.
Ep.181

Thursday 18th July 2018 (Part 1)
Air Date: 2019-07-18
Robert has spent an uncomfortable night at the scrapyard. When Jimmy arrives for work, he encourages Robert to sort things out with Aaron. Brenda is delighted to learn Pete gave Rhona an engagement ring and advises the pair to get on with getting married. Dawn tries to apologise to Harriet ahead of Lucas' visit tomorrow by treating her to lunch in the pub. Liv is surprised to learn Robert spent the night elsewhere.
Ep.182

Thursday 18th July 2018 (Part 2)
Air Date: 2019-07-18
Pete and Rhona discuss their relationship. Harriet follows Dawn back to Woodbine Cottage and demands to know where the money came from. Dawn admits Robert paid her to try to trap Victoria's rapist. Dawn protests she needed the money for Lucas although a disgusted Harriet tells Dawn that Lucas needs a mum who respects herself.
Ep.183

Friday 19th July 2019
Air Date: 2019-07-19
Bernice is unnerved when Liam insists on making her breakfast. She's further alarmed when she spots rat poison, a scalpel and a container of bleach all in the kitchen so she rushes out. Dawn has visitation with Lucas at Woodbine Cottage today but Harriet cannot find her. Bernice has concluded Liam is a murderer who tried to poison her.
Ep.184

Monday 22nd July 2019
Air Date: 2019-07-22
Nicola promises Bernice that they'll find a way to reunite her and Liam. Afterward, Nicola phones Liam and invites him to the café on the pretence of discussing the children's ward closure. Andrea urges Priya to tell her family about her eating disorder. Pete turns up late for work as he was dropping Leo off at holiday club. Moira comments Pete cares more about Leo than some dads do about their own children which Cain takes as a dig towards him and results in the pair arguing in front of Pete and a gleeful Nate.
Ep.185

Tuesday 23rd July 2019 (Part 1)
Air Date: 2019-07-23
Nate looks forward to spending the day alone with Moira on the farm whilst Pete is at the cattle auction. Cain tries to persuade Moira to take the day off so they can spend time with Kyle and Isaac but Moira is too busy with work. Amy fills Eric in on her plans to pursue a residence order for Kyle as Nate reckons Cain and Moira might split up soon. At the factory, Jai and Laurel prepare to tell Rishi about their relationship but Laurel sees how stressed Rishi is so decides to hold off for now.
Ep.186

Tuesday 23rd July 2019 (Part 2)
Air Date: 2019-07-23
Moira pushes Nate off her insisting she can't do this but Nate pulls her back in for another kiss. Moments later, they hear Cain outside the barn so Moira pushes Nate off her again and Nate scrambles to put his top back before Cain sees them. Jai cannot believe Rishi hasn't paid any of the factory's suppliers and questions how his father let it get to this. Rishi admits he and Manpreet thought they could fix things before it got so bad, but they didn't have the money as he spent all of his saving paying off Manpreet's loans.
Ep.187

Wednesday 24th July 2019
Air Date: 2019-07-24
Andrea asks Jamie if he's having second thoughts about ripping off Kim. Jamie isn't. Laurel nervously prepares to tell Gabby and Arthur about her relationship with Jai. When Kerry nips into the shop, she witnesses Jai and Laurel kissing. Jamie continues the plan to oust Kim from the vets by telling his mother that Rhona is bullying him. Cain worries about losing Kyle although Moira promises Cain promises they'll win this.
Ep.188

Thursday 25th July 2019 (Part 1)
Air Date: 2019-07-25
Kim fires Nicola when she tries to leave work early to attend a council meeting. Graham asks Kim what got her in such a foul mood so Kim explains how Jamie, Andrea and Rhona have been plotting to oust her to the vets. Bear gives the five-aside team a team talk ahead of their game with The Maltshovel but he struggles to read the tactical notes so Matty takes over. Rodney appears in the pub and asks Matty and Ryan how they go on with the dining chair he gave them a few days ago. Matty states they've sold it.
Ep.189

Thursday 25th July 2019 (Part 2)
Air Date: 2019-07-25
Jamie explains to Kim that he wanted to teach her a lesson. Kim doesn't see what she's done wrong so Jamie reminds her that she lured him to Emmerdale on false pretences and has treated his wife and daughter like second class citizens. Jamie tells Kim that he didn't need her to buy him a career and quips he wishes Paddy and Vanessa turned down her offer to buy into the surgery. As Jamie goes to walk out, Kim declares Paddy and Vanessa's careers won't be worth much after today - she's won like she always does. Meanwhile in the village, Rhona locks the surgery door to prevent Graham from planting the ketamine.
Ep.190

Friday 26th July 2019
Air Date: 2019-07-26
Ryan informs Rodney that he's managed to sell the chair he gave him a few days ago. Diane decides to tell Bernice about the move to Cornwall today before she finds out from someone else like Matty did. At Home Farm, Graham tells Kim that he thinks she did the right thing by calling him off yesterday and questions what happens next. Kim states she's going to stop the games and manipulation as it's only going to drive Jamie, Andrea and Millie away and she's also giving Jamie her share in the vets.
Ep.191

Monday 29th July 2019
Air Date: 2019-07-29
In the café, Lydia shows Bernice all the costumes she's prepared for the murder mystery event tomorrow. Victoria informs Aaron and Robert that she and Diane are leaving on Friday. In the pub, Jimmy scolds Matty for being rude to Nicola yesterday. When Victoria appears, Matty scurries off the change a barrel to avoid her. Jamie informs Rhona that Kim has officially transferred her shares of the Vets to him. Rhona suggests they celebrate. Bernice worries she's lost Liam for good although Nicola doesn't believe he'll be able to resist Bernice after seeing how much effort she's gone to in throwing the murder mystery event.
Ep.192

Tuesday 30th July 2019 (Part 1)
Air Date: 2019-07-30
Emmerdale has been transformed into "Emmerdeadsville" for Bernice's Wild West murder mystery event. Victoria has been up all night thinking about Lee's demands. Diane believes Victoria should apologise to Lee as it'll get him off their backs but Victoria refuses as she's determined that everyone should know what a monster Lee is. Victoria realises that even if they get Lee off their backs, she'll still have to deal with Wendy so Diane suggests they ask Robert to help them. Nicola is shocked to learn Bernice is planning to propose to Liam today and reminds Bernice that she and Liam aren't together but Bernice refuses to be talked out of it.
Ep.193

Tuesday 30th July 2019 (Part 2)
Air Date: 2019-07-30
Lee demands more money, stating most of the £10,000 will be swallowed up by his flight to Australia. Victoria insists that's not her and Robert's problem although Lee reminds Victoria that he is her problem so she's going to need to pay a lot more to make him go away. Following Bernice's screams, the villagers race to the village hall where Bob explains how Bernice kissed him. When Liam comments he dodged a bullet, Bernice walks off defeated.
Ep.194

Wednesday 31st July 2019
Air Date: 2019-07-31
Robert has spent all night in police custody leaving Victoria to fear the worst. Kerry bumps into Amy in Main Street and apologises for leading Karen to her yesterday. At Tenant House, Frank quickly hides a bag when he hears Megan coming downstairs. Robert returns to the Mill having been released pending further inquiries. Moments later, Victoria receives a phone call from the police asking for her to come in and give a statement so Robert begs her to say Lee threw the first punch. Nicola congratulates Bernice and Liam on their engagement and demands all the details.
Ep.195

Thursday 1st August 2019 (Part 1)
Air Date: 2019-08-01
Megan finds Frank half-asleep in the café and demands to know why he hasn't come home the last two nights. Frank explains he's been planning a surprise that he hopes will be ready by this evening. Jai gets trapped in the factory stockroom when the door gets stuck. After being let out, an annoyed Jai discovers Kerry is offering her colleagues manicures rather than working so he throws her manicure kit in the bin. Amy asks Eric to lend her the money she needs to pay off Karen, claiming it's for a car, but Eric is unable to help.
Ep.196

Thursday 1st August 2019 (Part 2)
Air Date: 2019-08-01
Kerry and Amy return to the pub where Kerry suggests they treat this as a new beginning, as with any luck, this will have blown over in a few days. Meanwhile at the factory, Tracy tries to open the stockroom door but its stuck. She begins to panic when she spots smoke pouring under door and screams for help but there's no one around to hear her cries. In the beer garden, Vanessa advises Frank to think about what he wants and make it happen.
Ep.197

Friday 2nd August 2019
Air Date: 2019-08-02
It's the morning after the factory fire and Amy is wracked with guilt as she watches the firefighters finish extinguishing the remnants of the blaze. A devastated Tracy struggles to come to terms with yesterday's events and decides against accompanying Vanessa and Charity to identify Frank. In the café, villagers mourn Frank and begin to speculate why Tracy was at the factory. Victoria has filled Diane in on the truth about Robert and Lee's fight and she's also called off the move to Cornwall. At Holdgate Farm, Megan breaks the news of Frank's death to Eliza with Leyla and Manpreet's support.
Ep.198

Monday 5th August 2019
Air Date: 2019-08-05
Charity tries to persuade Vanessa to listen as Tracy attempts to apologise but she is uninterested. Nate is disappointed when he returns to learn Moira has gone to Nana Barton's for a while. Amy is nervous as the police continue their questioning of the villagers and speculation grows as to what or who caused the fire. David and Megan try to comfort Tracy as she explains how she was waiting in the stockroom for Billy. The Insurance Representative discovers the failsafe had been turned off on the fire alarm.
Ep.199

Tuesday 6th August 2019 (Part 1)
Air Date: 2019-08-06
Tracy is aghast that the police want to speak to Megan regarding Frank's reasons for being at the factory and insists Megan must put them straight that he wasn't responsible for the fire. Vanessa continues to nurse her suspicions of his reasons for being there. Rishi shows Jai the exact terms of Kim's contract. Sarah confronts Debbie over her secret phone calls to Belle about Scotland. She tells Debbie that she should go and take Jack with her, leaving her free to come visit her at weekends. Robert suggests making contact with Natalie to Aaron rather than putting their lives on hold.
Ep.200

Tuesday 6th August 2019 (Part 2)
Air Date: 2019-08-06
Kerry claims she can't remember how she came to know Tracy was inside the factory. Suspecting she knows more than she's letting on, DI Goldberg cautions her. Kim tries to make Jai see that he has no other option than to sell the factory to her. Kerry tells DI Goldberg that she was at the factory at the time and saw Tracy go inside.
Ep.201

Wednesday 7th August 2019
Air Date: 2019-08-07
Tracy regrets not going to see Frank. Amy has spent the night with a concerned Victoria. Leyla tries to encourage Megan to take more time off work but she needs to keep busy. Victoria apologises to Robert and Aaron for her outburst yesterday and gives them her blessing to continue the surrogacy. Tracy becomes emotional in the café when Frank's favourite song plays. Jai tells Laurel that he wouldn't think less of her if she decided she wanted to walk away from their relationship. Laurel insists he's not getting rid of her.
Ep.202

Thursday 8th August 2019 (Part 1)
Air Date: 2019-08-08
Kerry is concerned when she can't get hold of Amy, wanting to know what she told the police. She's even more concerned when Vanessa informs her that Amy was chatting to her yesterday about Frank. Robert and Aaron realise they need to tell Natalie about Robert's police investigation. Amy accuses Kerry of only thinking about herself but tells her she stuck to the story. Kerry is given an idea as she overhears Bernice and Nicola talking about the lost fundraiser money. April wants a puppy for her birthday but Marlon refuses.
Ep.203

Thursday 8th August 2019 (Part 2)
Air Date: 2019-08-08
Aaron, Chas, Victoria, Liv and Diane await Robert's return from the police station. DS Wise and DC Terry question Robert on his stalking of Lee which Robert denies. Rhona finds Vanessa sobbing in her car. Jai worries that the insurance may not pay out. Kim overhears and encourages Jai to inform his staff if there's a chance the factory is unlikely to reopen. Ellis, Billy, Jessie and Marlon celebrate their partnership in The Woolpack. Marlon's concerned to learn that Jessie's loan is only likely to cover their training and won't stretch to covering equipment.
Ep.204

Friday 9th August 2019
Air Date: 2019-08-09
Jessie heads off for her meeting with the governors board. Marlon confides in Rhona how she's loaned Ellis and Billy the money for their personal training business without talking to him. Rhona advises him to have it out with her. Tracy encourages Vanessa not to shut Charity out. Jai has offered Kim a 33% share in the factory but she wants more. Reluctantly, he agrees to renegotiate. Kerry drags Marlon off for his treatment at the salon. Aaron's surprised when Robert suggests they start looking for a new surrogate now, completely unaware he is only rushing into the idea to give Aaron something to focus on if he ends up in prison.
Ep.205

Monday 12th August 2019
Air Date: 2019-08-12
Billy and Ellis laugh at Marlon as he unveils the makeover that Kerry subjected him to - streaks in his hair. Jessie is upset at her suspension. Doug is still suffering with his back and insisting his exercises aren't working. He decides to research his own alternatives. Laurel tells Jai about the chat she had with Rishi. Realising that must have changed his mind, Jai thanks her. Charity and Vanessa realise they have work on their hands as Faith fails to take their demands for her to move out seriously. Jessie snaps at Dan when he talks to her about how bored Amelia is by her summer project on ancient Rome.
Ep.206

Tuesday 13th August 2019 (Part 1)
Air Date: 2019-08-13
It's April's birthday and she wakes a hungover Jessie, who has spent the night on the couch, with her new toy: a light-up remote-controlled car, courtesy of Marlon. Vanessa tries to drop hints to Faith that she and Charity want to live together alone but she refuses to take the hint. Charity continues to be offhand with Debbie. Ellis is enthusiastic when an investment company shows interest in their personal training business and organises a meeting.
Ep.207

Tuesday 13th August 2019 (Part 2)
Air Date: 2019-08-13
Al apologises to April for breaking her birthday present and promises to replace it. Ellis reveals Al was the investor he was supposed to be meeting. Al insists he is interested in investing. Lydia and Sam worry about how to break their news to Sampson as he is due to return from France. Debbie and Chas are amazed as they notice Charity chasing after their car. Al explains he has been in Dubai running an outdoor pursuits business as Billy arrives and informs him about Ellis' stabbing. Nicola and Jai notice a funny smell as Doug returns to the cottage with a back spasm after Brenda walked in on him in the Pirate Ship.
Ep.208

Wednesday 14th August 2019
Air Date: 2019-08-14
Jessie tries to encourage Ellis and Billy to take Al's investment but Ellis doesn't want anything from him. Faith tries to convince Lydia that Samson will come round. Cain offers to let Amy see Kyle while he's busy at the garage. Billy finds Al in the café. Al tries to convince him that all he is looking for is a second chance like Billy needed when he came out of prison. Zak confides in Faith that he's missing Lisa. She tries to make him see that he needs to stop moping.
Ep.209

Thursday 15th August 2019 (Part 1)
Air Date: 2019-08-15
Zak and Faith are awkward around each other the next day. Jessie has begun looking for jobs. Al buys April an expensive toy as a replacement for the one he broke. Nate is keen for Moira to return to Butlers Farm. Faith makes an excuse to leave when Zak tries to speak to her, worried that he might be about to kick her out. Kerry sets up a funding page for the factory workers. Charity realises Faith has done something when she talks about moving back to The Woolpack.
Ep.210

Thursday 15th August 2019 (Part 2)
Air Date: 2019-08-15
Zak and Faith wait for Bear to leave. When he finally does, Zak tells Faith he wants to come clean about their kiss to the family. She thinks it's a bad idea. As they argue, one of the pipes on a barrel that Bear has been replacing begins spraying them in beer, hitting the fuse box and plunging the pub into darkness. Jai catches Kerry listening in on DI Goldberg informing Tracy and Vanessa that they are closing the investigation into the fire, satisfied that Frank was responsible. Jai mentions to Kerry that an engagement ring was found at the scene. As Bear and Paddy go to investigate the fault in the pub.
Ep.211

Friday 16th August 2019
Air Date: 2019-08-16
Nate is pleased to see Moira back at the farmhouse. She insists there is still nothing happening between them and if he continues to harass her he can leave. Sam feels down on his birthday following Zak's confession. Faith feels guilty for letting slip Bear's secret and apologises to him. An electrician arrives at The Woolpack. Pete informs Cain and Moira that Nate has failed to do a delivery meaning they're running behind. Sam confides in Lydia that Zak kissed Faith.
Ep.212

Monday 19th August 2019
Air Date: 2019-08-19
Nate asks Moira how she's doing after yesterday. Moira claims to be fine then removes Nate's hand from her arm and orders him to do his job. Faith and Zak resolve to put their kiss behind them. Charity informs Paddy that they'll need to move out of the pub for four weeks whilst the dry rot is resolved. Matty feels awful for not seeing through Jono and Ste and refuses to hand over Jono's driving license to Cain, insisting he should be the one to sort this. Will returns to Keepers Cottage.
Ep.213

Tuesday 20th August 2019 (Part 1)
Air Date: 2019-08-20
Matty resolves to apologise to his friends for his recent behaviour. Faith informs Paddy, Marlon and Bear that it looks like the work on the pub will take closer to six weeks now. Paddy fears Chas will out flip when he tells her whilst Marlon worries about the financial implications of not being able to work for that long. Afterward, Bear asks Paddy to teach him to read but Paddy makes excuses and rushes off. Marlon follows Paddy and warns him he'll need to tell both Bear and Chas the truth.
Ep.214

Tuesday 20th August 2019 (Part 2)
Air Date: 2019-08-20
Harriet calls by the farm and tries to persuade Cain to give Will his job back but he refuses. In the salon, a frustrated Diane asks Bernice why she's behaving like this. Bernice states she's sick of always coming last with Diane although Diane believes Bernice is really annoyed that she and Liam won't get Brook Cottage to themselves now that she's not moving to Cornwall.
Ep.215

Wednesday 21st August 2019
Air Date: 2019-08-21
It's Matty's 25th birthday but he's in no mood to celebrate as he's still not made up with Ryan. Moira asks Cain to have a word with Ryan then the couple kiss but they're interrupted when Pete and Nate enter the farmhouse kitchen. Jamie and Andrea have been unable to obtain a place for Millie at Connelton Primary School. The Kings are economising following Nicola's sacking from Home Farm and the factory fire. In the farmhouse kitchen, Nate awkwardly flirts with Moira and strokes her arm but quickly pulls away when Pete appears.
Ep.216

Thursday 22nd August 2019 (Part 1)
Air Date: 2019-08-22
Nate continues to flirt with Moira right under the nose of the rest of the residents of Butlers Farm. It's exam results day and Jessie wishes Jacob the best before he heads to school to collect his results. After Jacob leaves, David informs Priya that Jacob has been writing to Maya. Graham Graham discovers another one of his chess pieces have been moved and assumes it was Kim but she denies it. Afterward, Kim offers to babysit Millie so Jamie and Andrea can have a look around Robblesfield Primary.
Ep.217

Thursday 22nd August 2019 (Part 2)
Air Date: 2019-08-22
A horrified Priya tells Jacob he must be joking although Jacob is convinced Priya was hitting on him. Jamie and Andrea are furious that Kim went behind their backs and spoke to the headmaster of Baswick Green, although after Kim and Graham leave the room, Andrea tells Jamie that Kim has a point. Jai informs Rishi that Laurel told Nicola they have an investor. Afterward, Rishi asks Jai to attend Frank's funeral. Jai refuses but Harriet insists he has a duty to attend as Frank's employer and states Megan also needs him there. Andrea tries to persuade Jamie of the merits of sending Millie to Baswick Green over Robblesfield Primary but Jamie refuses to send his daughter to a private school.
Ep.218

Friday 23rd August 2019
Air Date: 2019-08-23
David fills Eric in on Jacob and Priya's misunderstanding yesterday. Jacob overhears them and questions why they can't get past it. Vanessa, Tracy, Megan and Kerry continue preparations for Frank's funeral. Laurel warns Jai that he needs to tells Nicola about Kim's investment as she's going to find out sooner or later. When Jai explains he needs Nicola's 1% share to give him majority over Kim, Laurel suggests he could make Nicola see that siding with him is in her best interests as well as the best interests of her electorates too. Jessie doesn't believe she'll be reinstated as headteacher of Hotten Academy so she looks few a new job. At the church, preparations for Frank's funeral continue.
Ep.219

Monday 26th August 2019
Air Date: 2019-08-26
It's the day of Frank's funeral. Tracy knocks at Tenant House and informs Megan that she's found something that could prove Frank didn't rob the factory. She shows Megan the recipient for the engagement ring then explains how a ring was found in the factory and she thinks it was for her. Jacob informs David and Leyla that he's decided to do an apprenticeship in hospitality. In the café, Dawn badgers Jai about her wages and questions if their jobs are safe. Laurel promises they are. Megan struggles to process what Tracy is saying.
Ep.220

Tuesday 27th August 2019
Air Date: 2019-08-27
Tracy has taken the ring receipt to the police but they don't believe it proves Frank's innocence. In a state, Tracy moots the idea of leaving the village with Megan although Vanessa begs her not to leave, telling her sister she doesn't want to lose her as well as Frank. At Pear Tree Cottage, Megan informs Jai that she and Eliza are moving to Newcastle today. Jai can't bear the thought of losing his daughter and is adamant it's not happening but his tirade is interrupted when he receives a call from the insurance company.
Ep.221

Wednesday 28th August 2019
Air Date: 2019-08-28
A concerned Graham informs Kim that he's been doing some digging into Al. Kim isn't pleased by Graham's interference and insists she knows what she's doing. Robert panics when Cain calls in past the Mill to collect Aaron for a work trip. Whilst Aaron and Liv are out of earshot, Cain warns Robert he's not going to lie for him. After Cain and Aaron leave, Liv complains of feeling unwell although Robert dismisses her. Tracy is surprised to learn Frank was driving for Home James Haulage before his death.
Ep.222

Thursday 29th August 2019 (Part 1)
Air Date: 2019-08-29
At the hospital, Liv senses the tension between Aaron and Robert and questions what's going on. Robert insists it can wait but is forced to reveal the truth when Diane and Victoria appear. Cain and Moira are fed up of Paddy and Bear staying at the farm. Kerry suggests to Amy that they run away to Spain with Kyle. Liv, Victoria and Diane struggle to digest the news that Robert is being charged with GBH with intent. Victoria fears she'll lose her brother and heads outside to get some air.
Ep.223

Thursday 29th August 2019 (Part 2)
Air Date: 2019-08-29
Nate is glad to see Moira in his caravan. Moira tells Nate this doesn't mean he has a hold on her then she steps towards him and they kiss. The doctor explains to Liv, Aaron and Robert that there could be any number of triggers for Liv's seizure or it could be an isolated indecent. He advises Liv to be aware of any unusual feelings and suggests she keeps a diary. As Moira and Nate lie in bed, Nate realises Moira feels guilty for sleeping with him so he tells her this doesn't make her a bad person.
Ep.224

Friday 30th August 2019
Air Date: 2019-08-30
Cain prepares for his trip to Scotland. In the village, Kerry approaches Amy and asks her if she's thought about what she said yesterday. Amy has, but she doesn't think running away is a good idea. Kerry insists the longer they stick around, the more chance someone will discover the truth about Frank's death so they need to leave today. Amy is still unsure but Kerry manages to talk her around with dreams of a new life with Kyle.
Ep.225

Monday 2nd September 2019
Air Date: 2019-09-02
Kerry is angry that Amy told Nate the truth about the factory fire. Amy insists Nate won't say anything although Kerry isn't so sure and believes they should still leave. Meanwhile at the farm, Moira quizzes Nate about why Amy was so upset yesterday but Nate dismisses it as nothing. When Moira presses him, Nate insists it's personal and orders her to drop it. Andrea is upset as her freelance work is drying up and she also isn't getting work at Take A Vow.
Ep.226

Tuesday 3rd September 2019
Air Date: 2019-09-03
Charity continues her mission to track down the mysterious cannabis smoker. Robert and Aaron worry about Liv potentially having epilepsy. At the farm, Nate sneaks a kiss with Moira and suggests they head into the barn. At the same time, Amy tells Kerry she needs to see Nate and make him see she trusts him. Kerry reveals she seen Nate yesterday and tells Amy that Nate wants her to give him some space.
Ep.227

Wednesday 4th September 2019
Air Date: 2019-09-04
Pete quizzes Nate about the breakdown of his relationship with Amy but Nate won't say much. After Pete is out of earshot, Nate tells Moira that he ended it with Amy because he wanted to, not because of her. Robert is stressed ahead of the meeting with his solicitor, Paul. Aaron offers to be there to support him but Robert doesn't want Aaron there as he fears bad news. Eric prepares a job list for Jacob but Jacob is nowhere to be seen. Leyla agrees to go into business with Andrea. Eric calls in past the shop looking for Jacob.
Ep.228

Thursday 5th September 2019 (Part 1)
Air Date: 2019-09-05
Victoria is rattled by a warning, Nicola takes on a mission, and Jacob makes a big decision.
Ep.229

Thursday 5th September 2019 (Part 2)
Air Date: 2019-09-05
Tracy is frustrated by a rebuttal, Dan gives Will food for thought, and Jacob covers his true feelings.
Ep.230

Friday 6th September 2019
Air Date: 2019-09-06
Tracy takes drastic action, Dawn is encouraged to make a move, and Chas resolves to reveal the truth.
Ep.231

Monday 9th September 2019
Air Date: 2019-09-09
Tracy Metcalfe shuts the door to the church trapping Dawn, and starts accusing her of starting the fire at the factory.
Ep.232

Wednesday 11th September 2019
Air Date: 2019-09-11
Rishi reveals his master plan to Priya, Jai and Manpreet Sharma. He's determined to rebuild his business empire from scratch.
Ep.233

Thursday 12th September 2019 (Part 1)
Air Date: 2019-09-12
Billy warns Marlon Dingle not to let Al have Jessie's ear.
Ep.234

Thursday 12th September 2019 (Part 2)
Air Date: 2019-09-12
Al moves in for a second kiss and Jessie reciprocates but suddenly Jessie recoils in horror when the door bursts open. Tracy admits to Vanessa how betrayed she feels by Frank.
Ep.235

Friday 13th September 2019
Air Date: 2019-09-13
Moira and Nate are struggling to find time alone without being disturbed, but is Moira having second thoughts?
Ep.236

Monday 16th September 2019
Air Date: 2019-09-16
Sarah gets herself in trouble when Vanessa catches her and Danny hanging out together instead of doing school work.
Ep.237

Tuesday 17th September 2019
Air Date: 2019-09-17
Charity reminds Sarah she's grounded but her outlook leaves Charity concerned.
Ep.238

Wednesday 18th September 2019
Air Date: 2019-09-18
Mandy and Vinny are desperately searching for a bag. Why is the bag so important to them and who has got it now?
Ep.239

Thursday 19th September 2019 (Part 1)
Air Date: 2019-09-19
Mandy and Vinny are gutted to see their cash go up in flames but is all as it seems? Does Aaron have an ulterior motive? Jai Sharma is shocked when Dan Spencer arrives with his estranged son, Archie and the news Rachel, Archie's mum, has died.
Ep.240

Thursday 19th September 2019 (Part 2)
Air Date: 2019-09-19
Manpreet Sharma bumps into Derek, a regular patient at the surgery.
Ep.241

Friday 20th September 2019
Air Date: 2019-09-20
Jai Sharma tries to engage with his distant son, Archie, wishing he could get through to him.
Ep.242

Monday 23rd September 2019
Air Date: 2019-09-23
Jamie is still reeling from Kim's mistake. He is even more furious when he discovers Kim has bought a pony for Millie without consulting him and Andrea first. Andrea just wants to keep the peace. Bear is suffering from a hangover. Zak makes him one of Nellie's hangover cure cocktails. He doesn't find it very appetising, but looks forward to his 'date' with Faith.
Ep.243

Tuesday 24th September 2019
Air Date: 2019-09-24
Millie's operation was a success. Andrea is ignoring Graham's phone calls. Its Harriet's fiftieth birthday. Will has booked them a meal at a fancy hotel in Harrogate. Word of Faith and Zak's kiss has spread. The Dingle's blame Faith. Bear tries apologising for leaking the news. Belle has run off to Marlon's. Jai has decided to look for schools for Archie. Laurel and Dawn organise a surprise birthday party at the village hall for Harriet.
Ep.244

Wednesday 25th September 2019
Air Date: 2019-09-25
Millie is pleased to be discharged from the hospital. Kim is prepared to give up fighting. Graham begins to make progress with his potential daughter and makes amends with Jamie. Cain is due back from Scotland tomorrow. Moira wants to end her affair with Nate but his advances get the better off her. As the couple are amid smooch in the caravan, Matty and Ryan approach from the outside and try to get inside.
Ep.245

Thursday 26th September 2019 (Part 1)
Air Date: 2019-09-26
Harriet invites Will to the harvest festival at the church. She reckons they should casual out their relationship. The Tate's go out for the day but Graham turns down his invite. He tells Andrea about the death of his wife. She feels sorry for him. Harriet offers her condolences to Moira for the anniversary of Holly's death and Moira confides about Matty's marijuana taking. Paddy recommends Chas to attend the ante-natal class at the village hall.
Ep.246

Thursday 26th September 2019 (Part 2)
Air Date: 2019-09-26
The guests scatter from the church. Nicola's keen to wheel in the gossip while Moira continues to embarrass Harriet. Matty tries to abscond her. A mysterious suited man comes to visit Graham. Moira confronts Will outside the church. She makes it clear that his presence in the village isn't wanted by her. Nicola thinks she's cracked it with the mysterious marijuana that has been floating around the village. Bob warns Harriet that it's going to take a long time before any of the villagers understand about her and Will.
Ep.247

Friday 27th September 2019
Air Date: 2019-09-27
Cain wants to chat to Moira about her recent behaviour. Moira makes him believe it's about Holly. Derek, from the malt quiz team, turns up at the café. Doug wants to destroy the marijuana growing in the community shed. Paddy apologises to Chas for attending the ante-natal class with Mandy. She reluctantly forgives and offers to attend the next one. It's the day of Rachel's funeral. Laurel prompts Jai to go. Nate returns to the farm and Moira isn't too enthusiastic with him.
Ep.248

Monday 30th September 2019
Air Date: 2019-09-30
It's Archie's first day at Connelton Primary School. He's still distancing himself from everybody. Lydia offers her support to try and get through to him. Jai's optimistic with her idea. Harriet's due to see the bishop about her and Will. Will doesn't see a positive outcome and makes alternative arrangements for his place of residence.
Ep.249

Tuesday 1st October 2019
Air Date: 2019-10-01
David's paranoid that his illness will mount into something much worse. Jacob's adamant that he's staying at home to look after him. Rishi feels guilty about Derek's death. Manpreet has taken on Derek's legacy but is struggling to find any of his relatives. Geoffrey Richards from the Environmental Health turns up at David's Shop wanting to speak to David.
Ep.250

Wednesday 2nd October 2019
Air Date: 2019-10-02
Charity wants to take Vanessa out for a meal, but she isn't in the mood. Tracy approaches them, and Charity tries giving her the elbow, but Vanessa wants to hear her out. Tracy suggests they go through Frank's stuff together. Kerry gets a phone call from a journalist from the Hotten Courier who wants to do a feature on the money she raised. She refuses. Nate has arranged with a mate for Butlers Farm to become the main supplier of a gourmet burger place in Hotten.
Ep.251

Thursday 3rd October 2019 (Part 1)
Air Date: 2019-10-03
Kerry's paranoid about the interview with the Hotten Courier and has been up since half-five in the morning baking. Amy warns her that it looks out of character. Moira tells Cain that she's going to Gloucester overnight for a cattle auction. Kerry's erratic. Tracy walks out of the house with Kerry's handbag to give her the key, and Kerry snatches the bag from her and Frank's keyring comes flying out of it. Andrea tells Leyla that they have lost one of their main clients.
Ep.252

Thursday 3rd October 2019 (Part 2)
Air Date: 2019-10-03
Kerry tries apologising to Tracy. Tracy wants to go and find Amy to find out more information. Kerry reassures her that Amy had nothing to do with it and to leave her out of it. Pete finds Moira's phone and discovers a text from Nate arranging a rendezvous. Rhona tells Kim that one of her horses has colic. Graham's relieved when he's reassured Rhona didn't hear anything and apologises for being so off-hand.
Ep.253

Friday 4th October 2019
Air Date: 2019-10-04
Amy cries out Kerry's name, but she's unresponsive. Tracy phones the ambulance and tells them she fell over. Vanessa leaves Rhona in the lurch when she believes looking after the horse is a one-woman job. Rhona pleads with her not to leave her alone with Graham, but Vanessa finds it amusing. The Yorkshire Sweethearts interview is squandering. The contestants bicker over their past marital choices, and Andrea gives them some stern words. Moira tells Nate that she no longer wants to jeopardise her marriage and they need to keep their difference.
Ep.254

Monday 7th October 2019
Air Date: 2019-10-07
Dan and Amelia turn up at the hospital wanting answers on Kerry's condition. The doctor informs them that she's stable. Kim wants Al to organise high publicity for the press day for the adventure park. Jai's not happy that he wasn't consulted about it, but Kim talks him round. Moira doesn't think she can rely on Pete to remain quiet. Nate plans to have a word. Andrea and Leyla are still game for war for the wedding competition.
Ep.255

Tuesday 8th October 2019
Air Date: 2019-10-08
The doctor informs Amy that Kerry has suffered from a rare syndrome known as cardiac tamponade, which caused her to go into arrest. It's Pete's thirty-third birthday. Cain interrogates him on him and Moira's tiff the previous day. Cain isn't too convinced by his excuses. Tracy visits the hospital to see how Kerry's doing. In a mid confrontation with Amy, a police officer turns up at reception.
Ep.256

Wednesday 9th October 2019
Air Date: 2019-10-09
Vanessa is released from police custody. Kerry and Amy continue to worry but are relieved when the doctor tells them that Kerry can be discharged today. Dan's suspicious of the two girls after Vanessa's outburst. Pete gives Moira an ultimatum - either end her affair with Nate and he'll stay or carry on, and he's going. She fails to choose. Charity and Tracy pick Vanessa up from the police station. Graham apologises to Rhona for rushing off the previous day.
Ep.257

Thursday 10th October 2019 (Part 1)
Air Date: 2019-10-10
Moira turns down a day out with Cain despite him reminding her the previous night, and she agreed. He walks off in a huff. Vanessa is still heated and is preparing all of Kerry's stuff together to get rid off every last speck of her. Charity questions Tracy on her and Pete. She denies that anything's going on, and Vanessa makes it clear that it isn't a good idea for them too. Dan interrogates Kerry on her and Tracy in front of Amelia. Aaron and Robert take Seb out for the day. Nate begs Moira to hear him out, but she reassures him she meant everything she said.
Ep.258

Thursday 10th October 2019 (Part 2)
Air Date: 2019-10-10
Moira races out of the caravan and Nate rushes after her. He pleads with her to consider, but she tells him that she loves her family, and they need to put a stop on their affair. Vinny interrupts Mandy trying to seduce the solicitor flirtatiously. She suggests he and she should go for a walk around the grounds, but demandingly asks Vinny to notify her if the other Dingle clan return. Kerry puts a stop to Dan pressuring her to reveal what's upsetting her.
Ep.259

Tuesday 15th October 2019
Air Date: 2019-10-15
Robert wants to spend all the time he can with Seb while a free man. Al persuades Belle to talk to Ellis to see if he will clear the site up at the adventure park before the floor gets laid. A greedy Jimmy scavenges the house for a tasty snack and happens to come across Doug's pot brownies. Victoria takes Kerry and Amy to the hospital for a check-up and bumps into Luke.
Ep.260

Wednesday 16th October 2019
Air Date: 2019-10-16
Robert and Aaron have gone into hiding at a holiday cottage. Aaron is grouchy because he knows they haven't got long until they get caught unless they get to Dover as quickly as possible. Meanwhile, back at the village. Their families are suffering from their absences, and are the ones who are being hounded on by the police. Ellis has become somewhat sophisticated at the adventure park, and Al is pleased that he's offering more of his efforts to the business.
Ep.261

Thursday 17th October 2019 (Part 1)
Air Date: 2019-10-17
Everyone's fretting about Liv's whereabouts but keeping discreet because of the police. Moira decides to take Faith's suspicions into her own hands and plans to have a word. Robert records a goodbye message for Diane, and emotions run high between the three on the run. Al and Graham continue to quarrel with one another. Al's not too tender with Ellis when he finds him cut and bruised back at the cottage after Graham reports his absence at the adventure park.
Ep.262

Thursday 17th October 2019 (Part 2)
Air Date: 2019-10-17
Chas and Paddy are on route to Starsby layby to meet up with Liv. Paddy promises her to make it his absolute goal for her to see Aaron once more. Meanwhile, Aaron and Liv share a tearful goodbye with another. Moira manages to cover her tracks with Faith and is stunned to find out that Pete is the man Faith's suspicious about. Paddy and Chas are alarmed when they pull up in the layby and realise that DS Wise has been following them. Graham visits Rhona and Leo.
Ep.263

Friday 18th October 2019
Air Date: 2019-10-18
Aaron demands to speak to Robert, but the police won't tell him anything. Chas and Paddy are concerned about him distancing himself, with the recent shocking events not properly sinking in. Faith apologises to Moira for getting the wrong impression about her and Pete's relationship. As a way of apologising, she offers to take Isaac to the playgroup. Kim's concerned about Graham's whereabouts when he never came home the night before.
Ep.264

Monday 21st October 2019
Air Date: 2019-10-21
Faith turns to the church to expose her deplore of telling Cain about Moira's affair. Chas and Paddy move back into the newly-refurbished Woolpack. The mysterious caller who Aaron turned to for help to break Robert out of prison turns out to be Billy. He refuses to help and informs Paddy of Aaron's ideas. Paddy lures Aaron back to the house under false pretences and locks them both inside, draining the keys down the sink. Faith eventually builds up the courage to tell Cain about Moira's supposed affair with Pete. He's in complete denial before he begins to smash things up and Faith curls up in the corner.
Ep.265

Tuesday 22nd October 2019
Air Date: 2019-10-22
Faith worries about how far Cain's actions will mount and hides the evidence of Pete's bloodstains in the lounge of Butlers Farm. Meanwhile, Moira and Nate get a surprise when Cain turns up at Fentley Lodge, the place they stayed at before the agriculture show, and lures the pair of them into his car under false impressions. They are brought to a bay after Cain announces he has hired out a fishing boat for the day. Moira can sense the strange atmosphere while Nate panics about the fact he can't swim.
Ep.266

Wednesday 23rd October 2019
Air Date: 2019-10-23
Moira gets trapped in nets under the water. Nate yells out her name, and pleads with Cain to retrieve her, telling him, he can't swim. Cain grudgingly dives in the water after her. Marlon coaches Chas through her developing birth. Paddy, along with Aaron, arrive at the pub, still isolated from his wife and upcoming child through the lavatory's door. Charity comes back from Cornwall. Cain gives Moira air but is unable to free the nets from around her feet.
Ep.267

Thursday 24th October 2019 (Part 1)
Air Date: 2019-10-24
A fire investigator turns up at Butlers Farm wanting to interrogate Cain on the boat explosion at Freeman's Cut Lake. Cain tells him that the blow was accidental, caused by the paraffin brought on board for the stove. Chas and Paddy aren't too enthusiastic on Bear's suggestions for names for the baby. Charity is the sender of bad news when she informs the family of recent events. Moira and Nate have been taken into Hotten General. The consultant informs Moira that she will be discharged later on that day. Nate, however, has got away with superficial injuries but has taken in a lot of water.
Ep.268

Thursday 24th October 2019 (Part 2)
Air Date: 2019-10-24
Despite Nate provoking him to kill him, Cain struggles to comprehend and drops the pillow when Nate reveals his mother's identity – Cara Robinson. A tense confrontation occurs outside the court when Wendy doesn't believe she's got the justice she deserved for Lee's death. Both parties are shocked when Victoria reveals what she and Luke have been up to. As Wendy rattles on, Aaron goes for her and Liv has to step in to stop him. Luke tries apologising to Victoria, and a hurt Victoria tells him to stay away from her.
Ep.269

Friday 25th October 2019
Air Date: 2019-10-25
Sarah comforts Faith who's waiting for the church to open. Faith wonders if it's too late to sort things with Cain. A dark Cain refuses to make amends with Moira before telling Chas that if Faith doesn't leave Emmerdale, he will. As Moira buries herself with work, Amy arrives to pick up Kyle and scolds her for the affair with Nate. Faith tells Nate she wants to build bridges, but Nate's bitter.
Ep.270

Monday 28th October 2019
Air Date: 2019-10-28
Mandy receives a text from Terry saying he wants cash only. She's struggling to log back into Lydia's bank account. Lydia interrogates Samson on Vinny's strange behaviour. Samson warns Vinny and tells him that he overheard everything about Terry. Aaron's secluding himself from the world and Liv is worried about him. Meanwhile, Chas is finding it hard to breastfeed Eve with the stress of recent events. Cain is finding comfort with drinking himself into oblivion. Pete is on the receiving end when Cain tells him that he wants him and Moira out of the farm.
Ep.271

Tuesday 29th October 2019
Air Date: 2019-10-29
Mandy and Vinny have taken a pitch in Demdyke Woods for the night. They plan what to do next, but are frustrated to realise the van's ignition is broken. Lydia tries to wrack her brains around who left her the money. She wants to phone the police, but Sam is keen to follow the rules of the Dingle code and is against the idea. A troubled Chas is lost in thought. She pretends like she's okay, but Paddy's worried. A thoughtful Victoria tells a hopeful Liv that she has an idea to help Aaron get through the hard times.
Ep.272

Wednesday 30th October 2019
Air Date: 2019-10-30
Kim is threatening over Graham but remaining subtle to anyone who notices her suffering. Mandy and Vinny try everything to get into Lydia's good books. Lydia believes that everything they've told the family is one big made-up story. Samson tries defending their corner, but Lydia can't believe anything that comes out of their mouths. Noah and Sarah try smooth talking Charity into letting them have a Halloween party, but fail. Gabby and Leanna suggest they throw one in the salon and steal alcohol from the pub to supply their booze. Noah promises he'll sort it. Al tries comforting and supporting Kim over her suffering with Graham. She sternly turns down his advances.
Ep.273

Thursday 31st October 2019 (Part 1)
Air Date: 2019-10-31
Jamie tells Andrea that Rhona is Graham's mystery woman and he wants to tell Kim. Andrea thinks he is getting ahead of himself but is unable to talk him out of it. Arthur is feeling threatened and annoyed when Archie is treated with more compassion and is allowed longer time using the gadgets. Doug arranges a meet-up with Rodney when he tells him he has found some weed in the pirate ship. Preparations are in full swing for the Halloween party and Kim is on the receiving end of a cold reception from Graham when she bumps into him outside the café.
Ep.274

Thursday 31st October 2019 (Part 2)
Air Date: 2019-10-31
Kim can't bear to believe Graham's accusations against Jamie and calls him a liar. However, when Jamie is lost for words when Graham prompts him to confess, it becomes apparent to Kim that he was indeed responsible for sending her to prison. Racked with betrayal, she storms out of the bar. Luke tries apologising to Victoria and make her believe he was truly oblivious to who she was. A furious Aaron sends him on his way and warns him to keep himself and his family away from the village. Marlon takes Rhona aside and insultingly asks her if her relationship with Graham is an act from her menopause. She assures him that she's prepared to take the relationship steadily and slowly.
Ep.275

Friday 1st November 2019
Air Date: 2019-11-01
Aaron and Robert are full of delightful joy as the day of their visit has dawned. However, Robert is shattered when he is informed that he will be moving prisons to the Isle of Wight tonight. Doug feels guilty about Laurel and Jai's conflict and offers to intervene. Laurel politely tells him to back off. Arthur believes their disagreement is down to him and Archie. Laurel assures him it isn't. Amy and the boys return from their camping trip and Amy has some wise words for Victoria regarding Luke.
Ep.276

Monday 4th November 2019
Air Date: 2019-11-04
Aaron is left shocked when he finds himself unable to book a prison visit with Robert. Laurel apologises to Jai. Mandy puts pressure on Charity.
Ep.277

Tuesday 5th November 2019
Air Date: 2019-11-05
Kim talks Graham through a company reshuffle, tacitly showing him that he's no longer trusted. Kim's smiling, but Graham maintains composure. Desperate, Moira arrives at Butlers Farm and tells Cain she wants to move back in and fight for everything they have. She breaks down as she continues to explain the motivation behind the affair, but Cain's unmoved. Cain tries to look away from Moira, but she takes his head in her hands, knowing he still loves her. They kiss and Cain doesn't pull away. But Cain comes to and tells her he wants her out of Butlers, but Moira's defiant.
Ep.278

Wednesday 6th November 2019
Air Date: 2019-11-06
Matty confronts Cain. Liv tries to comfort Aaron, saying that he'll be visiting Robert before he knows it. Aaron looks concerned when he opens a letter, but what does it say? Aaron is devastated. Mandy and Vinny resolve to make amends.
Ep.279

Thursday 7th November 2019 (Part 1)
Air Date: 2019-11-07
Vinny, Lydia and Sam catch Mandy before she breaks in, but Mandy continues to try and concoct a plan. Mandy, Vinny, Lydia and Sam enter the office posing as Health & Safety inspectors and they manage to gain entry to the office. Lydia is shocked by a discovery. Kyle hears the truth.
Ep.280

Thursday 7th November 2019 (Part 2)
Air Date: 2019-11-07
Lydia has a decision to make. Dan is hurt by Kerry's actions. Jai and Laurel share a moment. Amy is furious with her wayward mother and advises Dan against going after Kerry.
Ep.281

Friday 8th November 2019
Air Date: 2019-11-08
Charity asks Jai to sell Tenant Cottage to her, but not to tell Vanessa. Vanessa is suspicious of Charity, who soon finds herself with some explaining to do, but eventually she and Vanessa are hopeful for their future. Kerry is broken.
Ep.282

Monday 11th November 2019
Air Date: 2019-11-11
Aaron and Cain receive a visitor. Vanessa tries to get the truth. When one lie becomes too much, Vanessa publicly dumps Charity. Rhona and Graham seem smitten in the café. Vanessa watches on, wishing things were the same with her and Charity. Amy encourages Kerry to open up.
Ep.283

Tuesday 12th November 2019
Air Date: 2019-11-12
Aaron and Cain race against time. Aaron and Cain's plan is underway but Aaron's concerned as he realises he's being followed. Arthur's feelings bubble over. Liam delivers a surprise to Bernice.
Ep.284

Wednesday 13th November 2019
Air Date: 2019-11-13
Charity remains on the warpath despite Cain and Aaron apologising, but she thinks an apology can't make things right, and blazes at Chas for defending Aaron. Soon there is a huge rift that has formed between Charity and Chas. Jimmy is shocked at what he's being accused of by Jai. Laurel worries how her friendship with Nicola will survive given the accusations against Jimmy. Mandy tries to help Lydia reach out to her sister.
Ep.285

Friday 15th November 2018
Air Date: 2019-11-15
Laurel wonders if Jai is overreacting with his accusation towards Jimmy. Laurel attempts to broker peace. Gabby and Leanna offer a helping hand. Chas is confronted with a new regime.
Ep.286

Monday 18th November 2019
Air Date: 2019-11-18
Charity puts her foot down. Sarah gives Charity attitude and plans a party. Agatha admits she has a lot of explaining to do and Lydia can't help but feel nervous as she braces herself to face her past. Agatha reveals she never stopped thinking of Lydia, but most troublingly, Agatha reveals Lydia's father died of Huntington's disease, leaving Lydia with a likely chance of having the same thing. Leyla struggles to take it in when David reveals Maya is being released and worries over whether she might try to contact Jacob.
Ep.287

Tuesday 19th November 2019
Air Date: 2019-11-19
Shellshocked Lydia shares the news that her father died of Huntington's disease with Sam, Samson, Mandy and Vinny. At a party, Noah is horrified when Sarah swallows a pill that Danny and Jayden have given to her. Dawn misreads a situation. David is forced into a search.
Ep.288

Wednesday 20th November 2019
Air Date: 2019-11-20
Jacob agrees to speak with Leanna. As they talk, she leans in for a passionate kiss and nervously unbuttons her shirt. Lydia is tense as she continues to wrestle with whether or not she should take the Huntington's test. Nervous Dawn enlists Billy's help. Chas reveals her worries.
Ep.289

Thursday 21st November 2019 (Part 1)
Air Date: 2019-11-21
When Leanna throws up in front of Liam as a result of taking the morning after pill, Bernice reveals the truth. Chas is far from happy when Paddy reveals he has invited a 'new-mums' group over to The Woolpack with the intention of helping Chas with the trouble she's having breastfeeding Eve. Dawn feels dejected.
Ep.290

Thursday 21st November 2019 (Part 2)
Air Date: 2019-11-21
Liam barges into the shop, accusing Jacob of forcing Leanna to sleep with him. Before long, Liam punches Jacob and is later arrested by PC Swirling. Billy remains unconvinced. Marlon is unsettled by an exchange.
Ep.291

Friday 22nd November 2019
Air Date: 2019-11-22
Rhona is concerned to hear Graham tried speaking with Marlon about him seeing Leo. Liam is dismissive. Al asserts his authority. Aaron relents on his stance.
Ep.292

Monday 25th November 2019
Air Date: 2019-11-25
Dawn discovers Al's secret. Jacob is determined to make things right. Charity gives Tracy some advice.
Ep.293

Tuesday 26th November 2019
Air Date: 2019-11-26
Graham receives a text from Kim, asking for employees to meet her at the pub for an announcement. Graham's jaw drops when arrives at The Woolpack and realises why Kim has thrown this party. Rhona is also scathing as she struggles to get her head around the revelation that Kim has made. As Kim enjoys her plan's success, Graham tries to make things up to Rhona, but he's halted when Marlon punches him. But could Kim's delight be short-lived? Dee Dee tells Bernice that she has decided to start school locally in Emmerdale, as a wedding gift to Bernice. Bernice is overwhelmed and inspired to make a grand gesture to Liam instead of getting him a stereotypical gift. Jacob is hopeful about the future.
Ep.294

Wednesday 27th November 2019
Air Date: 2019-11-27
Andrea dreads the truth coming out. Bernice's hen party prep is underway and Gabby and Dee Dee reveal Liam's wedding parents. When Leanna is hurt she hasn't been asked to helo decide on Liam's gift, Bernice suggests she help organise the hen party. Vanessa is so sure Pete is lying to Tracy, but is she right? Billy's furious with Al.
Ep.295

Thursday 28th November 2019 (Part 1)
Air Date: 2019-11-28
Charity's plan backfires. Kyle asks Moira to come to his birthday party. At Bernice's hen do, her daughters are quickly made to feel embarrassed when a stripper arrives. As the hens celebrate, Bernice doesn't notice several missed calls on her phone. A shocked Dee Dee, who has taken a call, has a shocking revelation that could change everything.
Ep.296

Thursday 28th November 2019 (Part 2)
Air Date: 2019-11-28
Cain has other plans for Kyle's birthday. Mandy sees an opportunity. Bernice makes a decision.
Ep.297

Friday 29th November 2019
Air Date: 2019-11-29
When the childminder cancels on Laurel, Jimmy offers to look after Archie, happy to put the abuse accusations behind him. Pete is concerned about Moira. Kim is suspicious of Graham's motives. Moira's furious as Nate reveals he's taken over the lease at Wylie's Farm.
Ep.298

Monday 2nd December 2019
Air Date: 2019-12-02
Moira messes up a business meeting by being drunk and inappropriate. Pete tries to help but Moira shuts him down. Graham collects his things from Home Farm as he prepares to leave Emmerdale. Pete is stunned when Nate offers him a job and partnership on Wylie's Farm. Diane makes a discovery. Kim tries to remain composed.
Ep.299

Tuesday 3rd December 2019
Air Date: 2019-12-03
Moira is left gutted by a decision. Kim snaps into protective mode. Diane is floored to learn Wendy is moving into the village and wants to protect Victoria from finding out. But before long, Victoria is devastated by this news. Luke implores he didn't know. When someone smashes the windows of Dale View, Wendy is left on edge as she shouts into the darkness at the unknown culprit. Who has smashed her windows, and will it work to oust her? As Jamie fusses over Andrea in hospital, Kim feels like an intruder on their love. Could Kim change her mind on revealing the unopened DNA results?
Ep.300

Wednesday 4th December 2019
Air Date: 2019-12-04
A conflicted Chas attempts to keep the peace. Noah's suspicions are raised. At the cricket pavilion, Danny tries to offer Sarah some pills. Will Noah intervene? Kim tells Graham that she'll grant him the divorce but she wants something in return - for him to leave the village. When Cain reiterates he's still not going to let Moira see the kids, she is determined to prove to prove she's a fit mother.
Ep.301

Thursday 5th December 2019 (Part 1)
Air Date: 2019-12-05
Charity is concerned by Vanessa's behaviour. They get distracted while decorating the house for Christmas but they're soon interrupted by Noah and Sarah. Rhona worries over Graham's decision. Victoria is alarmed when she starts to feel contractions, worrying the baby is coming too early and is aghast when Wendy is the one to help.
Ep.302

Thursday 5th December 2019 (Part 2)
Air Date: 2019-12-05
Bob offers his support. Rhona rejects a plea for help. Wendy oversteps the mark. Harriet blurts out the truth to Kim when it comes to the Christmas light funding.
Ep.303

Friday 6th December 2019
Air Date: 2019-12-06
Graham's plan is thwarted. Wendy is grateful. Arthur is upset to hear Jai and Archie will be spending Christmas with him and Laurel, who are optimistic it will work, unaware Arthur is still bullying Archie.
Ep.304

Monday 9th December 2019
Air Date: 2019-12-09
Graham is suspicious of Kim when she packs Jamie, Andrea and Millie off to Lapland. With Hotten Pantomime cancelled, Bob suggests that they do their own panto in the village. Nicola is sympathetic.
Ep.305

Tuesday 10th December 2019
Air Date: 2019-12-10
Wendy is further rattled when Aaron arrives at the doctor's surgery where she's working for an "appointment". Archie is pushed to his limit and lashes out at Angelica after she and Arthur make fun of him. When Jimmy yanks Archie away, an angry Jai tells Jimmy it's nowhere near over between them.
Ep.306

Wednesday 11th December 2019
Air Date: 2019-12-11
Jimmy is worried that he's under suspicion. Luke's frustration builds. Leyla is eager to spend time with Liam. A panicked Jai is frantically searching for Archie. When Arthur hears Archie's missing he's worried that things may have gone too far.
Ep.307

Thursday 12th December 2019 (Part 1)
Air Date: 2019-12-12
Aaron steps up his campaign. As Wendy talks to Bob, she sees Aaron approaching and flees, dropping her bag in the process. When she puts her foot down in her car, in an attempt to get away from a car which seems to be following her, she is terrified it's Aaron. Could it be? When Luke arrives home, he's horrified to see Aaron staring back at him. As they talk, Aaron works himself up into a fit of rage and approaches Luke with a golf club and murderous intent. In his revenge-fuelled state, could Aaron be going down the same route as Robert? Elsewhere, Jai is intent on making Jimmy pay, and Andrea puts on a front.
Ep.308

Thursday 12th December 2019 (Part 2)
Air Date: 2019-12-12
Aaron's anger gets out of control. Leyla feels a pang of jealousy. Billy and Al square up to one another after Al accuses Billy of not pulling his weight, but Ellis intervenes having just arrived back from Dubai.
Ep.309

Friday 13th December 2019
Air Date: 2019-12-13
Dawn's upset that she's struggling to afford Lucas's Christmas present. Belle is annoyed that Ellis returned from Dubai and did not let her know he was back in the village. Laurel is caught in the middle. Rhona is shaken by Graham's actions.
Ep.310

Monday 16th December 2019
Air Date: 2019-12-16
Dawn's gutted when she receives a call informing her that she won't be able to see Lucas over Christmas and decides to go for residency again. Graham's worried he's losing Rhona, who's now determined to make her own decision about the job offer. However, Rhona softens after Graham reveals he's enrolled Leo in a football club which holds personal significance. After they both confess that they love one another, they decide to accept the job offer and leave Emmerdale. Leanna and Jacob rekindle their friendship.
Ep.311

Tuesday 17th December 2019
Air Date: 2019-12-17
Cain's infuriated by his family's actions. Sam offers his support to Nate, for which he's grateful. Later, Chas tells Cain that he should come to Lydia's Dingle gathering because it's the "season of goodwill", but when Cain arrives to see Nate there, he tells the Dingles to go to hell and storms out. Nate discovers why it seems like Kyle's scared of him and he heads off to confront Cain. Elsewhere, Billy and Dawn reconcile.
Ep.312

Wednesday 18th December 2019
Air Date: 2019-12-18
Liv's worried that Aaron's injury might be self-inflicted. Things go from bad to worse when Charity invites Nate to dinner as a way of riling Cain. Jamie and Andrea resolve their conflict.
Ep.313

Thursday 19th December 2019 (Part 1)
Air Date: 2019-12-19
Victoria shows Liv and Chas the letter she's received from Robert, but they're dismayed to see there's no mention of Aaron. Aaron sinks into despair. He breaks down as he pulls up into the woods, unable to face anyone or anything. Something catches Liv's eye as she crosses the footbridge, retracing Aaron's steps. Moving to the edge of the water to inspect, Liv collapses and begins to have a seizure. She's alone and vulnerable. Will someone find her in time? Elsewhere, Nate readies himself for a fight.
Ep.314

Thursday 19th December 2019 (Part 2)
Air Date: 2019-12-19
Kim takes the role of the villain in the village panto, leaving everyone shocked. Tracy's apology backfires. Liv is in peril.
Ep.315

Friday 20th December 2019
Air Date: 2019-12-20
Tracy opens up to Vanessa. Aaron looks for a distraction. Sam gets an idea. The preparation for the pantomime is in full swing and Manpreet's trying to control the chaos.
Ep.316

Monday 23rd December 2019
Air Date: 2019-12-23
Leyla's hopes are raised. She's sad that the panto is coming to an end. As the panto plays out, she's waiting for the passionate kiss from Liam's character. Will she get it? Rhona feels guilty about leaving. Kim has a proposal for Marlon.
Ep.317

Tuesday 24th December 2019
Air Date: 2019-12-24
Graham receives the DNA test results and is quick to read them. Kim's blood runs cold. Nate feels isolated. Rhona knows she's going to break Marlon's heart.
Ep.318

Wednesday 25th December 2019
Air Date: 2019-12-25
It's Christmas morning and Jacob, David, Leyla and Eric congregate to wish one another a Merry Christmas. Their idyllic morning is shattered when Jacob opens the front door to find a baby on the doorstep. They discover a note signed from Maya, but are initially unconvinced it's from her - could it be? Just as Christmas dinner is being served up at Home Farm, Graham bursts in, leaving Andrea and Kim fearful of what he might do or say.
Ep.319

Thursday 26th December 2019
Air Date: 2019-12-26
Graham pleads his case to Rhona. David wants to keep things quiet about the baby until he knows more. Nicola reaches out to Laurel. Things are far from festive in a chaotic Boxing Day at Nicola and Jimmy's. Moira is confronted by Cain who accuses her of being drunk, despite the fact she's only had one drink so far today.
Ep.320

Friday 27th December 2019
Air Date: 2019-12-27
Kim tries to get Jamie on side. Rhona worries what people might think. David's anxiety grows. Danny turns up at Sarah's excited to see her, but gets a frosty reception when she says he only cares about himself.
Ep.321

Monday 30th December 2019
Air Date: 2019-12-30
At Farrers Barn, an anxious David, Jacob and Leyla await the arrival of the paternity test results. Marlon tells Paddy of his worries after hearing Rhona's quit the vets, realising there's now nothing stopping her from taking Leo away. Charity makes a plan.
Ep.322

Tuesday 31st December 2019
Air Date: 2019-12-31
Victoria tells Amy she's ready to ring in the New Year with a night out, but ends up leaving the party before the bells toll when the baby starts kicking. As the New Year fireworks go off, Victoria's waters break. The baby is coming! Most of the locals enjoy the New Year's celebrations. Moira is full of self-hatred.