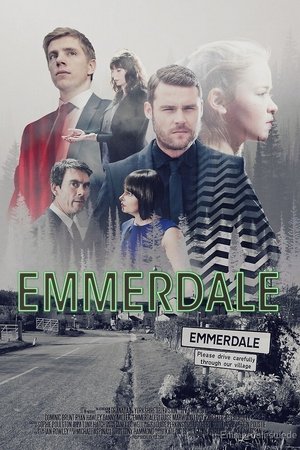 Episodes List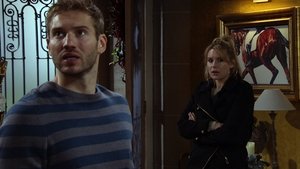 Ep.1

Friday 1 Jan
Air Date: 2021-01-01
Will Paul open up to Mandy? Harriet struggles. Dawn panics.
Ep.2

Monday 4 Jan
Air Date: 2021-01-04
Liv is diagnosed with epilepsy. Harriet tries to get Charles off her back. Will gets a job.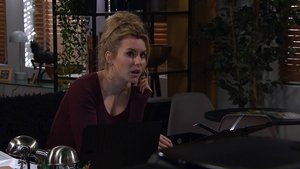 Ep.3

Tuesday 5 Jan
Air Date: 2021-01-05
Liv is in danger. Vinny panics. Jamie warns Will.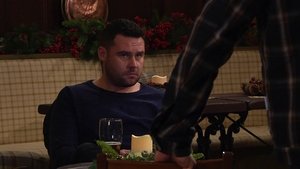 Ep.4

Wednesday 6 Jan
Air Date: 2021-01-06
Sarah is tempted. Rhona makes Charles an offer. Mack offers Aaron a job.
Ep.5

Thursday 7 Jan (Part 1)
Air Date: 2021-01-07
Marlon opens up to Paddy. Sarah throws caution to the wind. Chas is suspicious.
Ep.6

Thursday 7 Jan (Part 2)
Air Date: 2021-01-07
Sarah makes a bad decision. Chas calls the police. Charity is uneasy.
Ep.7

Friday 8 Jan
Air Date: 2021-01-08
Tracy's feeling paranoid. Al panics. Harriet is jealous.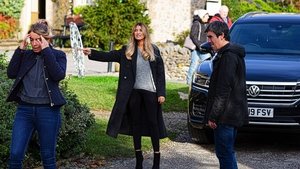 Ep.8

Monday 11 Jan
Air Date: 2021-01-11
With Sarah missing, tensions run high. Danny offers Sarah drugs.
Ep.9

Tuesday 12 Jan
Air Date: 2021-01-12
Charles supports Ethan. Marlon suggests a tea date in Hotten.
Ep.10

Wednesday 13 Jan
Air Date: 2021-01-13
Will Sarah come clean? Meena throws a family drinks do. Marlon makes a special effort.
Ep.11

Thursday 14 Jan (Part 1)
Air Date: 2021-01-14
Can Rhona and Marlon progress their relationship? It's Lucas's birthday.
Ep.12

Thursday 14 Jan (Part 2)
Air Date: 2021-01-14
Harriet has a secret. Mandy's struck by an idea. Connor threatens Paul.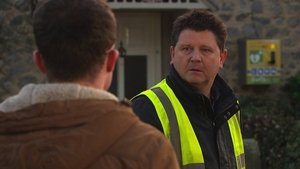 Ep.13

Friday 15 Jan
Air Date: 2021-01-15
Harriet makes things very bad for Dawn. Paul gambles again.
Ep.14

Monday 18 Jan
Air Date: 2021-01-18
A flamboyant public proposal puts paid to Paul's plan. Will is surprised by Kim's empathy.
Ep.15

Tuesday 19 Jan
Air Date: 2021-01-19
Paul breaks down and makes a big admission. Tracy is jealous. Kim enlists Mack's help.
Ep.16

Wednesday 20 Jan
Air Date: 2021-01-20
Mandy won't budge on her decision. Cain grows suspicious when cars go missing.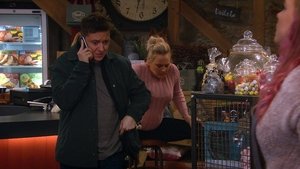 Ep.17

Thursday 21 January (Part 1)
Air Date: 2021-01-21
Cain unwittingly causes an accident. Dawn berates Harriet causing her upset.
Ep.18

Thursday 21 January (Part 2)
Air Date: 2021-01-21
Priya is conflicted by Al's declaration. Victoria and Luke matchmake.
Ep.19

Friday 22 January
Air Date: 2021-01-22
Priya questions Al's true feelings. Moira heads up to Home Farm.
Ep.20

Monday 25 January
Air Date: 2021-01-25
Debbie has a proposal. Dawn has devastating news. Moira tries to get through to Mackenzie.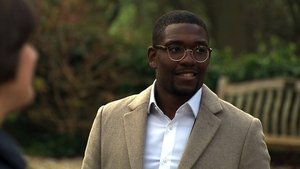 Ep.21

Tuesday 26 January
Air Date: 2021-01-26
Priya is relieved. Harriet makes a big decision. Al is broken.
Ep.22

Wednesday 27 January
Air Date: 2021-01-27
Charles tries to talk Harriet round. Moira urges Charles to think.
Ep.23

Thursday 28 January (Part 1)
Air Date: 2021-01-28
Manpreet comes face to face with her past. Debbie worries about Sarah.
Ep.24

Thursday 28 January (Part 2)
Air Date: 2021-01-28
Manpreet is distressed. Ellis is conflicted. Moira tries to get through.
Ep.25

Friday 29 January
Air Date: 2021-01-29
Jimmy is stunned. Jai opens up. Priya is pained.
Ep.26

Monday 1 February
Air Date: 2021-02-01
A tortured Laurel fights her demons. Harriet questions things. Jimmy is fearful.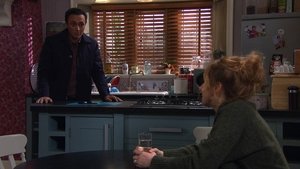 Ep.27

Tuesday 2 February
Air Date: 2021-02-02
Mack sets a trap. Nicola and Jimmy are shocked. Harriet makes a decision.
Ep.28

Wednesday 3 February
Air Date: 2021-02-03
Jamie unwittingly meets the impostor client. Paul needs cash fast.
Ep.29

Thursday 4 February (Part 1)
Air Date: 2021-02-04
Dawn tries to stop Jamie seeking revenge. David makes a suggestion to Eric.
Ep.30

Thursday 4 Feb (Part 2)
Air Date: 2021-02-04
Jamie fears for Kyle. Matty is conflicted. Gabby flirts with Jamie.
Ep.31

Friday 5 Feb
Air Date: 2021-02-05
Dawn is upset. Gabby shows her spirit.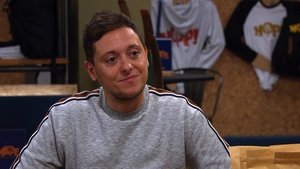 Ep.32

Monday 8 February
Air Date: 2021-02-08
Gabby shows potential to Kim. Noah's annoyed by Charity's interference.
Ep.33

Tuesday 9 February
Air Date: 2021-02-09
Dawn gives Will an ultimatum. Noah asks Samson for help. Matty's uneasy.
Ep.34

Wednesday 10 February
Air Date: 2021-02-10
Will has a choice to make. Noah goads Charity. Rhona and Marlon enjoy their secret.
Ep.35

Thursday 11 February (Part 1)
Air Date: 2021-02-11
Gabby's heart sinks. Charity reaches an all-time low. Ethan gives Luke food for thought.
Ep.36

Thursday 11 February (Part 2)
Air Date: 2021-02-11
Charity's left at rock bottom. Rhona's reluctant about going public. Victoria reels.
Ep.37

Friday 12 February
Air Date: 2021-02-12
Chas has a proposition for Marlon. Paul's put on edge. Mandy's troubled by the feeling something's not right.
Ep.38

Monday 15 February
Air Date: 2021-02-15
Conor kidnaps Paul in front of Mandy, and demands a ransom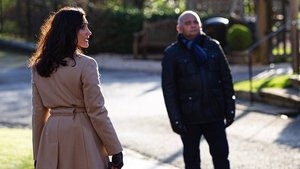 Ep.39

Tuesday 16 February
Air Date: 2021-02-16
Vinny and Mandy scramble to get their money together.
Ep.40

Wednesday 17 February
Air Date: 2021-02-17
Jamie tells Gabby that she was just a drunken mistake. Mandy has a bag full of money but won't disclose where it's from...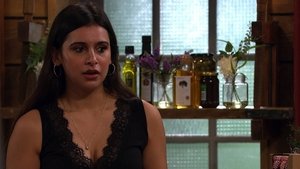 Ep.41

Thursday 18 February (Part 1)
Air Date: 2021-02-18
Gabby learns she's pregnant.
Ep.42

Thursday 18 February (Part 2)
Air Date: 2021-02-18
Jamie confesses to Paddy how he really feels about Dawn.
Ep.43

Friday 19 February
Air Date: 2021-02-19
Nate feels guilty. Laurel is determined to be supportive. Vinny and Liv are all loved up.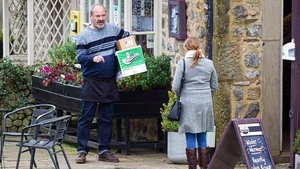 Ep.44

Monday 22 February
Air Date: 2021-02-22
Juliette is back and wants to see Carl. Laurel worries about Gabby's future.
Ep.45

Tuesday 23 February
Air Date: 2021-02-23
Jimmy calls the police when Carl goes missing again! Rishi spots lonely Charity and asks for her advice - will he take it?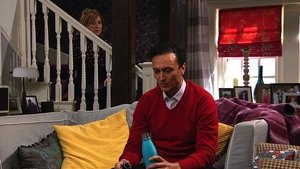 Ep.46

Wednesday 24 February
Air Date: 2021-02-24
Jimmy is angry. Jai betrays Laurel's trust. Nate feels the pressure.
Ep.47

Thursday 25 February (Part 1)
Air Date: 2021-02-25
Cain and Moira's plans are halted. Faith returns. Tracy goes into labour.
Ep.48

Thursday 25 February (Part 2)
Air Date: 2021-02-25
Moira wants answers. A new baby for Tracy and Nate. Gabby has a plan.
Ep.49

Friday 26 February
Air Date: 2021-02-26
It's a Dingle court decider. Gabby has some news and Laurel worries. Vinny wants to help.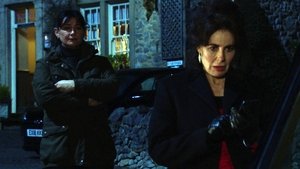 Ep.50

Monday 1 March
Air Date: 2021-03-01
Moira begs Faith, Will tells Dawn about Gabby, and Paul gets what he wants.
Ep.51

Tuesday 2 March
Air Date: 2021-03-02
Laurel's worried for Gabby. Al is angry. Mandy makes a proposal.
Ep.52

Wednesday 3 March
Air Date: 2021-03-03
Paul and Mandy are excited. Lydia's uneasy. Al is smug.
Ep.53

Thursday 4 March (Part 1)
Air Date: 2021-03-04
Al fires Priya. Charity forms a plan. Lydia tries to bury her feelings.
Ep.54

Thursday 4 March (Part 2)
Air Date: 2021-03-04
Charity is in trouble. Cain gets emotional. Ellis and Priya get close.
Ep.55

Friday 5 March
Air Date: 2021-03-05
Gabby is dejected. Priya battles her conflicting emotions. Chas is unimpressed.
Ep.56

Monday 8 March
Air Date: 2021-03-08
Gabby's horrified as realisation sinks in. Ellis questions Priya's motives. Nicola resolves to take back control.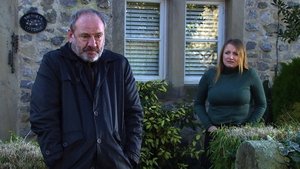 Ep.57

Tuesday 9 March
Air Date: 2021-03-09
Jimmy struggles to keep it together. Someone's got it in for Jimmy and Nicola. Meena leaves Manpreet angry.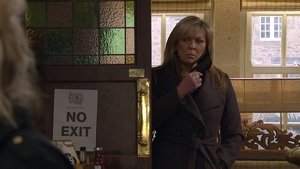 Ep.58

Wednesday 10 March
Air Date: 2021-03-10
Dawn is shocked by Kim's revelation. Jimmy and Nicola continue to be watched. Manpreet feels guilty.
Ep.59

Thursday 11 March (Part 1)
Air Date: 2021-03-11
Kim has it in for Dawn. Harriet's full of dread. Manpreet is caught off guard.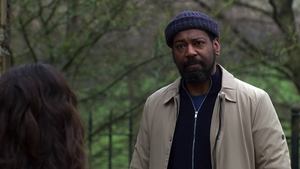 Ep.60

Thursday 11 March (Part 2)
Air Date: 2021-03-11
Will Charles admit his feelings? Gabby's overcome by anger. Dawn is determined to have it out with Kim.
Ep.61

Friday 12 March
Air Date: 2021-03-12
Charles worries about Harriet. Will is panicked. Jamie agrees to Kim's decision.
Ep.62

Monday 15 March
Air Date: 2021-03-15
Will covers for Harriet's absence. Faith is suspicious of Mack. Kim gloats about her meddling.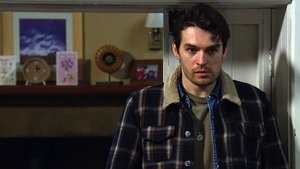 Ep.63

Tuesday 16 March
Air Date: 2021-03-16
Faith sneaks into the farm to find evidence. Cain reveals the truth to Moira. Will lies Harriet is away on a retreat.
Ep.64

Wednesday 17 March
Air Date: 2021-03-17
Mack makes an admission to Moira. Vinny is suspicious as the stag do starts. Will worries for Harriet.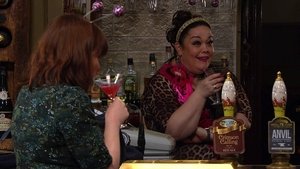 Ep.65

Thursday 18 March (Part 1)
Air Date: 2021-03-18
Vinny confronts Paul, who reacts badly. Rhona realises everyone was in on her secret. Charity puts on a brave face.
Ep.66

Thursday 18 March (Part 2)
Air Date: 2021-03-18
Paul stares at unconscious Vinny. Charity is summoned to the backroom. Will has a plan, but will it work?
Ep.67

Friday 19 March
Air Date: 2021-03-19
David offers Nate some advice. Marlon and Rhona are proud. The Woolpack has a new name above its door.
Ep.68

Monday 22 March
Air Date: 2021-03-22
Paul is panicked. Liv's suspicious. Will tries to distract Kim.
Ep.69

Tuesday 23 March
Air Date: 2021-03-23
Vinny tries to stick to Paul's story. Liv is shocked and determined, Jimmy and Nicola are being watched.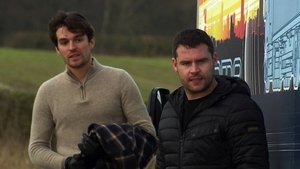 Ep.70

Wednesday 24 March
Air Date: 2021-03-24
Mack leaves Aaron in trouble. Priya awkwardly avoids Ellis. Nicola tries to reassure Jimmy.
Ep.71

Thursday 25 March
Air Date: 2021-03-25
Aaron makes his excuses. Meanwhile, Andrea makes a demand. Elsewhere, Dawn is heartbroken. Faith is playing the domestic goddess as she cooks and cleans for Tracy.
Ep.72

Friday 26 March
Air Date: 2021-03-26
Andrea wants Dale View in the divorce settlement to provide security for her and Millie, but Kim accuses her of being a gold digger and is primed for a fight. Meanwhile, Aaron and Sam work together. Elsewhere, Jimmy is caught out. Also today, Paul gives Vinny speech advice.
Ep.73

Monday 29 March
Air Date: 2021-03-29
In a flashforward, a 999 call is heard from Jimmy and we see three different hospital beds. Back in the present day, Aaron calls Paul and asks to meet him at the Dingles' for a pre-wedding surprise, which turns out to be a kidnapped Connor. Later, a run-in with Connor on the outskirts of the village leads Liv to figure out the truth about Paul. Liv is pale as the pieces begin to fall into place for her.
Ep.74

Tuesday 30 March
Air Date: 2021-03-30
Worried about Vinny, Liv confides in Aaron and they make it their mission to get Vinny to tell Mandy the truth about Paul. Will they succeed? Meanwhile, Jimmy gets a phone call and finds out that Juliette has sabotaged another business opportunity, leaving him and Nicola seriously short of funds for their legal battle. A desperate Nicola decides to take matters into her own hands and accepts a job with Mack.
Ep.75

Wednesday 31 March
Air Date: 2021-03-31
Mandy's nerves are getting to her as she prepares for the wedding. Mandy is unaware Vinny is taking another brutal beating from his father. Later, Aaron tries to get Vinny to open up. Meanwhile, the occupants of the hospital beds are revealed.
Ep.76

Thursday 1 April 2021
Air Date: 2021-04-01
At the wheel of his truck, Jimmy struggles to breathe. As he rounds a corner, he's blinded by the glare of the sun and loses control, bracing himself for impact. Meanwhile, Liv confronts Paul in the wedding barn, but is she in grave danger? How will Paul react when he's confronted?
Ep.77

Friday 2 April
Air Date: 2021-04-02
The village grieves with the loss of life. Meanwhile, Mack is guilt-ridden. Elsewhere, Rodney makes a confession.
Ep.78

Monday 5 April
Air Date: 2021-04-05
Bob confides in Dan about how he and Wendy have yet to consummate their relationship. Dan encourages him to try to make a move. Later, rather unsubtly, Bob plies Wendy with oysters, opera and dark chocolate by candle-light, but it has the reverse reaction. Wendy makes her excuses and heads out, leaving Bob worried that he has overstepped the mark. Meanwhile, after last week's events, a police officer has questions about what happened.
Ep.79

Tuesday 6 April
Air Date: 2021-04-06
Wendy has made dinner for Dan and Bob. Bob is called to the pub to deal with a delivery, but he's uneasy about leaving them both alone together. Is Bob right to be worried? Meanwhile, Charity wants to make peace with Noah and Sarah. She soon convinces Noah to give her another chance. He tells her that Sarah will need a lot more work. Elsewhere, Andrea asks Charles out for a drink. He turns her down but when Ethan encourages him, he asks her to have that drink.
Ep.80

Wednesday 7 April
Air Date: 2021-04-07
Dan makes another excuse to drop in on Wendy. Bob returns to to find Wendy and Dan cosily playing cards together. Bob's jealousy peaks and causes him to confront the situation, asking Wendy where they stand. But could this finally sort out things once and for all? Meanwhile, Noah sets up a chance meeting between Charity and Sarah, but it backfires. Elsewhere, Manpreet finds she is suppressing her jealousy to see Charles and Andrea together.
Ep.81

Thursday 8 April (Part 1)
Air Date: 2021-04-08
Charles arranges another date. Meanwhile, Wendy makes an admission to Bob. Elsewhere, Faith is taking over and Tracy feels she has lost control in her own home. Could it spell the end of Faith's residency with Tracy and Nate?
Ep.82

Thursday 8 April (Part 2)
Air Date: 2021-04-08
Brenda and Faith clash, leaving both feeling hurt. Pollard is caught in the crossfire and comforts Brenda, but his mind soon wanders to Faith.
Ep.83

Monday 12 April
Air Date: 2021-04-12
Faith starts to make the best of all her opportunities presented. Could she turn things around? Meanwhile, Gabby is concerned for Kim.
Ep.84

Tuesday 13 April
Air Date: 2021-04-13
Seething Kim turns on Gabby and attempts to kick her out. Swigging brandy, a regretful Kim tries to tell Gabby that she doesn't actually need to leave, but stung Gabby heads out without a word. As the door slams, Kim loses her balance and collapses to the floor, terrified as she loses consciousness. Meanwhile, Faith gives Lydia £1,000, claiming to have sold the hearse, but what is she up to?
Ep.85

Wednesday 14 April
Air Date: 2021-04-14
When Amy queries what's going on, Matty explains about the consultation and why he was nervous about telling her. Matty explains why he wants to go through with the surgery. Amy tells him that he needs to do whatever's right for him and she will support him every step of the way.
Ep.86

Thursday 15 April (Part 1)
Air Date: 2021-04-15
Victoria has the idea of searching for Ethan's mum via her medical records. Meanwhile, Gabby tries to cover. Elsewhere, Jamie berates Kim.
Ep.87

Thursday 15 April (Part 2)
Air Date: 2021-04-15
Charles talks to Vinny. Meanwhile, Bob receives an unexpected apology. Elsewhere, Meena plots something.
Ep.88

Friday 16 April
Air Date: 2021-04-16
Charles talks to Vinny. Meanwhile, Bob receives an unexpected apology. Elsewhere, Meena plots something.
Ep.89

Monday 19 April
Air Date: 2021-04-19
Manpreet is taken aback when Ethan asks her to go with him to see his mum. However, Ethan is disappointed when his mum doesn't turn up and Manpreet tells him not to give up. There's a thawing in their relationship as Ethan tells her that the one positive from today is getting to know her again.
Ep.90

Tuesday 20 April
Air Date: 2021-04-20
Ethan is hurt when he receives a text from what appears to be his mum, who says she doesn't want to get to know him. Meena sends Manpreet over to comfort him. Meanwhile, Lydia gets shocking news. Elsewhere, Chas and Marlon struggle.
Ep.91

Wednesday 21 April
Air Date: 2021-04-21
Charles asks Manpreet if she knows what's bothering Ethan. She doesn't give anything away, but she does think that Ethan should speak to his dad. Meanwhile, Mack is left rattled. Elsewhere, Cathy uses April to get close to Ellis.
Ep.92

Thursday 22 April (Part 1)
Air Date: 2021-04-22
Nate's injury is stopping him from helping out as much with Frankie and Tracy feels increasingly under strain. Meanwhile, Ellis confronts Priya about sweets he has received, along with a romantic note. Cathy and April listen in. Will this cause embarrassment for all? Elsewhere, Mandy and Mack meet with Kev and soon Mandy's actions leave them both in grave danger.
Ep.93

Thursday 22 April (Part 2)
Air Date: 2021-04-22
Marlon continues to fret about The Woolpack's financial struggles. Meanwhile, Mandy is in danger. Elsewhere, Tracy is put out.
Ep.94

Friday 23 April
Air Date: 2021-04-23
Gabby is left hurt and humiliated when Jamie refuses to attend her pregnancy scan. Meanwhile, Tracy struggles. Elsewhere, Lydia finds Kim dozing off at her laptop and tries to get her to seek medical help. Also today, Rhona is gutted Marlon is working.
Ep.95

Monday 26 April
Air Date: 2021-04-26
Kim is surprised when Andrea wants her to babysit a sickly Millie at short notice. Kim agrees, despite her confused state of mind. When Millie's sickness worsens, Kim realises she's in no fit state to look after her. At the same time, Jamie attends the baby scan. Seeing him get emotional, Gabby is thrilled.
Ep.96

Tuesday 27 April
Air Date: 2021-04-27
A raging Andrea turns up to give Kim a piece of her mind. She forbids her from seeing Millie again. Later, Kim is delighted when Gabby gives her a baby scan picture. However, Gabby is unsettled when Kim refers to the scan as 'my baby'. Meanwhile, Rhona has an idea to get Marlon out of his financial hole. Elsewhere, Dawn and Jamie meet for a drink – he wants to try again.
Ep.97

Wednesday 28 April
Air Date: 2021-04-28
Dawn tries to end it with Jamie, knowing it is for the best, but he suggests they should continue to see each other in secret. Meanwhile, Kim gives Gabby a life lesson. Elsewhere, Faith comes up with a plan regarding her hearse.
Ep.98

Thursday 29 April (Part 1)
Air Date: 2021-04-29
Jimmy finds out what has been going on behind his back. Fuming, he confronts Charity, who calmly tells him it's Nicola he needs to talk to. Meanwhile, secret spy Noah informs for Jamie about what is happening at Home Farm. Elsewhere, Pollard catches Faith pinching bedding and a mattress.
Ep.99

Thursday 29 April (Part 2)
Air Date: 2021-04-29
Just as Jimmy and Nicola's row reaches boiling point, Juliette appears and Jimmy kicks her out of the house. As Jimmy harangues Juliette in the street, Carl watches from his bedroom window. Meanwhile, Tracy reveals she has asked for a second opinion. Elsewhere, Noah is suspicious over Gabby.
Ep.100

Friday 30 April
Air Date: 2021-04-30
Nicola pleads with Jimmy for them to both pull together, but she's left utterly floored when he makes a declaration. Meanwhile, Liam reassures Tracy. Elsewhere, Moira is suspicious.
Ep.101

Monday 3 May
Air Date: 2021-05-03
Mack assures Charity that he has been discreet about their job. He realises he has been caught out when Charity tells him she is aware he invited Aaron along yesterday, as he came to her and threatened to blow the whistle unless he was cut in. Later, doing the latest deal, Mack's buyer is furious when he finds a tracker among the goods in the back of the van and flees the scene.
Ep.102

Tuesday 4 May
Air Date: 2021-05-04
Meena is angry to see David and Leyla so close. Thinking Leyla is trying to steal David, Meena rudely interrupts Liam's attempted proposal to Leyla. Liam is upset that his proposal has been ruined, but realising the lengths Liam went to propose to her, Leyla suggests he try again. After he delivers a speech from the heart, she's overjoyed and says 'yes'.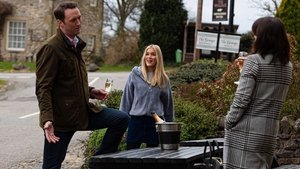 Ep.103

Wednesday 5 May
Air Date: 2021-05-05
Brenda accuses Faith of stealing her brooch, but has she got it wrong? Meanwhile, Mandy and Sam coach Lydia. Elsewhere, Liv's guilt intensifies over Paul's death and she almost gives into the temptation of having a drink. Will she open up to Aaron. And, as Liam and Leyla celebrate their engagement, David and Meena's relationship is looking less stable.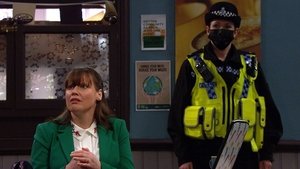 Ep.104

Thursday 6 May (Part 1)
Air Date: 2021-05-06
Lydia is overjoyed with how well the interview went, but is shocked when a police officer enters the café and arrests her on suspicion of running a scam pension scheme. Meanwhile, Bear is furious to see Faith flirting with Pollard again, but how will he get his revenge? Elsewhere, Ethan continues to confide in Manpreet about his mum, but when Charles arrives, he abruptly exits. Will Manpreet explain to Charles what his son is up to?
Ep.105

Thursday 6 May (Part 2)
Air Date: 2021-05-06
Mandy turns her anger towards Nicola for spreading gossip about Lydia's arrest. Meanwhile, Chas is furious. Elsewhere, Eric tries to explain himself.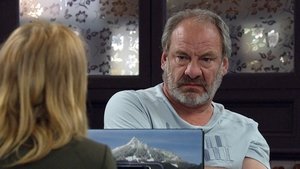 Ep.106

Friday 7 May
Air Date: 2021-05-07
Ethan opens up to Charles. Meanwhile, Charity grills Jimmy. Elsewhere, Manpreet is suspicious.
Ep.107

Monday 10 May
Air Date: 2021-05-10
Brenda continues to accuse Faith of stealing her brooch, which Aaron overhears. Knowing the truth, he realises he needs to do something to sort the situation out. When Mack refuses to return the brooch, Aaron takes matters into his own hands and steals it back from him. Later, Aaron breaks into Pollard's barn to return the brooch. Pollard catches him red-handed and attacks him with a bat.
Ep.108

Tuesday 11 May
Air Date: 2021-05-11
Pollard is stunned when the police arrive and charge him for Aaron's injuries. Meanwhile, Nicola is shocked to discover Jimmy has invited Juliette over for a discussion. Nicola can't believe it when he opens up to Juliette about Carl's silence and suggests she take him out to see if she can get him to open up.
Ep.109

Wednesday 12 May
Air Date: 2021-05-12
Nicola despairs over the prospect of Jimmy pleading guilty, but he evades talking to her about it. Meanwhile, Tracy is feeling the pressure. Elsewhere, Chas questions Aaron.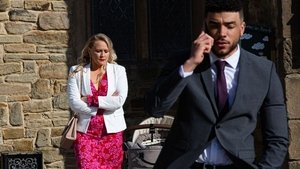 Ep.110

Thursday 13 May (Part 1)
Air Date: 2021-05-13
Liv feels utterly lost and takes another drink of vodka to numb the pain. Meanwhile, at Frankie's christening, tensions mount between the Dingles and Pollard. Tracy, having had enough of the day's stresses and tensions, asks Pollard to take her home. Elsewhere, Nicola confides in Rodney.
Ep.111

Thursday 13 May (Part 2)
Air Date: 2021-05-13
Vinny is shocked to discover Liv covertly drinking and sees she's at breaking point. Will Vinny find out the true extent of her drinking and will Liv be able to tell Vinny the truth about what really happened with Paul? Meanwhile, Eric lends an ear. Elsewhere, things remain tense between Jimmy and Nicola.
Ep.112

Friday 14 May
Air Date: 2021-05-14
Marlon tries to lay down the law to his prospective new tenants Ryan and Mack, but he's already on the back foot. Meanwhile, Andrea attempts to talk to Jamie. Elsewhere, Aaron worries for Liv.
Ep.113

Monday 17 May
Air Date: 2021-05-17
Full of guilt, Liv can't stop drinking. Aaron pleads with her to reach out to Vinny and talk to him again, but she won't. With no booze at home, Liv tries the pub. She hooks up with a sleazy stranger Max and takes him back home to Mill. Meanwhile, Gabby tentatively presents Kim with the missing notebook and a woozy Kim heads back to bed. Gabby is alarmed that Noah had been watching their conversation.
Ep.114

Tuesday 18 May
Air Date: 2021-05-18
Liv is shocked when Chas arrives, locks the door and grabs her phone. She's put her under house arrest until she sobers herself up. Meanwhile, Kim makes a difficult phone call, as she asks her doctor for a proper dementia test. Elsewhere, the police inform Pollard the charges against him have been dropped and take Aaron in for questioning.
Ep.115

Wednesday 19 May
Air Date: 2021-05-19
A shadowy figure wearing gloves spikes Kim's brandy decanter with diazepam. Soon afterwards, we see Kim pour herself another glass. Meanwhile, can Chas get through to Liv? Elsewhere, Matty is taken aback when Amy blurts out that she loves him and doesn't get the response she was hoping for.
Ep.116

Thursday 20 May (Part 1)
Air Date: 2021-05-20
Jamie is appalled that Gabby was told about Kim's dementia test before him. Soon Gabby is outed for her meddling, but how will Kim react? Meanwhile, Amy is mortified. Elsewhere, Matty's hopes are crushed.
Ep.117

Thursday 20 May (Part 2)
Air Date: 2021-05-20
Kim has a plan. Meanwhile, Chas is at a loss. Elsewhere, Paddy pleads with Pollard.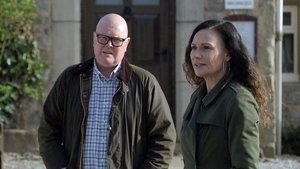 Ep.118

Friday 21 May
Air Date: 2021-05-21
Chas tells Paddy she hopes she has got through to Liv, but will her hopes be dashed? Meanwhile, Kim puts her plan into action. Elsewhere, Vinny opens up to Lydia.
Ep.119

Monday 24 May
Air Date: 2021-05-24
Liv finally finds her mum at the caravan park and she's appalled to discover Sandra has been back in the UK for a few months without bothering to make contact with her. Liv struggles to get her mum to pay any attention to her troubles, but when Sandra produces some booze, Liv is tempted to drown her sorrows again.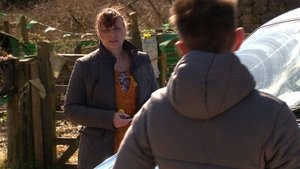 Ep.120

Tuesday 25 May
Air Date: 2021-05-25
Lydia is robbed outside her front door by a pair of lads out for revenge about the pension scam. Samson happens upon Lydia's mugging but doesn't intervene, although we see that Samson recognised them. When Sam turns up, he chases the lads away. Meanwhile, Liv watches a heartfelt message. Elsewhere, Ben wants to help Aaron.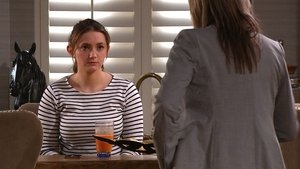 Ep.121

Wednesday 26 May
Air Date: 2021-05-26
Kim viciously takes her worries out on Gabby. Gabby tells Noah that she's not going to be pushed around for much longer. Kim then encounters a mutinous Al and Jai at the HOP. Will tries to check in on Kim, but in her paranoid state, this only makes her more suspicious. She sends him packing and firmly bolts the door behind him.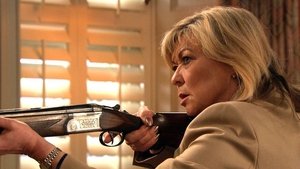 Ep.122

Thursday 27 May (Part 1)
Air Date: 2021-05-27
An encounter with Dawn and Jamie at The Hide deepens Kim's anxiety. When Dawn hears Jamie threaten revenge on Kim afterwards, Dawn is unsettled to think he sounds just like his mum. Jamie is taken aback when Dawn asks him to move out of Home Farm. Meanwhile, Tracy is mortified when Wendy has to rescue Frankie's pram after she lets it roll away on Main Street.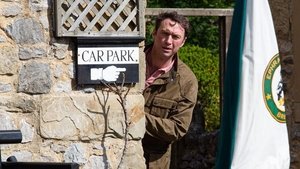 Ep.123

Thursday 27 May (Part 2)
Air Date: 2021-05-27
Gabby is feeling utterly rejected by Jamie when Bernice miraculously appears in front of her. Liam is intoxicated when he sees Bernice, so he thinks she is a drunken illusion. Meanwhile, a spate of cancellations leave Leyla and Andrea fretting about the Take A Vow finances. Elsewhere, Wendy checks in on Tracy. Also, Nate lends an ear.
Ep.124

Friday 28 May
Air Date: 2021-05-28
Marlon gives Mack until the end of the day to pay his overdue rent. Meanwhile, Kim is suspicious. Elsewhere, Tracy is paranoid.
Ep.125

Monday 31 May
Air Date: 2021-05-31
Kim hosts a gathering at Home Farm. Once the guests are assembled, Kim declares that she's stepping back from the business, but first she needs to anoint her successor.Kim revels in the reaction this creates and soon the bickering among her guests commences. Kim addresses her guests one more time with a speech designed to manipulate her poisoner into taking action.
Ep.126

Tuesday 1 June
Air Date: 2021-06-01
Liam seeks out Bernice to establish some ground rules for co-existing in the village.Bernice tries to return Liam's engagement ring, but from Leyla's view point it looks like Bernice is actually trying to propose. Shocked, Leyla slaps Bernice.
Ep.127

Wednesday 2 June
Air Date: 2021-06-02
Cocky Mack turns up at Pollard's Barn and offers Pollard a quid pro quo – the return of Val's coat in exchange for Aaron's freedom. Pollard is dumbstruck at his audacity. The stand-off between Pollard and Mack escalates until Pollard has an angina attack. As he slumps to the ground, Mack has a decision to make: does he help him or not?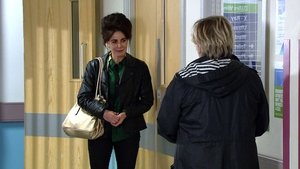 Ep.128

Thursday 3 June
Air Date: 2021-06-03
Pollard is in hospital. Faith dashes to his bedside, but her visit doesn't quite go as she hopes for. When Brenda arrives at the hospital, Faith meets her in the corridor and tells her that 'Brenda' was the first word Pollard spoke when he came round. Does that mean Pollard has made his choice?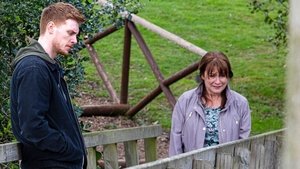 Ep.129

Friday 4 June
Air Date: 2021-06-04
Wendy pleads with Luke to be honest. Luke finally tells Wendy the truth. Meanwhile, Mack soon thinks he has got a way of solving his problem with Pollard. Elsewhere, Dawn and Jamie are unaware of Kim's hidden camera.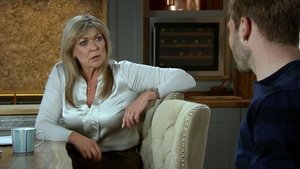 Ep.130

Monday 7 June
Air Date: 2021-06-07
Nicola didn't know it was Jimmy's plea hearing today and isn't able to attend, leaving them further apart than ever. Meanwhile, a scared Kim confides to Jamie the reason for her surveillance is someone has been drugging her. Jamie is hurt that Kim suspected him.
Ep.131

Tuesday 8 June
Air Date: 2021-06-08
Nicola is glammed up as she appears to make a move on Mack at the scrapyard. Mack thinks his dreams are coming true, but are they? When Jimmy gets home, it's clear that he and Nicola are further estranged than ever. Jimmy sees a supportive Mandy and tells her that his feelings run deeper than friendship. Mandy's gobsmacked reaction leaves him immediately regretful.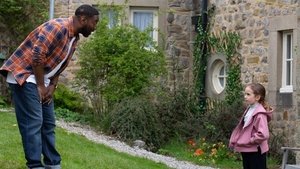 Ep.132

Wednesday 9 June
Air Date: 2021-06-09
Mandy urges Jimmy to fight for his marriage. Meanwhile, Meena intercepts Charles outside the church, after lying in wait for him, to sow doubt in his mind about being with Andrea. Elsewhere, Gabby is annoyed.
Ep.133

Thursday 10 June (1)
Air Date: 2021-06-10
Andrea leaves Princess securely tied up in the shade as she heads in to reason with Millie. While Andrea is distracted, we see someone luring the dog with its favourite toy into the parked car and slamming it shut. Meanwhile, Juliette has a proposal for Jimmy.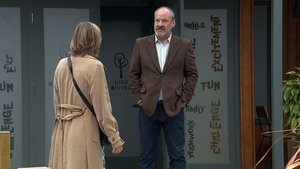 Ep.134

Thursday 10 June (2)
Air Date: 2021-06-10
The camping trip is called off after the dog drama. Meanwhile, with Jimmy negotiating privately with Juliette regarding custody, can Nicola fight for her marriage? Elsewhere, Liam urges Tracy to look after herself.
Ep.135

Friday 11 June
Air Date: 2021-06-11
Meena opens up to Diane about her past. Meanwhile, Vinny gets the call he was waiting for.
Ep.136

Monday 14 June
Air Date: 2021-06-14
Aaron and Ben arrive at Sandra's caravan to find Liv in the throes of a seizure. It turns out that this is Liv's second seizure in two days.Sandra is disturbed as she realises just how self-destructive Liv's recent behaviour has been.
Ep.137

Wednesday 16 June
Air Date: 2021-06-16
Aaron is at breaking point. Meanwhile, tipsy Leanna embarrasses herself when she tries to make a move on Billy. Elsewhere, Diane warns Victoria.
Ep.138

Thursday 17 June
Air Date: 2021-06-16
On her wedding day, Leyla is horror struck to find Bernice wearing a wedding dress. Bernice makes a last-ditch plea. Meanwhile, Wendy appreciates Bob's support.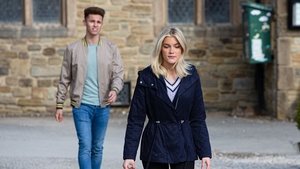 Ep.139

Monday 20 June
Air Date: 2021-06-20
Victoria drops her bombshell about Luke and Robert to Aaron. Meanwhile, Jacob and Leanna argue. Elsewhere, Liam and Leyla prepare to head off on their honeymoon. Also today, Noah makes a discovery. Diane confides in Gabby.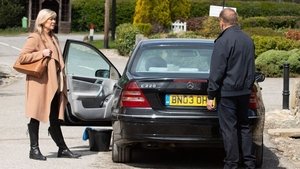 Ep.140

Tuesday 21 June
Air Date: 2021-06-21
Kim asks Will why he has diazepam. He's wary, refusing to answer the question.Kim presses the point, so Will tells her that the diazepam is for his nerves. Kim is not buying his explanation.Meanwhile, Jamie is caught red-handed.
Ep.141

Wednesday 23 June
Air Date: 2021-06-23
Jamie receives a call from Home Farm. He's alarmed and rushes off, frantic with worry. Rushing into Home Farm, Jamie is utterly horrified to find Will being arrested and Kim lifeless on the floor. Meanwhile, Ben is thrown when Aaron tells him that he wants him, not Robert.
Ep.142

Thursday 24 June (1)
Air Date: 2021-06-24
Wendy approaches Tracy to remind her of Frankie's jabs tomorrow. Tracy is uncomfortable at Wendy touching her baby with unwashed hands and rushes Frankie away. Meanwhile, Dawn struggles to comprehend what has happened. Elsewhere, Nate is frustrated.
Ep.143

Thursday 24 June (2)
Air Date: 2021-06-24
Faith is determined to help Liv. Meanwhile, Tracy struggles to contain her guilt. Elsewhere, Dawn demands answers.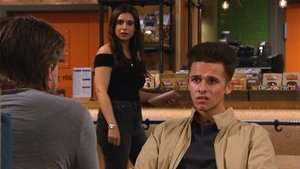 Ep.144

Friday 25 June
Air Date: 2021-06-25
Jealous Meena is starting to see Jacob as an obstacle to her and David's happiness. Meanwhile, Faith can't open up to Chas about the pain she has been experiencing. Elsewhere, Tracy breaks down.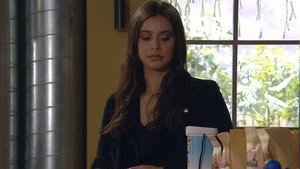 Ep.145

Tuesday 29 June (Part 1)
Air Date: 2021-06-29
Meena stumbles across the Pride collection tin, and steals it! Faith takes a different approach to helping Liv...
Ep.146

Tuesday 29 June (Part 2)
Air Date: 2021-06-29
Manpreet convinces Faith to undergo some worrying tests. With the tine missing, Andrea want to make Pride a success!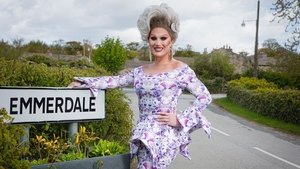 Ep.147

Wednesday 30 June
Air Date: 2021-06-30
Faith confesses to Pollard her fear that she might have cancer. Ben tries to persuade Aaron for forget about Liv for a while...
Ep.148

Thursday 1 July (1)
Air Date: 2021-07-01
Pollard continues to look out for Faith, who faces her fate at the hospital. Brenda confides to David and Meena that she's feeling neglected by Pollard, and she prepares a romantic surprise for him.
Ep.149

Thursday 1 July (2)
Air Date: 2021-07-01
Things are getting flirty between Aaron and Ben. However, Ben is stopped in his tracks by a mysterious and unwelcome phone call. Elsewhere, David and Victoria bond over their babies.
Ep.150

Friday 2 July
Air Date: 2021-07-02
Pollard explains to Faith that he can't keep lying to Brenda. Meena plans to convince Jacob to leave with Leanna.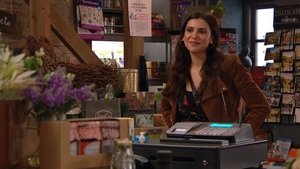 Ep.151

Monday 5 July
Air Date: 2021-07-05
When Meena wants to celebrate Jacob's impending departure, he's only too pleased to burst her bubble. David is oblivious as battle lines are drawn between Jacob and Meena. Elsewhere, Brenda tries to talk some sense into Faith, but Faith struggles to hear it and tells Brenda to sort her own relationship out before getting on her high horse.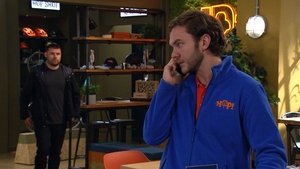 Ep.152

Tuesday 6 July
Air Date: 2021-07-06
Ben is desperately trying to cover some unwanted texts and calls and is on edge around Aaron. Meanwhile, Leanna is in her bedroom and is creeped out when Meena enters and asks for Manpreet's old travelling rucksack, which she'd borrowed earlier.
Ep.153

Thursday 8 July (Part 1)
Air Date: 2021-07-08
Sparks are starting to fly as David and Victoria enjoy each other's company. Later, caught up in their moment, David leans forward and kisses Victoria.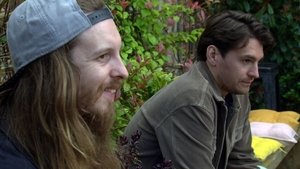 Ep.154

Thursday 8 July (Part 2)
Air Date: 2021-07-08
Ryan is pleased when Mack appears to heed his warning to leave Dawn alone. Meanwhile, Gabby is left shaken. Elsewhere, Bernice gives unconventional marriage guidance counselling.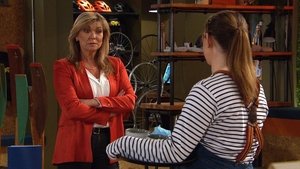 Ep.155

Friday 9 July
Air Date: 2021-07-09
Kim offers to take Gabby to her scan if Bernice lets her down. Meanwhile, a discovery is made. Elsewhere, Bernice struggles.
Ep.156

Monday 12 July
Air Date: 2021-07-12
The village grieves. Meanwhile, Gabby and Noah bond. Elsewhere, David has a re-think.
Ep.157

Tuesday 13 July
Air Date: 2021-07-13
Nicola thinks Jimmy's first day in court has gone well, whereas Jimmy is shaken by the experience. With Jimmy still determined to prepare himself for the worst, Nicola worries that he's given up. Meanwhile, Liv struggles with her overwhelming shame, guilt and despair.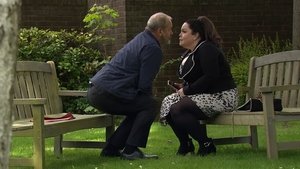 Ep.158

Wednesday 14 July
Air Date: 2021-07-14
Mandy reads Jimmy the speech she has prepared for the judge. Jimmy is overcome with guilt and gratitude, and clumsily leans in for a kiss. Mandy returns the kiss before they spring apart. Meanwhile, Cain is left thoughtful.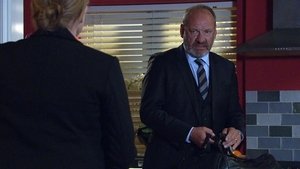 Ep.159

Thursday 15 July (Part 1)
Air Date: 2021-07-15
Jimmy returns to court. Will he be found guilty? Meanwhile, Mandy fights her feelings. Elsewhere, Meena is thrilled.
Ep.160

Thursday 15 July (Part 2)
Air Date: 2021-07-15
Is this it for Jimmy and Nicola? Nicola's anger boils over. Meanwhile, April experiences a backlash online.
Ep.161

Friday 16 July
Air Date: 2021-07-16
Will Jimmy admit the truth about his kiss with Mandy to Nicola? Meanwhile, an exhausted Tracy pours out her feelings of inadequacy to Nate. Elsewhere, Meena is furious.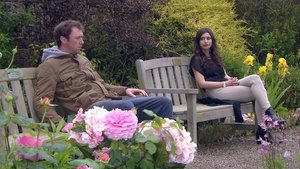 Ep.162

Monday 19 July
Air Date: 2021-07-19
Meena finds a dishevelled Liam slumped on a bench at the crematorium. As she apologises for his loss, Liam has no idea he is sitting with his daughter's killer.
Ep.163

Tuesday 20 July
Air Date: 2021-07-20
Jacob lambasts Liam for disposing of Leanna like she's rubbish. Accusations fly between Liam and Jacob. Elsewhere, the happy trio of Brenda, Faith and Pollard shop for a special lunch, but David comments on their weird dynamic.
Ep.164

Wednesday 21 July
Air Date: 2021-07-21
Liam asks for Leyla's help with Leanna's funeral arrangements. Jacob offers to help Leyla but she's not sure it's a good idea. Finally Leyla agrees as long as they keep it a secret from Liam. Elsewhere, Ben is still not being truthful with Aaron.
Ep.165

Thursday 22 July (Part 1)
Air Date: 2021-07-22
Ben's lies start being exposed. Meanwhile, Mackenzie can't stop gossiping. Elsewhere, Heath has had a bad time at football, but Bob pays little attention to him before heaping praise on April. Cathy notes her brother's hurt.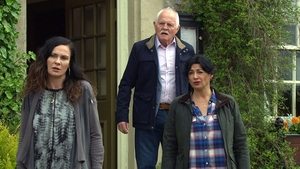 Ep.166

Thursday 22 July (Part 2)
Air Date: 2021-07-22
Aaron confronts Ben. Meanwhile, Amy and Matty try to convince Ethan to pursue love not lust.
Ep.167

Friday 23 July
Air Date: 2021-07-23
It all becomes clear regarding Ben. Apologies are made. Elsewhere, tearful Nicola tells Rodney her news.
Ep.168

Monday 26 July
Air Date: 2021-07-26
Aaron catches up with Ben. Ben agrees that he needs to collect the rest of his belongings from his dad's house, but he declines Aaron's offer to move into Mill, explaining that he can't live with another alcoholic. Aaron is angry at Liv for ruining things. Meanwhile, Cathy assures April that she'll protect her and reckons it's best for April to keep the bullying secret from Marlon.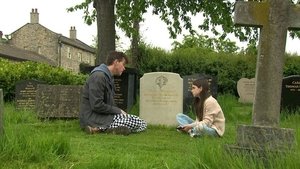 Ep.169

Tuesday 27 July
Air Date: 2021-07-27
Liam won't engage with Leyla and Jacob over Leanna's funeral arrangements. He berates Leyla for her and Jacob's overblown ideas, telling her that he'll be arranging things himself from now on. Meanwhile, Diane wants revenge for Jamie's cruelty towards Gabby and she throws his belongings out of the B&B.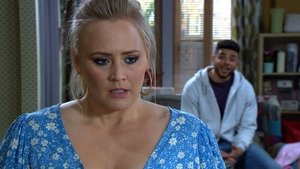 Ep.170

Wednesday 28 July
Air Date: 2021-07-28
Liam tells Charles that he wants a traditional, dignified and respectful funeral for Leanna and he struggles to contain his anger as a defiant Jacob arrives and joins the meeting. Meanwhile, Nate suggests that Tracy visits Vanessa, but she is terrified of looking after Frankie alone.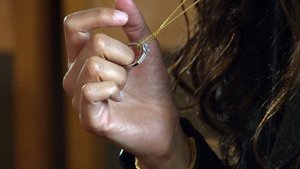 Ep.171

Thursday 29 July (Part 1)
Air Date: 2021-07-29
At Leanna's funeral, Meena covertly fiddles with Leanna's ring on her necklace. She panics when the ring falls from the necklace, watching in horror as it rolls and stops near Liam's shoe. Meanwhile, Jamie lies to Andrea about the reason for his and Kim's estrangement, but will Kim tell her the truth when she confronts her?
Ep.172

Thursday 29 July (Part 2)
Air Date: 2021-07-29
Kim plays Paddy to get her own way.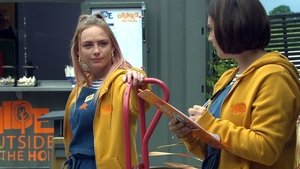 Ep.173

Friday 30 July
Air Date: 2021-07-30
Victoria and Amy wind Ethan up as they try and coach him for his date.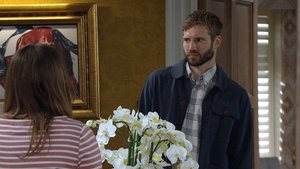 Ep.174

Monday August 2
Air Date: 2021-08-02
Jamie breaks into Home Farm to access the safe, but before he can unload the cash, Gabby arrives and Jamie slinks into the shadows. Meanwhile, keen to shift Leyla from her life, Meena matchmakes again between Liam and Leyla – but will it work? Elsewhere, Sarah is uneasy at Faith's suggestion.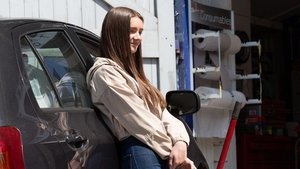 Ep.175

Tuesday 3 August
Air Date: 2021-08-03
Bernice visits Gabby and admits she has been a lousy mother, but is determined to make up for it, asking Gabby to move in with her. Can Bernice and Gabby really coexist under the same roof? Meanwhile, Ethan has a date but they don't have anything in common. Has the evening been wasted? Elsewhere, Sarah is uneasy when Faith suggests living life on the edge – she has booked some activities at the HOP tomorrow. Sarah invites Cain to be there too.
Ep.176

Wedneday 4 August
Air Date: 2021-08-04
When Cain questions Faith about her results, she's forced to admit she has got them. He's angry she lied to him – he can't trust her and casts her out of the family. Meanwhile, Nicola gives Bernice some home truths after she complains that Gabby always turns to Laurel rather than to her.
Ep.177

Thursday 5 August (Part 1)
Air Date: 2021-08-05
Sarah gets panicky when she bumps into Liam at the graveyard. Liam reflects on Leanna's death and how fate just decides when it's your turn to go. Anxious Sarah rushes home, where she slumps on the floor. Meanwhile, Gabby is questioning. Elsewhere, Jimmy and Nicola are still lying to the kids.
Ep.178

Thursday 5 August (Part 2)
Air Date: 2021-08-05
Belle finds Sarah. An ambulance is called. Meanwhile, Nicola suggests she and Jimmy should delay telling the kids.
Ep.179

Friday 6 August
Air Date: 2021-08-06
Angel's birthday party is in full swing. Nearby, Mandy overhears Nicola bad mouthing her and Vinny, so thwacks her with a huge inflatable. Soon the two women are brawling and birthday food is flying. When the mayhem is over, Jimmy is blindsided when Juliette turns up with some bad news to top off his disastrous day. Meanwhile, what will Sarah do next?
Ep.180

Monday 9 August
Air Date: 2021-08-09
Jimmy and Nicola are stunned when Juliette announces the latest bombshell. Meanwhile, Mandy warns Liv to stay away from Vinny, motivating her to try and quit the booze. Elsewhere, Charity learns that a delivery of smart watches have gone missing and she is quick to accuse Mackenzie, who denies all knowledge.
Ep.181

Tuesday 10 August
Air Date: 2021-08-10
Liv is heartbroken when Vinny confronts her and says he can only be her friend. Meanwhile, Jimmy and Nicola break the news to Carl and hope they've done enough to reassure him he's safe and wanted. Elsewhere, Ryan is suspicious.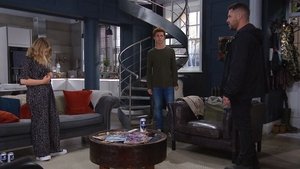 Ep.182

Wednesday 11 August
Air Date: 2021-08-11
Liv knocks back a vodka before she invites her guest inside – it's Jacob. She suggests he choose them a film as she downs more vodka for courage. She wants to forget about Vinny. Meanwhile, Charity is at Tall Trees hunting for the watches. Mack is surprised and relieved when she opens the cupboard and the holdall is not there any more.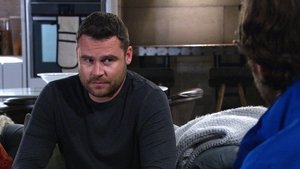 Ep.183

Thursday 12 August (Part 1)
Air Date: 2021-08-12
Ben is concerned that Aaron chucked Liv out, worried about her being out in the cold overnight. Aaron buries his guilt. Meanwhile, April despairs, finding more hurtful comments. Elsewhere, Sarah is crushed by what she hears.
Ep.184

Thursday 12 August (Part 2)
Air Date: 2021-08-12
Noah discovers Sarah is trying other routes to track down the family of her heart donor. She pleads with him not to tell Charity. Meanwhile, an upset April vows to find out who started the online trolling.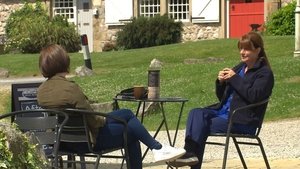 Ep.185

Friday 13 August
Air Date: 2021-08-13
Wendy has bad news for Victoria. But what is Wendy hiding? Meanwhile, Sarah resolves to do some detective work.
Ep.186

Monday 16 August
Air Date: 2021-08-16
Marlon has had a bad review and the reviewers are returning to the pub today, so he's determined to prove them wrong. Unfortunately, his attempts to impress are soon thwarted.
Ep.187

Tuesday 17 August
Air Date: 2021-08-17
Jacob and Leyla are in terse talks when Liam arrives and seems to make things worse for him and Leyla. Later, Leyla takes a pregnancy test and is stricken to see the result is positive. Meanwhile, April is terrified.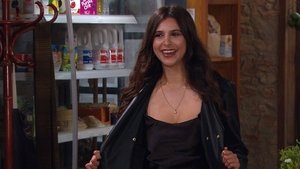 Ep.188

Wednesday 18 August
Air Date: 2021-08-18
When Priya arrives to see Leyla, she's surprised to learn Leyla is pregnant. The surprises continue when Leyla begs Priya not to tell Liam, explaining that she can't drop such a bombshell into Liam's world at the moment. Meanwhile, a seductive Meena arrives for a steamy afternoon with David, but is furious that he's babysitting instead. Elsewhere, Bernice hatches a plan.
Ep.189

Thursday 19 August (Part 1)
Air Date: 2021-08-19
Victoria is once again in charge of both kids. She briefly goes upstairs to check on Harry. Seeing her chance, Meena creeps in through the back door and looms over Theo. Meanwhile, Bernice persuades Laurel to help her. Elsewhere, Liam finds the pregnancy tests and Leyla feels trapped.
Ep.190

Thursday 19 August (Part 2)
Air Date: 2021-08-19
David and Victoria continue the desperate search for Theo. Meanwhile, Sarah is suspicious of Noah, who has an admission. He thinks he has found the family she's looking for. Sarah feels excited but Noah cautions her. Elsewhere, Leyla is worried.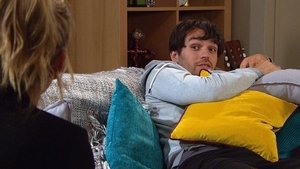 Ep.191

Friday 20 August
Air Date: 2021-08-20
Sarah realises she's in too deep. Meanwhile, Charity makes Mack an earnest plea to leave Ryan out of anything illegal. Elsewhere, Russ is intrigued when he learns that Wendy will return tomorrow.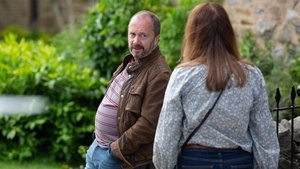 Ep.192

Monday 23 August
Air Date: 2021-08-23
Wendy is shaken to find her abusive ex-husband Russ on her doorstep. Angry about his mother's will – she has left it all to Victoria's baby Harry – he demands they talk. Feeling bullied and conflicted, Wendy introduces Russ to Victoria as Harry's granddad. Victoria is a bit surprised by this but is talked around.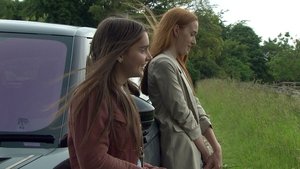 Ep.193

Tuesday 24 August
Air Date: 2021-08-24
Chloe wants to give Sarah a bracelet of Gemma's. Sarah is reluctant, until she sees it's a diamond bracelet. Sarah is pleased to have made the connection. Unseen, Noah watches, upset that Sarah lied to him. Meanwhile, Laurel tries to help Liv.
Ep.194

Wednesday 25 August
Air Date: 2021-08-25
Liv is uneasy around booze and breaks down in front of a concerned Laurel, who does her best to advise her. Meanwhile, at the playground, Russ continues to play the doting granddad as he lays it on thick about his lack of money to Victoria. Will Wendy solve this frightening situation? Elsewhere, Nate prepares for Tracy's homecoming.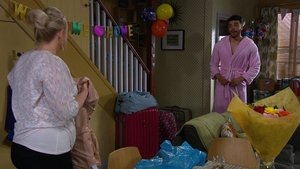 Ep.195

Thursday 26 August (Part 1)
Air Date: 2021-08-26
Liv wakes with a start, full of confusion and regret, with bruises on her arms and no idea what happened to her the night before. Meanwhile, Tracy returns. She's taken aback by Nate's surprise for her. Nate proposes but her reaction is one of shock. Elsewhere, Meena wants a day out with Victoria.
Ep.196

Thursday 26 August (Part 2)
Air Date: 2021-08-26
Gabby is left reeling after Liv's mention of how she remembers struggling with Noah last night. Uneasy after her own run-ins with him, Gabby tells Liv that they might be dealing with the aftermath of rape. Aaron walks in on their conversation. He has heard everything and storms to confront Noah. Meanwhile, Tracy's stress bubbles to the surface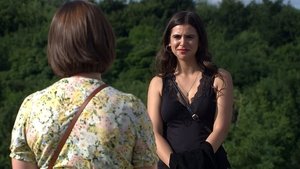 Ep.197

Friday 27 August
Air Date: 2021-08-27
Tracy's stresses continue to bubble to the surface. She's still hiding her anxiety over looking after Frankie alone. Tracy feels trapped when left alone with Frankie again. Unable to cope with Frankie's crying she snaps, taking it out on the baby gym and breaking down in tears. Meanwhile, will Victoria be able to get out of her day with Meena, or could Meena be hard to shake off? Elsewhere, Charity does some digging.
Ep.198

Monday 30 August
Air Date: 2021-08-30
When Nate returns from work, Tracy immediately heads out, saying she's off to Priya's and might stay the night. As she leaves, Tracy assures Nate she loves both him and Frankie. A taxi arrives at the bus stop to pick Tracy up and she tells the driver she's not coming back. Meanwhile, Ethan confides in Amy.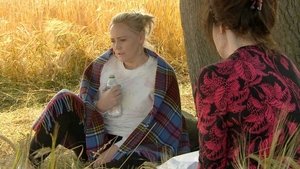 Ep.199

Tuesday 31 August
Air Date: 2021-08-31
Nate is bemused to discover that Tracy couldn't have been at Priya's last night. Faith locates Tracy, who is lost in thought searching for her dad's tree. Tracy can't help revealing her delusions to Faith as she oscillates between severe paranoia and an eerie calm. Faith is convinced Tracy has post-natal depression, but will she manage to convince her to get the help she so desperately needs? Meanwhile, Laurel can see how much Liv is struggling with her recovery and offers her some encouragement.
Ep.200

Wednesday 1 September
Air Date: 2021-09-01
Nate blames himself. Meanwhile, Ethan struggles to keep his emotions in check. Elsewhere, Matty finds Ryan's counterfeit aftershave and confronts him.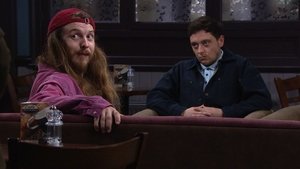 Ep.201

Thursday 2 September
Air Date: 2021-09-02
Ethan is still privately worried that he might have HIV following his one-night stand with Eddy, particularly when Eddy gives him the news that his own results have confirmed he is HIV positive. Meanwhile, Charity starts to suspect Matty and Ryan are up to something and can't help but interfere. Elsewhere, Cain gives Nate food for thought.
Ep.202

Friday 3 September
Air Date: 2021-09-03
Leyla thinks she's having a miscarriage, but her focus is on protecting Liam. Meanwhile, Charity tries to make amends. Elsewhere, noting his son's low mood, Charles queries what is wrong but Ethan covers that it's work related. Will Ethan feel able to tell his father the truth over his worries?
Ep.203

Monday 6 September
Air Date: 2021-09-06
Wendy realises Russ is much more dangerous than she had ever imagined. Meanwhile, Liam confronts Leyla, suspecting that something might be wrong. She eventually confirms that she's had a miscarriage. Can Liam put his grief to one side and be there for his wife when she really needs him? Elsewhere, Charles tells Andrea that he loves her.
Ep.204

Tuesday 7 September
Air Date: 2021-09-07
Wendy is unaware that Russ has a plan B in the boot of his car: a sawn-off shotgun. Meanwhile, as the bully's messages become increasingly threatening, April collapses into tears. Cathy is horrified by the level of emotional damage she's responsible for. As her guilt mounts, Cathy goes to the café and comes clean to Heath that she's responsible for April's bullying.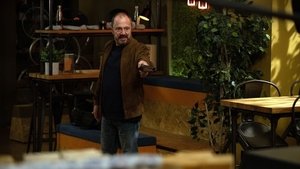 Ep.205

Wednesday 8 September
Air Date: 2021-09-08
Seeing Russ was willing to blackmail Wendy to rip off his grandson, Victoria is disgusted with him. As she makes to call the police, Russ reaches into his coat and pulls out the gun. After taking Vic and Wendy's phones, Russ secures the door to The Hide. The women are terrified to be held hostage. Meanwhile, Kim is dumbfounded to discover that Jamie is back living under her roof after worming his way back in with Gabby.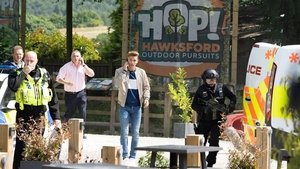 Ep.206

Thursday 9 September
Air Date: 2021-09-09
When armed police arrive on the scene, the stand-off at The Hide escalates into a full-blown siege. Outside The Hide, Jacob, Dan and Bob hear a shot ring out. Meanwhile, Charity orders Mack to put Diane off the scent of their fling, and so he starts to flirt with Bernice.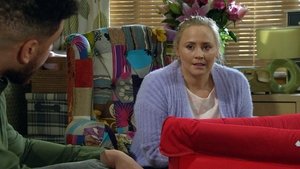 Ep.207

Friday 10 September
Air Date: 2021-09-10
The siege continues. Meanwhile, Marlon makes a reckless gamble. Elsewhere, Tracy warns Nate not to expect an instant fix, but he's proud of how she's working through it all.
Ep.208

Monday 13 September
Air Date: 2021-09-13
Al suggests to Ellis and Priya that they join forces to work on a large-scale boot camp survival challenge to be held at The HOP. Priya tells Ellis to pitch the idea first to Kim before Al steals all the credit. Meanwhile, Marlon sees an opportunity. Elsewhere, Liam is still struggling with his grief.
Ep.209

Tuesday 14 September
Air Date: 2021-09-14
Cathy tries to comfort a distraught April as she gets bombarded with more bullying messages. April tells her to stay away before she becomes a target too and hurries off in tears, leaving Cathy utterly guilt stricken. Meanwhile, Al is irritated. Elsewhere, Marlon is distracted.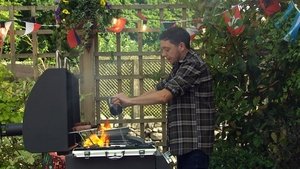 Ep.210

Wednesday 15 September
Air Date: 2021-09-15
April is shocked when Cathy breaks down and reveals she started the online trolling. April is incredulous at Cathy's confession and heads off irate, leaving Cathy terrified of the consequences to come. Meanwhile, stressed-out Marlon ropes in Matty to help with The Woolpack barbecue, cash-in-hand. As Marlon exits, a pleased Matty gears up to use the grill. He squirts lighter fluid on the barbecue, sending up a fireball of flame burning his hands.
Ep.211

Thursday 16 September
Air Date: 2021-09-16
April opens up to Rhona. Later, on Main Street, a confrontation develops as Cathy tries to run away from Rhona. Brenda steps in as Rhona grabs Cathy to stop her from running away again, before Rhona elbows Brenda off, catching her in the face. When Brenda goes to grab Rhona again, she shoves her and Brenda falls roughly to the floor. All are left shocked after the incident. Meanwhile, Moira insists to Chas that Matty is entitled to compensation for his injuries, which will leave him unable to work. Later, Chas receives an offer. Elsewhere, Kim is chuffed, having bought herself a race horse called 'Medicinal Brandy'.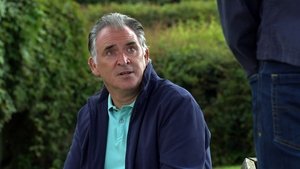 Ep.212

Friday 17 September
Air Date: 2021-09-17
Bob is emotional at having to finally face his failings as a father. Bob tries to talk to Marlon, but tensions soon run high and their family rift seems irreparable. Meanwhile, Matty struggles.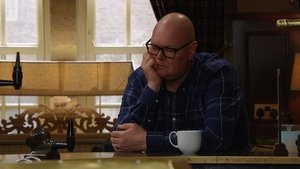 Ep.213

Monday 20 September
Air Date: 2021-09-20
Paddy can't believe it when Marlon not only accepts Al as a potential investor in the pub but offers to sell him his entire stake. Paddy has nowhere else to turn and finds himself outside Home Farm asking for Kim's help to get rid of Al. Kim argues that getting Al out of HOP would actually be in her interests, so she needs Paddy to sweeten the deal for her. Meanwhile, Will's loyalty is rewarded as Kim appoints him as her new estate manager. Elsewhere, Diane is uneasy when her date Michael is more interested in his jigsaw than her.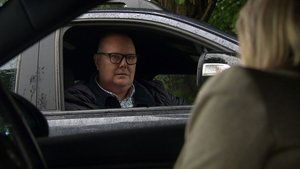 Ep.214

Tuesday 21 September
Air Date: 2021-09-21
Kim has asked Paddy to dope her new racehorse in exchange for her help with Al. In a layby near the racecourse, nervous Paddy is backed further into a corner when Kim warns him that his problems could worsen if her doped horse doesn't win its race. Meanwhile, a hooded figure breaks into The Woolpack, crowbars open the till and pockets the money. Charity is knocked over when she catches the intruder, who flees. Charity is left unconscious in a pool of blood.
Ep.215

Wednesday 22 September
Air Date: 2021-09-22
PC Swirling arrives to investigate the pub robbery and it's not long before he becomes suspicious. Meanwhile, Gabby is frustrated by Jamie. Elsewhere, Jai feels betrayed by Kim.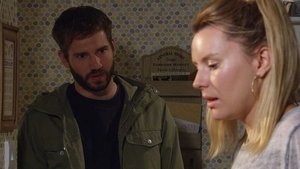 Ep.216

Thursday 23 September (Part 1)
Air Date: 2021-09-23
Gabby presents Jamie with a now-or-never ultimatum, suggesting they elope and marry immediately. Desperate Jamie heads to Dawn, where he starts to make a final play for an incredulous Dawn. Meanwhile, Paddy covers his guilt.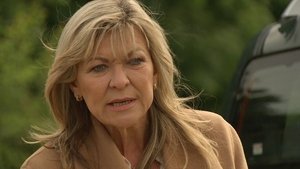 Ep.217

Thursday 23 September (Part 2)
Air Date: 2021-09-23
Diane and Kim screech to a halt next to Gabby's parked car, ready to plead with her to see sense and call off the wedding to a man who doesn't love her. Later, Gabby makes a phone call. Meanwhile, Rhona is alarmed.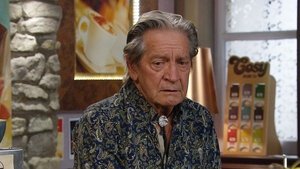 Ep.218

Friday 24 September
Air Date: 2021-09-24
Al toys with Paddy. Meanwhile, Moira is surprised. Elsewhere, Rodney is disappointed.
Ep.219

Monday 27 September
Air Date: 2021-09-27
Chloe is lonely and evasive as she describes her family life to Noah and Sarah. As Chloe bursts into tears, Sarah and Noah are at a loss over how to comfort her, but Noah eventually manages to find the right words. Meanwhile, Leyla can't help noticing Liam has been behaving oddly since he started at Hotten General. Elsewhere, Paddy is feeling uneasy, fearing that Kim will reveal the truth about the horse-doping.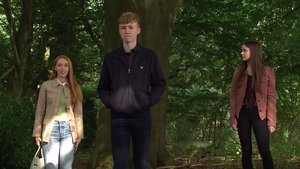 Ep.220

Tuesday 28 September
Air Date: 2021-09-28
Noah is left red-faced when Chloe hears that he has been calling her his girlfriend. Meanwhile, when Leyla sees Liam putting flowers into the back of his car, she convinces Priya that they need to follow him.
Ep.221

Wednesday 29 September
Air Date: 2021-09-29
Chloe gifts Sarah with a necklace. Meanwhile, Marlon is gutted to hear that Rhona's assault charge is progressing to a court date. Elsewhere, Mack is left with a spring in his step. Also today, Kim toys with Paddy that she hasn't yet decided whether she will continue to keep quiet about the horse-doping, as it depends what the police find.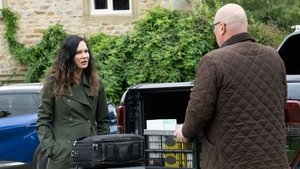 Ep.222

Thursday 30 September (Part 1)
Air Date: 2021-09-30
An expectant Chas asks Paddy when he's got more work lined up at the race course and he guiltily dashes off. Kim asks Paddy to dope her race horse again. Al is suspicious to catch the two of them in the midst of such a hushed conversation. Meanwhile, Priya disapproves.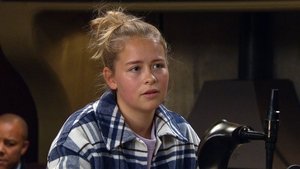 Ep.223

Thursday 30 September (Part 2)
Air Date: 2021-09-30
Harriet is left thoughtful when PC Swirling tells her that the police are recruiting and that she should consider re-joining the force. Meanwhile, Chas fights her overwhelming sadness as she reminds Faith and Liv that tomorrow is the anniversary of Grace's death. Elsewhere, Leyla knows that Liam is lying.
Ep.224

Friday 1 October
Air Date: 2021-10-01
Al uses blackmail to get what he wants. Meanwhile, Harriet opens up to Dawn that she's been feeling a lack of purpose in the wake of Malone's murder. Elsewhere, Nate and Tracy do their best to readjust to living under the same roof again.
Ep.225

Monday 4 October
Air Date: 2021-10-04
Chas plays hardball with Al, telling him that he can have a third of the pub rather than the half share he was expecting. Will Al accept and why does he want a share in the pub so badly? Meanwhile, David collapses. Elsewhere, Kim employs someone to track down Jamie.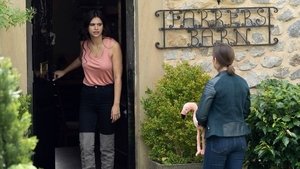 Ep.226

Tuesday 5 October
Air Date: 2021-10-05
Meena comes home and forbids Victoria from calling in on David again. Meanwhile, Andrea's face lights up when Charles suggests they move in together. Harriet is concerned when Charles seems visibly shaken by a mysterious message he gets on his phone.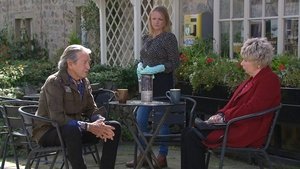 Ep.227

Wednesday 6 October
Air Date: 2021-10-06
Meena smiles to herself as she replaces David's extra-strength painkillers with paracetamol, pleased to have him just where she wants him. Meanwhile, Faith is self-medicating with alcohol to cope with the pain of her arthritis. Elsewhere, Rodney continues his campaign to win Diane back but they're scuppered when Belle offers her services at the B&B.
Ep.228

Thursday 7 October (Part 1)
Air Date: 2021-10-07
Charles has a covert meeting in the woods, but who is the mystery person and why have they rattled Charles so much? Meanwhile, Marlon orders Bob to stay away from April but he's gutted to see April quietly sobbing, having witnessed the upsetting exchange. Elsewhere, Belle annoys Diane.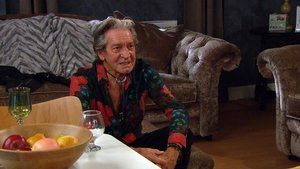 Ep.229

Thursday 7 October (Part 2)
Air Date: 2021-10-07
Tracy cries with relief after her cathartic postnatal depression group counselling session, as she doesn't feel so alone anymore. Meanwhile, Diane confides in Rodney. Caught up in the moment, tipsy Diane can't help agreeing when Rodney asks to move in with her. Elsewhere, Marlon blames Bob when April turns on him.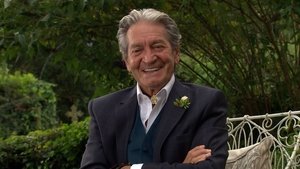 Ep.230

Friday 8 October
Air Date: 2021-10-08
Diane regrets her drunken night with Rodney and wants to tell him he can't move in, but an injury soon puts her at Rodney's mercy. Meanwhile, Bob feels pleased with himself.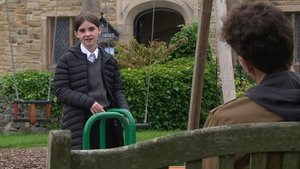 Ep.231

Monday 11 October
Air Date: 2021-10-11
Gabby overhears Kim making a call to her lawyer, in which she ruthlessly demands she gets full custody of Millie by any means possible. Meanwhile, Victoria is hurt by Meena's words. Elsewhere, when April learns of Cathy's return to the village, it's clear she's worried.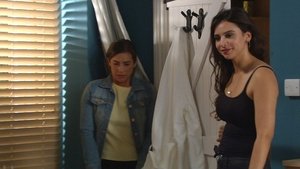 Ep.232

Tuesday 12 October
Air Date: 2021-10-12
Gabby and Diane meet Bernice at The Woolpack. Bernice is shocked to learn of Diane's plan to move to Portugal. Meanwhile, Victoria is trapped in David's bedroom but Meena spots her. Meena starts unbuttoning her blouse for David and Victoria is forced to reveal herself. Fuming David tells her not to come back until she's sorted herself out. Elsewhere, Rodney hears the news.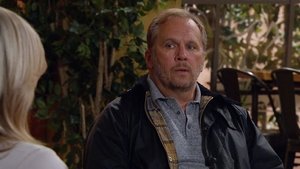 Ep.233

Wednesday 13 October
Air Date: 2021-10-13
Kim agrees to let Priya and Ellis move their base camp for the survival event to the site where Malone is buried. This leaves Will fearing it's only a matter of time before the body is discovered. Meanwhile, Rishi is left heartbroken when Manpreet reveals that she doesn't love him anymore. Elsewhere, Paddy agrees to take part in the survival event.
Ep.234

Thursday 14 October (Part 1)
Air Date: 2021-10-14
Will comes clean and reveals that the reason he's nervous about the original base camp site is because that's where he buried the body. Kim is shocked. Can Will trust Kim to keep his secret? Meanwhile, Rishi accuses Charles of stealing Manpreet from him. Charles is shocked by Rishi's accusation. Elsewhere, Bernice voices her idea.
Ep.235

Thursday 14 October (Part 2)
Air Date: 2021-10-14
Will makes plans to leave. Meanwhile, Andrea suggests she and Charles go on the survival challenge in order to get away from the thought of Kim's custody battle for Millie. Elsewhere, Diane and Gabby are thrilled when Bernice suggests she moves to Portugal with them, but remind her that she has to keep quiet about Gabby's plan to move. Also, Meena tries to convince Manpreet to make a move on Charles.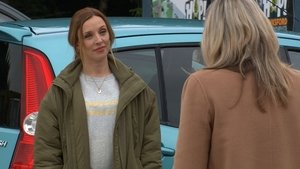 Ep.236

Friday 15 October
Air Date: 2021-10-15
David covertly confesses his love to Victoria. As they walk away, we see that Meena has heard every word of the confession. Meena sets a plan in motion to murder Victoria. Meanwhile, Kim threatens to exact her revenge after finding out that Andrea has requested a restraining order against her. Elsewhere, Charity and Mack sign up for the challenge. Also today, the preparations for the challenge begin.
Ep.237

Monday 18 October
Air Date: 2021-10-18
The survival challenge begins with cries of enthusiasm. As the survivalists jump into their rafts and set off down the river, Billy and Ben try to rally their respective team members. Meena has a dangerous plan – and the day takes a horrible turn. Meanwhile, Charity and Mack separate themselves from their respective groups in order to cheat.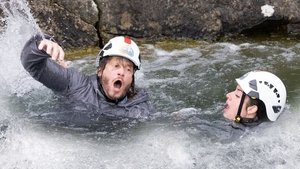 Ep.238

Tuesday 19 October
Air Date: 2021-10-19
David, Victoria, Manpreet and Charles find themselves fighting for their lives in the menacing waters, but what events led them into such danger? Meanwhile, Mack hears a loud scream coming from the edge of a pond. As he approaches it, he sees large ripples moving across the water, suggesting that Charity has vanished beneath the surface.
Ep.239

Wednesday 20 October
Air Date: 2021-10-20
Victoria's in danger. Meanwhile, Meena is ready to kill should anyone get in her way. Elsewhere, someone is badly injured.
Ep.240

Thursday 21 October (Part 1)
Air Date: 2021-10-21
Meena holds Victoria's lifeless body under the water, but someone's watching from afar. Wanting to find out just what they've seen, Meena follows them into the maze. With only one thing on her mind, Meena's ready to kill should anyone get in her way. Meanwhile, Manpreet desperately needs help. Elsewhere, Priya is loved up after her day with Ellis.
Ep.241

Thursday 21 October (Part 2)
Air Date: 2021-10-21
There's danger round every corner. Lives are in the balance. Tragedy strikes.
Ep.242

Friday 22 October
Air Date: 2021-10-22
Investigations are under way. Lives are changed forever. The village is in shock.
Ep.243

Monday 25 October
Air Date: 2021-10-25
Diane is planning to leave the village and Pollard offers to buy out her stake in the B&B. Meanwhile, the village is in shock.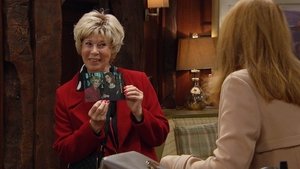 Ep.244

Tuesday 26 October
Air Date: 2021-10-26
As the survival event last week ended in death and disaster, questions are being asked by DS Rogers, who is investigating. Meanwhile, Diane shares her box of Woolpack memories with Chas and Bernice. She finds herself agreeing to Chas's offer of a goodbye party. Elsewhere, Gabby is worried.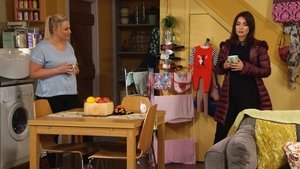 Ep.245

Wednesday 27 October
Air Date: 2021-10-27
Gabby finally snaps back at irrational Kim, telling her she won't be part of her baby's life. Meanwhile, Leyla is grateful when Tracy invites her round for a brew. Leyla hesitantly opens up to Tracy about the double life Liam has been leading.
Ep.246

Thursday 28 October (Part 1)
Air Date: 2021-10-28
Gabby does her best to secretly pack as she suffers pains in her stomach. Before long, Gabby is in labour. Meanwhile, Leyla becomes increasingly frustrated at Liam's refusal to engage with her as he pretends to get ready for work. Tracy recommends drastic action. Elsewhere, Kim is questioned. Also, Charity and Mack are itching to get involved in some mischief. When Mack hears from Charity all about Chloe's obvious wealth, he senses an opportunity.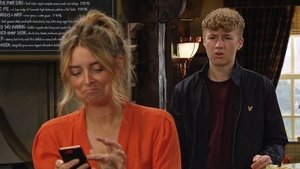 Ep.247

Thursday 28 October (Part 2)
Air Date: 2021-10-28
Gabby fights her intense labour pains. Diane shares a moment with Bernice, but what will happen as they prepare to collect Gabby and escape from the village? Meanwhile, Noah gets wind of Charity's plan.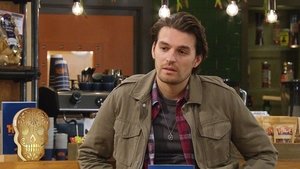 Ep.248

Friday 29 October
Air Date: 2021-10-29
Charity and Mack cook up a plan. Meanwhile, a deal is struck. Elsewhere, has Liam turned a corner?
Ep.249

Monday 1 November
Air Date: 2021-11-01
Charity and Mackenzie head off to rob Chloe's house. When they arrive, Mack's wowed by the opulence. After clearing a display case of watches, they encounter a maid cleaning. Charity is taken aback to realise it is Kerry. Later, Kerry warns Chloe that her father won't want her keeping in contact with Noah and Sarah. Chloe is torn over what to do.
Ep.250

Tuesday 2 November
Air Date: 2021-11-02
Al is intrigued to learn that Priya called out his name when she first regained consciousness. Priya is devastated that she needs a second skin graft with no guarantee this one will be successful either. Meanwhile, Charles convinces Kim to hold a memorial service for Andrea, to help Millie with her bereavement. But Gabby is worried when Kim says the memorial might bring Jamie back. Elsewhere, Liam is soon preparing for an interested journalist visit to his allotment, as he has grand plans for the big reveal but hasn't enough people to help him.
Ep.251

Wednesday 3 November
Air Date: 2021-11-03
Charles delivers an emotional address to the congregation at Andrea's memorial. Kim's excitement grows to see a late arriving car at the memorial but it's Hazel, Andrea's mum. Meanwhile, after an emotional week, Marlon makes an impromptu proposal to Rhona, who thinks he's joking, so he quickly tries to hide his hurt.
Ep.252

Thursday 4 November
Air Date: 2021-11-04
Kim packs up the last of Millie's things. She finally starts to accept Jamie really must be gone and is devastated to have lost Millie too. Meanwhile, Amelia leads a battalion of the village kids over the hill to help Liam construct his greenhouse out of recycled bottles.
Ep.253

Friday 5 November
Air Date: 2021-11-05
Priya is discharged. Meanwhile, Charles is given some bad news. Elsewhere, Liam smiles for the first time in ages. Also today, Chas is not happy Kim is putting pressure on Paddy.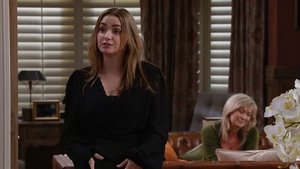 Ep.254

Monday 8 November
Air Date: 2021-11-08
A miscommunication leads to Priya lashing out at Ellis and he's shocked by her accusations. Rishi suggests Priya call a psychologist to help her deal with her injuries. Meanwhile, fed up with Kim's control over Paddy, Chas hatches a plan. Soon she and Paddy kidnap Kim's racehorse, but will Kim give in to their ransom demands? Elsewhere, Gabby is frustrated that her friends are partying and she's stuck with a baby. She soon palms Thomas off on both Bernice and Kim.
Ep.255

Tuesday 9 November
Air Date: 2021-11-09
Jai is planning to blame the bridge collapse all on Ben, which leaves Laurel horrified when she finds out. Meanwhile, Ellis makes a heartfelt apology. Priya has a therapy session, which is helpful for her. Elsewhere, Rodney announces himself "back-on-the-market" in the wake of his break-up with Diane. Also today, Bernice is struck with guilt when Nate angrily accuses her of raising a spoiled brat. Will defends Bernice and they bond. Will also stands up to Kim, explaining that he can't be with her if she continues with her destructive behaviour. Could his words have an effect?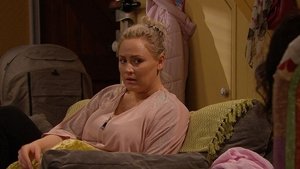 Ep.256

Wednesday 10 November
Air Date: 2021-11-10
Jai lays the blame at Ben's door. When Ben briefs Aaron and Liv on what has happened, they quickly recognise their level of legal help won't be a match for Jai's. Soon Aaron sets off to confront Jai and soon matters are made worse. Meanwhile, Tracy opens up to Faith about her relationship with Nate. Faith suggests she organise an intimate date night. Elsewhere, Marlon and Paddy feel smug to have achieved a victory over Al, but will this be short-lived?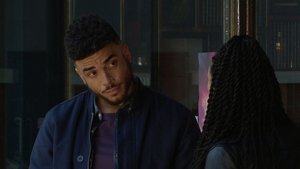 Ep.257

Thursday 11 November (Part 1)
Air Date: 2021-11-11
Jai suspends Ben from work. Meanwhile, Nate continues chatting to Fiona and Tracy fails to get hold of him. Elsewhere, Bernice is proud when it seems like Gabby is ready to take a lead in caring for Thomas, but is she?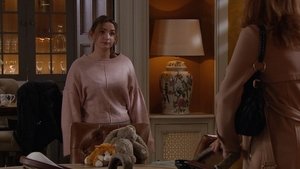 Ep.258

Thursday 11 November (Part 2)
Air Date: 2021-11-11
Billy lies to Tracy about last night. Is he covering for Nate? Meanwhile, Liv tries to talk to Aaron. Elsewhere, Al explains things to Chas.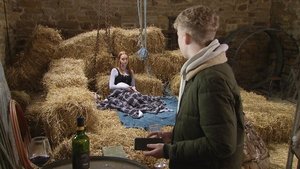 Ep.259

Tuesday 16 November
Air Date: 2021-11-16
Noah is nervous as he heads off for his date with Chloe, but when she's impressed by what he has prepared at the barn, he's relieved. Mack covers for Noah's whereabouts, but has he just messed things up with Charity? Meanwhile, Aaron is supportive when Ben starts searching for a new job. However, Ben is hiding the fact he's applying for jobs on the Cornish coast.
Ep.260

Wednesday 17 November
Air Date: 2021-11-17
With everyone still seemingly hell bent on keeping them apart, Noah finds himself agreeing to run away with Chloe. Meanwhile, Paddy and Marlon see that Al has hired Ellis without Chas or their consent. Paddy is taken aback when Chas agrees to give Ellis a shift at the Woolie.
Ep.261

Thursday 18 November (Part 1)
Air Date: 2021-11-18
On a country road, Kerry is confronted by two thugs who threaten her with harming Amy unless she tracks Chloe and Noah down. Meanwhile, Al unveils a new staff uniform for the Woolpack team, making a flirtatious comment at Chas. Elsewhere, Meena is shocked to hear David and Victoria have gone to Portugal. Furious, she sneaks into Victoria and Amy's house and smashes the place up.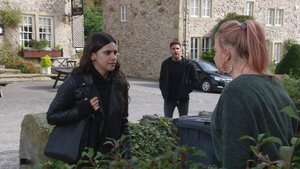 Ep.262

Thursday 18 November (Part 2)
Air Date: 2021-11-18
Chloe wonders if Noah is already getting cold feet. Soon the pair are spotted by Kerry and Charity and driven back to the village. Meanwhile, Chas tells Al that he has overstepped the line. Elsewhere, when PC Swirling goes to interview Meena about the break in, she denies everything and isn't arrested. Amy vows she's going to prove it was her and it is about to get physical, when Billy intervenes. Calling Billy her knight in shining armour, does Meena now have him keenly in her sights?
Ep.263

Friday 19 November
Air Date: 2021-11-19
When Al hears Paddy is away on a course, he invites Chas to a business dinner where he heaps more compliments on her. Soon we're left wondering if Al's approach might be starting to work on Chas. Meanwhile, Will is railroaded into accepting Bernice's offer.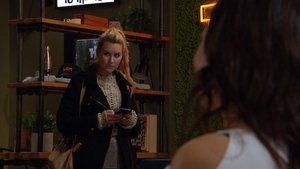 Ep.264

Monday 22 November
Air Date: 2021-11-22
Al approaches Chas and seductively tells her how much he wants her. It looks like they're close to a kiss, but Marlon interrupts before anything happens. Marlon is keenly aware that he has just walked in on a passionate moment. Meanwhile, Meena goes on a 'date' with Billy. All goes well until Dawn turns up.
Ep.265

Tuesday 23 November
Air Date: 2021-11-23
Cain transports Al to a nearby barn. He starts to intimidate him and pretends to hold a gun to his chest. Cain hints at the intensity of what he has got in store for Al and his anxiety starts to rise. Will Chas manage to stop Cain before he goes too far? Meanwhile, Ben is furious when Liv admits she has tried to sabotage his job chances in Cornwall by giving him a bad reference. Shocked at her behaviour, Aaron leaves Liv feeling awful.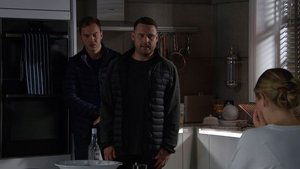 Ep.266

Wednesday 24 November
Air Date: 2021-11-24
After Aaron assures Ben that he's ready to move away from Emmerdale with him if need be, they share a kiss. When they return to Mill Cottage and discover that Liv has relapsed, Aaron declares that he's done with picking up the pieces for her. Liv's in despair, fearing she has driven her brother away for good this time. Meanwhile, Jacob makes a suggestion.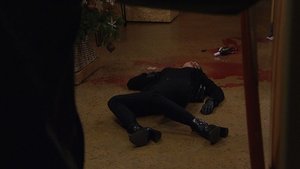 Ep.267

Thursday 25 November
Air Date: 2021-11-25
Ben finally turns to the body camera and is horrified as he watches shaky footage of the attempted drowning of Victoria. Ben is surprised and unnerved when a smiling Meena then appears in the office. Meena lunges to grab the camera from him but fails to wrestle it from him and he makes off with it. Meena gives chase but slips in some wine Liv spilled earlier. As Meena lies lifeless on the floor, panicked Ben has no idea what to do. Meanwhile, Lydia is left disturbed after an encounter with a drunk and dishevelled Liv.
Ep.268

Friday 26 November
Air Date: 2021-11-26
Cain tries to get back into Liam's good books. Liam is touched. Meanwhile, Chas is on the brink of exploding.
Ep.269

Monday 29 2021
Air Date: 2021-11-29
The police are back in the village. Meanwhile, Lydia struggles to keep a secret. Elsewhere, Chloe is frustrated as Kerry warns her to keep away from Noah.
Ep.270

Tuesday 30 November
Air Date: 2021-11-30
Nate begs for another chance as Tracy struggles to hear him out. Tracy appreciates Nate's efforts, before Frankie utters her first word, 'Dada'. Nate is overjoyed but Tracy's mood shifts as her old doubts about her parenting resurface. Meanwhile, Billy comforts a distraught Dawn, who insists she's a monster for killing Malone. When Billy delivers an impassioned speech, Dawn leans in for a kiss which Billy initially reciprocates before pulling away, leaving her humiliated. Elsewhere, Meena has a plan.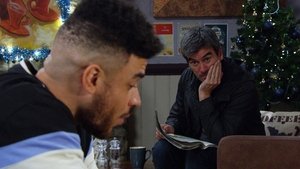 Ep.271

Wednesday 1 December
Air Date: 2021-12-01
A despondent Nate updates Belle on the failure of her plan to reunite him with Tracy. Next it's Cain's turn to come up with a scheme. Will he have more success? Meanwhile, Billy turns up at Woodbine, insisting Dawn hears what he has got to say. He explains that he wants to be with her, but wants assurance from her that she feels the same after their messy past. How will Dawn respond?
Ep.272

Thursday 2 December (Part 1)
Air Date: 2021-12-02
In her bedroom, Priya's anxieties about her body are exacerbated as she goes through her wardrobe. When she tells Leyla that she still hasn't looked at her back, Leyla gently encourages her scared friend to confront her fears. Priya and Leyla are shocked into silence by the sight of the scars on Priya's back. Priya stands silently staring at her reflection in the mirror. Meanwhile, Brenda gets the villagers involved in Emmerdale's community crime-fighting force, Emmer-Watch. Elsewhere, Bear and Faith have something planned for fridge-raiding Al. Also, Nate makes a promise.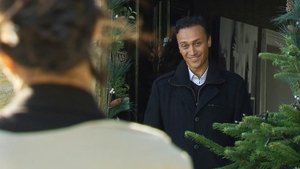 Ep.273

Thursday 2 December (Part 2)
Air Date: 2021-12-02
Rishi goes all out. Everyone's all smiles about Priya's ongoing recovery, until her anxieties resurface at the mention of food. Meanwhile, Aaron fears the worst.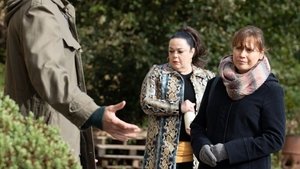 Ep.274

Friday 3 December
Air Date: 2021-12-03
Rishi tries to encourage Priya. Meanwhile, Al feels guilty. Elsewhere, a serious rift is forming within the Dingle clan.
Ep.275

Monday 6 December
Air Date: 2021-12-06
Aaron pays Liv a visit in the court side room. He worries that they bring each other down. As Aaron struggles to hold it together, Liv fears that this could be his last goodbye to her. Aaron tells her that he doesn't have the strength to keep supporting her any more. Meanwhile, Sam is distraught to think he may have lost Lydia for good. Elsewhere, Manpreet is shocked when Ethan informs her that Meena urged him not to contact his mum. She is thrown to think that Meena is playing games with his happiness.
Ep.276

Tuesday 7 December
Air Date: 2021-12-07
Meena says she put Ethan off meeting his mum to protect Manpreet over the fictitious texts. Manpreet says they can't deny Ethan a relationship with his mother but Meena ends the conversation. Meanwhile, Manpreet and Charles reminisce on happier times until she leans in for a kiss and he pulls away. Charles tells Manpreet that now isn't the right time for them. She knows he's right.
Ep.277

Wednesday 8 December
Air Date: 2021-12-08
Kerry is underwhelmed when her grand return to the salon isn't quite as she imagined. Meanwhile, Chas struggles. Elsewhere, Meena drops someone in it.
Ep.278

Thursday 9 December (Part 1)
Air Date: 2021-12-09
Billy invites Meena for a day out to cheer her up. Eavesdropping in on the conversation, Dawn is left with a pang of jealousy. Meanwhile, Liv is stunned as Mandy demands that she cut all contact with Vinny. Elsewhere, Manpreet is furious.
Ep.279

Thursday 9 December (Part 2)
Air Date: 2021-12-09
Vinny wrongly assumes Chas was the one interfering between him and Liv. Will Mandy tell the truth? Meanwhile, Meena lets jealousy get the better of her.
Ep.280

Friday 10 December
Air Date: 2021-12-10
Charles notices Harriet's application to re-join the police force and is shocked at how quickly things have progressed. Meanwhile, Chas is shocked. Elsewhere, Vinny is hurt.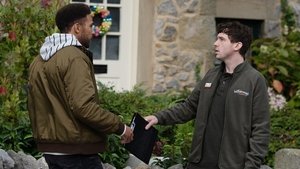 Ep.281

Monday 13 December
Air Date: 2021-12-13
Marlon is delighted when Al agrees to his Christmas drinks promotion, unaware of Al's true intent. Meanwhile, Kerry tries to entice a gloomy Mandy and a glamorous Bernice into a salon Christmas party.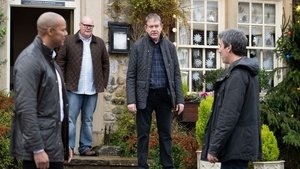 Ep.282

Tuesday 14 December
Air Date: 2021-12-14
Al is overjoyed at Marlon's mistake, while Chas is close to losing it. Cain is seething to hear of Al's latest antics and PC Swirling warns him away from Al.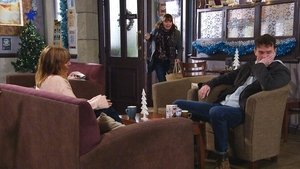 Ep.283

Wednesday 15 December
Air Date: 2021-12-15
Priya attends a hospital appointment to check on how her back is healing. She is desperate to stop the hospital visits, so lies that the skin grafts are feeling better. Priya is secretly aghast to hear that her struggles with eating are slowing down the healing process. However, she decides to hide this information from Rishi. Meanwhile, Lydia is wearing out her welcome at Marlon and Rhona's. Elsewhere, Kerry and Al flirt with each other.
Ep.284

Thursday 16 December
Air Date: 2021-12-16
Anxious about being in social situations, Priya makes an excuse to get out of attending the carol concert with Amba. She later regrets letting her daughter down and makes her way to the village hall in order to catch the rest of Amba's concert. When Rishi is called away to act as an emergency Santa, Priya begins to feel overwhelmed. Her panic rising, Priya stumbles away from the crowd, leaving Amba behind. Meanwhile, Meena is overjoyed after she manages to convince Billy to let her move in for Christmas, despite his obvious reservations. Elsewhere, things are not good between Sam and Lydia.
Ep.285

Friday 17 December
Air Date: 2021-12-17
As they smile sadly before parting, it's clear that both Billy and Dawn are regretful at how things have turned out. How will Meena react if she discovers the pair still have feelings for each other? Meanwhile, Sam is upset. Elsewhere, Al is distracted.
Ep.286

Monday 20 December
Air Date: 2021-12-20
Dawn's ex Alex turns up and he introduces himself to Lucas as his real dad. After an Alex has an altercation with Billy, Meena stirs the pot about Dawn. Alex is soon left terrified for Lucas's welfare. Meanwhile, Priya spots Ellis and Belle laughing together. She notices their spark and is crushed to think that he has moved on. Elsewhere, Pollard offers to hire Noah permanently.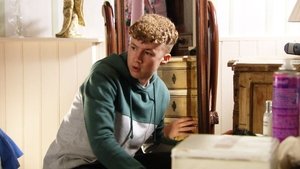 Ep.287

Tuesday 21 December
Air Date: 2021-12-21
Noah spots Leanna's ring on the floor of Meena's bedroom. He steals it to give to Chloe as an early Christmas present. Meanwhile, Billy and Dawn share an emotional moment. When Dawn can't resist kissing him, he admits it's what he has been waiting for. Elsewhere, Mandy urges Sam to make amends with Lydia. Mandy also promises to back Vinny up in his campaign to free Liv. Also today, Harriet reveals to Charles that she's planning on leaving the church and re-joining the police.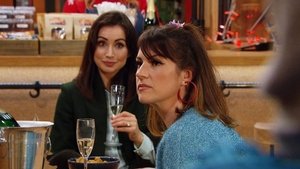 Ep.288

Wednesday 22 December
Air Date: 2021-12-22
Meena drops a bombshell that leaves Billy gobsmacked: she lies that she is pregnant with his child. At the same time, Liam is ensnared by Meena's trap. Meanwhile, Kim feels a pang of loneliness when pictures of Millie and Jamie remind her of what she's missing this Christmas. Elsewhere, Tracy and Kerry have their first awkward interaction since Kerry's return to the village.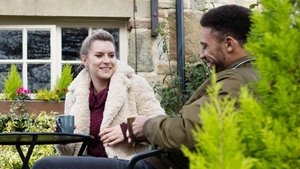 Ep.289

Thursday 23 December
Air Date: 2021-12-23
Dawn reassures Billy that Meena's pregnancy won't affect their relationship. Manpreet is suspicious of Meena's pregnancy. Meanwhile, Will lets his jealousy show. Elsewhere, Lydia finds a Christmas invitation hanging out of her letterbox. She appears bemused as she reads it, unaware that a grinning Sam is watching in the distance having put his plan into action.
Ep.290

Friday 24 December
Air Date: 2021-12-24
Manpreet meets up with Carol and is utterly floored to discover that Carol believes Meena murdered Nadine. Reeling from the discovery, Manpreet struggles with the idea that her sister is a murderer and initially regrets contacting Carol. Meanwhile, Bernice gives Will an ultimatum. Elsewhere, Al is pressurised by Gavin to get Chas and Marlon to sell. When a big, muscley man menacingly gets out of Gavin's car, Al's heart sinks as he knows what's coming.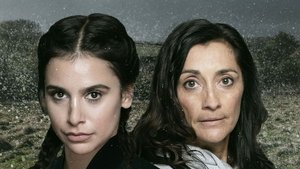 Ep.291

Saturday 25 December
Air Date: 2021-12-25
Still reeling from his beating yesterday, Al gets a threatening message from Gavin and is later disturbed to catch Gavin talking to Ellis. Feeling the pressure, Al gazes back at The Woolpack and comes up with a plan to get out of this nightmare. Meanwhile, Meena reports Dawn to Social Services, before a horrified Manpreet grabs Meena's phone and kills the call. Meena is outraged to have been caught in the act but decides to play the concerned neighbour. Manpreet appears to soften, but, upon Meena's exit, Manpreet reassesses the situation. Elsewhere, as Will approaches Malone's grave with Kim, he is alarmed to find it freshly dug up and worries that, if Kim really did hear something incriminating, this could be part of her revenge. But she reveals that she removed the corpse so that Will no longer feels tethered to her – he can decide whether he stays or goes. .
Ep.292

Sunday 26 December
Air Date: 2021-12-26
There's devastation in the village. Some are out for revenge. Dawn panics.
Ep.293

Monday 27 December
Air Date: 2021-12-27
Ryan third wheels as a loved-up Charity and Mack relax, half-dressed, on the sofa. Meanwhile, Lydia is excited. Elsewhere, Billy is reeling.
Ep.294

Tuesday 28 December
Air Date: 2021-12-28
Vinny investigates. Meanwhile, Mack is gutted. Elsewhere, Jai receives a call.
Ep.295

Wednesday 29 December
Air Date: 2021-12-29
Charity is left reeling. Meanwhile, Ellis invites Belle and Kyle on a day out. Elsewhere, Nate struggles.
Ep.296

Thursday 30 December
Air Date: 2021-12-30
Priya struggles. Meanwhile, Nate and Tracy are loved up. Elsewhere, Belle takes action.
Ep.297

Friday 31 December
Air Date: 2021-12-31
Billy proposes to an unsuspecting Dawn. Meanwhile, Nate is left broken. Elsewhere, Priya continues to struggle.