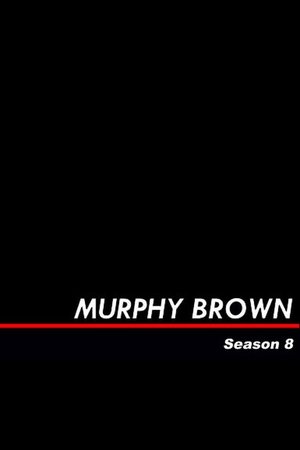 Episodes List
Ep.1

Altered States
Air Date: 1995-09-18
With her marriage to Peter canceled, Murphy is skeptical at the sudden marriage of Miles and Corky.
Ep.2

The Awful Truth
Air Date: 1995-09-25
Lansing's nephew becomes Vice President of Current Affairs and he lures Murphy into a new hard news show he's created featuring Walter Cronkite; however, soon Cronkite becomes Redfield and the hard news becomes infotainment.
Ep.3

Fearless Frank
Air Date: 1995-10-02
Frank escapes death while interviewing a mass murderer. Frank would like to cover less action stories; however, Lansing, hoping for a ratings boost, wants Frank to cover even riskier stories. Frank starts doing the stunts and then Lansing wants him to jump off the building, live.
Ep.4

Murphy's Law
Air Date: 1995-10-09
Murphy's appearance in traffic court and her need to not get special treatment, because of her celebrity status, gets her a fine and 40 hours of community service. The judge demands that she reappear in court when it is reported that didn't serve her time by getting special treatment, the network hires a high-power ""defense team.""
Ep.5

Sex or Death
Air Date: 1995-10-16
Sex (consummation of his marriage to Corky) or death (from Murphy) is on the line for Miles when he gives a pivotal political story to each of them, then must take it back. He waffles and assigns the story to both of them.
Ep.6

Miller's Crossing
Air Date: 1995-10-23
Murphy fears that she is losing her touch when she loses an important interview to Miller Redfield; however, his touch is a little different.
Ep.7

The Feminine Critique
Air Date: 1995-10-30
A truck crashes through the studio window, so the team accompanies Murphy back to her alma mater where she is receiving an honorary doctorate. However, the students in the women's studies program she helped establish think she is out of touch with women in the '90s.
Ep.8

Bad Company
Air Date: 1995-11-06
Andrew comes down to Murphy with a story idea, for a profile of a business mogul. She rejects the idea. Frank takes the idea but doesn't do anything with it. Andrew provides the dirt & Murphy and Frank do a big expose at the same time that this mogul buys the network.
Ep.9

The Ten Percent Solution
Air Date: 1995-11-13
Murphy fires her agent and then the rivalry begins when she signs with Jim's agent and gets everything she wants. Jim's jealously builds and is revealed during an airing of the McLaughlin Group.
Ep.10

The Humboldt Doldt
Air Date: 1995-11-20
An ungrateful Miller wins the Humboldt Award for a story that the entire FYI staff works on in a pinch for him on Front and Center. The staff waits anxiously for Murphy's retaliation.
Ep.11

Dick and Dottie
Air Date: 1995-11-27
Lansing wants Murphy to apologize publicly about a comment she made about a popular talk-show host. She tries, but things only get worse.
Ep.12

All in the Family
Air Date: 1996-01-08
Corky and Miles decide to make their marriage official by having a real ceremony. The trouble begins when Nana Silverberg meets the Sherwood's and their differences of opinion are expressed after Corky finally tells her family about the fact they are already married.
Ep.13

If You're Going to Talk the Talk
Air Date: 1996-01-15
Murphy is the reluctant winner of an interview with a celebrity who's never given one. Just as she gets into doing the whole ""fluff"" piece, a real news story breaks out. The network decides they want to continue with the ""fluff"" but will Murphy sacrifice her journalistic integrity?
Ep.14

My Fair Miller
Air Date: 1996-01-22
Lansing asks Jim to turn Miller into a real newsman. The rest of FYI is shocked to find out that Jim is responsible for the change in Miller. Jim is shocked to find out that a similar thing was done for him many years ago.
Ep.15

Old Flames
Air Date: 1996-02-05
Murphy misses a social event and tries to pull an all-nighter to work on her latest story. Peter drops by unexpectedly (he's only in town for 24 hours). Murphy wants to keep working on her story; instead she falls asleep. She begins dreaming that she's on trial for all her relationship sins, and begins facing all her previous suitors in court.
Ep.16

Up in Smoke
Air Date: 1996-02-12
Stuart Best is now a tobacco lobbyist but he has a change of heart when he decides that smoking really stinks. He gives FYI the memos and etc. that will expose the tobacco industry. He becomes a little nervous and meets with the network lawyers where a little detail reveals they could all be sued. Murphy contemplates her future in journalism, but Jim makes the move.
Ep.17

Aftermath
Air Date: 1996-02-19
Jim's surprise resignation last week, impacts the future of FYI. The FYI staff convince Lansing to get him back, but that doesn't work out the way they'd hoped. Lansing makes Miller their new anchor and Jim tells everyone that he is going to head the news division for the new ICN Network. Later, Murphy and Frank go there to convince him to return, but Murphy sees that despite that fact everything is falling apart around him, he is truly enjoying himself.
Ep.18

Trick or Retreat
Air Date: 1996-02-26
Elizabeth Taylor cancels her interview with Murphy, because the police have a lead on her stolen pearls. Jim stops by for a chance to meet Miss Taylor. Meanwhile, Miles wants the team to stop torturing Miller. Miles asks Jim for a bit of advice and he suggests a retreat. So Miles takes the team north to get them to work together as a team.
Ep.19

All Singing! All Dancing! All Miserable!
Air Date: 1996-03-04
Murphy is coordinator of the Press-capades and is set on playing the role of Hillary Clinton in a sketch she's written. The rest of the cast wants her out and she concedes; however, Katie Couric has an accident before the show, so guess who gets the role.
Ep.20

The Bus Stops Here
Air Date: 1996-03-11
Miles gets to use the new T-2000 bus to cover a primary campaign stop in Madison. The bus breaks down before they get there, so they decide to do their coverage from a local diner. GOP aides and other networks discover the broadcast and descend on the diner, turning it into just another campaign story. Meanwhile, Jim and his team get to Madison and get the real story.
Ep.21

When A. Lansing Loves a Woman
Air Date: 1996-04-29
A secret admirer fills Murphy's office with flowers, candy and other gifts. It's obvious who the admirer is, Andrew J. Lansing III. Andrew gets her to his place (under false pretenses), Frank rescues her; however, they discover the hideous truth.
Ep.22

Casa Nova
Air Date: 1996-05-06
Frank, smitten with a real estate agent, buys a 5 million dollar mansion that he can't afford.
Ep.23

Stepping Out (1)
Air Date: 1996-05-13
Murphy celebrates her 8th year of sobriety, but she has a few steps to go. Making amends is her next step, an awfully big one but she tries really hard; everyone else is concerned about rumors of FYI moving its time slot. Murphy decides to confront Stan about the rumor. She finds out more than she wants to (and even more from Phil) then have to keep it a secret, especially from Corky and Frank. Murphy decides to quit FYI, Frank and Corky join her.
Ep.24

Miles Away (2)
Air Date: 1996-05-20
The unemployed staff members decide it would be a slap in the face to the network if they helped Jim and his team out. Miller wants to move into Murphy's office. Miles fills Lansing in on the state of things. Lansing offers advice to Miles, which he declines. Lansing concedes, FYI is back, complete with Jim; the network is going to let them run the tobacco story. Charles Kuralt takes over Jim's responsibilities at ICN. Impressed with Miles' hardball tactics, Lansing offers him a big job in New York City and he accepts.