Episodes List
Ep.1

Season 8 Unseen Vol 1
Air Date: 2014-10-17
Ep.2

Season 8 Unseen Vol 2
Air Date: 2014-10-24
Ep.3

Season 8 Unseen Vol 3
Air Date: 2014-10-31
Ep.4

Season 8 Unseen Vol 4
Air Date: 2014-10-31
Ep.5

Christmas Party 2014
Air Date: 2014-12-24
A special episode for some extra-special Yuletide treat.
Ep.6

Christmas Party 2016
Air Date: 2016-12-24
James Corden is joined by Freddie Flintoff, Jamie Redknapp, Jack Whitehall and guests Dennis Taylor, Gary Barlow.
Ep.7

A Premier League of Their Own
Air Date: 2017-08-10
James Corden hosts an edition of comedy quiz celebrating the start of the football season, with former Arsenal and France forward Thierry Henry, Soccer Saturday host Jeff Stelling and broadcaster Kelly Cates joining regulars Jamie Redknapp, Andrew Flintoff and Jack Whitehall.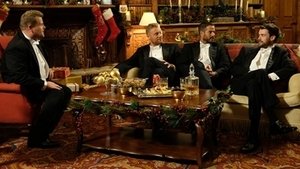 Ep.8

Christmas Party 2017
Air Date: 2017-12-21
James gets mates Jamie, Jack, Freddie round for another unforgettable Christmas on A League Of Their Own. This year, formal wear is a must as it's all back to Jack's country manor for a super-posh Yuletide party. There's plenty of festive fun on the menu as they host Nigel Havers, Kriss Akabusi and David Seaman. Plus, they look back on their favourite moments from the last 12 series.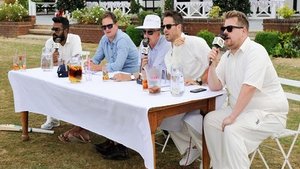 Ep.9

Christmas Party 2018
Air Date: 2018-12-20
Christmas means cricket for James and the ALOTO boys as they hit the stumps for a fun-packed festive fixture for charity. Their all-star team, including Ben Foden, Amy Williams, Danny Jones, Helen Skelton and AP McCoy, face a Shenley side featuring Jimmy Anderson, Steve Harmison and David Seaman. Expect a fierce battle between Freddie and Jimmy and a shock performance from Rob Beckett. Plus, Kriss Akabusi rocks up with a surprise and there's a good old-fashioned Christmas sing-song.
Ep.10

Christmas Special 2019
Air Date: 2019-12-19
This year, James is sending Jamie, Freddie and Romesh off to Austria to face a series of traditional Austrian challenges. Heading to the Hintertux Glacier, the boy's challenge will be to learn how to do the fastest and most dangerous winter sport of them all, the Skeleton Bob. This involves lying head first on a sled and going down a bobsled track at up to 90 kph. After a hard day on at the Skeleton track, James has also arranged for the boys to take part in a cultural activity. They will be learning and performing some traditional Tyrolean Dance in full Lederhosen, complete with traditional bum-slapping, before heading back to their Chalet for dinner and a very special Christmas present from James.
Ep.11

Christmas Party 2020
Air Date: 2020-12-17
Freddie Flintoff, Jamie Redknapp and Romesh Ranganathan lead the way in the special Christmas edition of the hit panel show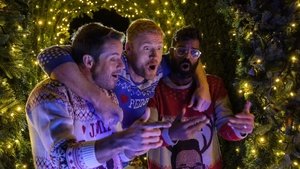 Ep.12

Christmas Special 2021
Air Date: 2021-12-13
Get ready to celebrate Christmas as Romesh Ranganathan, Freddie Flintoff and Jamie Redknapp mark the festive season as only they know how.