Episodes List
Ep.1

One
Air Date: 1996-05-26
The year is 2368 and a group of scientists are on the brink of a major breakthrough as they begin to tap into the memory of a man - Daniel Feeld - who died in the 1990s
Ep.2

Two
Air Date: 1996-06-02
Emma and her team are disturbed by unnerving happenings in the Lazams project. Daniel Feeld's head is 'remembering' some disturbing events from his distant past.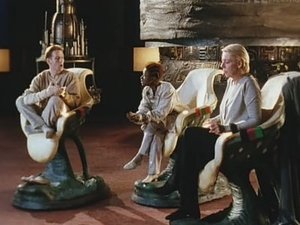 Ep.3

Three
Air Date: 1996-06-09
Emma accepts the offer of David Siltz to provide unlimited funding for a laboratory in return for the right to broadcast the memories of Daniel Feeld on his global entertainment network.
Ep.4

Four
Air Date: 1996-06-16
Daniel Feeld's frozen head has been stolen from the cryogenics laboratory at the Masdon Science Centre by media mogul Dasid Siltz and scientist Emma Porlock.