Episodes List
Ep.1

Moving House
Air Date: 1978-11-11
Frank is thrilled when his grandfather offers to pay for flying lessons so that he can help on his vast Australian sheep farm. He sees himself as a flying cowboy of the sheep ranges. Betty is not too happy about the idea, but she at least stays on the ground.
Ep.2

Wendy House
Air Date: 1978-11-18
Frank is followed home by a stray dog. He talks Betty into letting him keep it. Mr Harris, from the insurance company, comes to assess the damage done to the Spencers' furniture during the move. He offers them 40 pounds for the lot. The instructor at Frank's woodwork class is horrified when he learns that Frank has been using superglue to stick a chair together. He tells Frank to take the chair home. At the bus stop, an old lady feels faint and sits down on Frank's chair. She gets stuck to the seat. Frank and a bus conductor get stuck to the arms trying to release her. They end up at the hospital, where Frank causes a great deal of damage before he's eventually freed. Frank has made a Wendy House for Jessica. It's too big to go through the door of the woodwork room, so it's lowered from the window using a block and tackle. Frank ends up being hoisted up in the air and dropped back to the ground.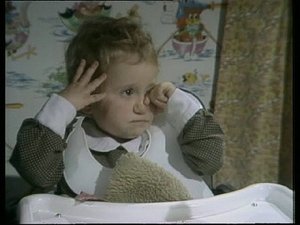 Ep.3

Scottish Dancing
Air Date: 1978-11-25
Frank and Betty now belong to a local Scottish dancing group. One of them has to stay at home to babysit Jessica, so they take it in turns to attend. Mr Quincy, the lodger from next door, is the organiser of the group. He is organising a display in honour of a visit by the local Liberal Party candidate, Mr MacDougall. He wants Betty to appear, but doesn't have a place for Frank. Frank is part of the welcoming committee which goes to meet Mr MacDougall at the railway station. Mr MacDougall leaves his briefcase on the train. Frank volunteers to go and fetch it. He seems to be taking a long time, so Mr Quincy gets on the train to look for him. Frank gets off the train with the briefcase as the train pulls away. Mr Quincy jumps off and breaks both of his legs. Frank has to take his place in the Scottish dancing display. He loses his kilt at the end of the display and reveals all.
Ep.4

Men as Women
Air Date: 1978-12-02
Frank, working on a demolition gang, nearly gets flattened by a falling chimney. A letter arrives from Frank's grandfather, saying that he's coming over from Australia. He wants Frank and Betty to move to Australia to help him to run his sheep farm. Frank thinks that Jessica has swallowed a coin, so he sends for Doctor Mender. The doctor doesn't find anything wrong with Jessica. He's on his way to appear as a dame in a hospital pantomime. He's running late, so he asks Betty if he can change in the Spencers' spare bedroom. Frank is horrified when he sees Doctor Mender dressed up as a woman. He thinks he's a transvestite. Then Doctor Mender's colleague, Doctor Hutchings, turns up dressed as another of the ugly sisters. Hearing that the third ugly sister is too ill to appear, Frank offers his services as a stand-in. He goes off and reappears dressed as a Swiss peasant girl. Frank's grandfather arrives unexpectedly....
Ep.5

King of the Road
Air Date: 1978-12-09
Frank has a new job as a motorbike dispatch rider. He has to take a motorbike test. The examiner tells him to drive around the block and stop when he gets the signal. Frank takes a wrong turning and the examiner steps out in front of the wrong motorcycle. He ends up in hospital, while Frank rides around for hours looking for him. Frank's new boss tells him to collect a parcel from one address and deliver it to another. The parcel contains pornographic photographs and the police have been tipped off. The delivery firm's office is raided. Frank's motorbike goes out of control and he begins a nightmare ride through the streets and around the countryside. He ends up back at the delivery firm's office and crashes through the window. Frank is arrested and has to appear in court. He brings along a string of character witnesses and is found not guilty. Cycling home, he encounters the magistrate and causes his car to crash.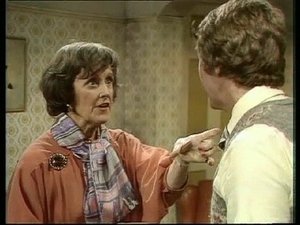 Ep.6

Australia House
Air Date: 1978-12-16
Frank is takeing elocution lessons so that he'll be able to communicate with all of the ""upper crust types"" he thinks he'll meet when he starts taking flying lessons. Frank has to go to Australia House to discuss his emigration application. The emigration officer, Mr Lawrence, finally approves Frank's application in order to get rid of him. Frank has put a card in a shop window advertising his services as a gas fitter. He gets a phone call asking him to look at a gas boiler. He goes round and blows up the cutomer's house.
Ep.7

Christmas '78 - Learning to Fly
Air Date: 1978-12-25
Frank goes to a local airfield to book his first flying lesson. He ends up walking along the runway with Betty and Grandad. That afternoon, Frank turns up for his flying lesson. After a series of mishaps, like steering the plane into a car park, Frank manages to take off. His instructor gets knocked unconscious trying to close the cabin door, which Frank had opened by mistake. The air traffic controller tries to talk Frank in to land, without success. Luckily, the flying instructor regains consciousness and brings the plane in to land.