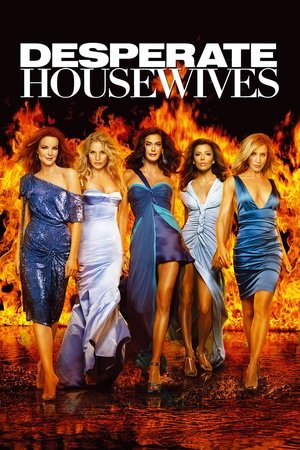 Season 4
(2007)
Katherine Mayfair and her family are introduced as the center of the season's mystery.
---
Episodes List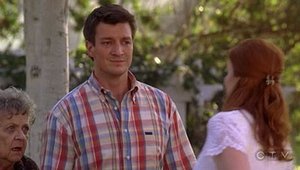 Ep.1

Now You Know
Air Date: 2007-09-30
Susan learns that she is expecting a child while Bree continues to fake her own pregnancy. Gabrielle begins an affair with her ex-husband, Carlos and Lynette tries to conceal her cancer from her friends and children. The episode also introduces Katherine Mayfair, Susan's old friend who returns to the neighborhood after being away for 12 years.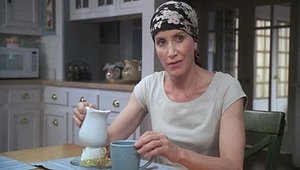 Ep.2

Smiles of a Summer Night
Air Date: 2007-10-07
Lynette kicks Tom out of her chemotherapy sessions. Susan is mistaken for a stripper. Bree attempts to steal a prize-winning recipe from Katherine.
Ep.3

The Game
Air Date: 2007-10-14
Bree informs the housewives of what she overheard in the Mayfair house. Stella makes some special brownies to help Lynette through chemotherapy. Susan throws a charades party for the whole neighborhood.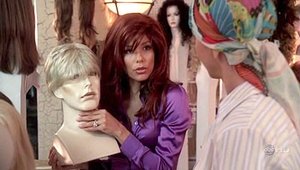 Ep.4

If There's Anything I Can't Stand
Air Date: 2007-10-21
Edie is shocked when she receives some news at the gynecologist's office. At the baby shower Bree's friends throw her, Bree's ex-mother-in-law Phyllis discovers her pregnancy is a hoax. Finally, Wisteria Lane welcomes to the street a homosexual couple.
Ep.5

Art Isn't Easy
Air Date: 2007-10-28
Bob & Lee's contemporary water sculpture in their front yard prompts the Wisteria Lane neighborhood association into action. Edie finds out about the affair that Carlos is having with Gaby. Also, John Rowland wants to rekindle his romance with Gaby.
Ep.6

Now I Know, Don't Be Scared
Air Date: 2007-11-04
This is the show's first Halloween episode. Edie Britt's biggest fear comes true when Carlos walks out on their relationship. Susan finds Mike's father, who was supposedly dead. Danielle goes into labor right in the middle of the Halloween party... and somebody has to deliver the baby.
Ep.7

You Can't Judge a Book by Its Cover
Air Date: 2007-11-11
Lynette's sisters Lydia and Lucy come to visit. While having dinner with Susan and Mike, Bree and Orson realize they share different views on whether their newborn baby should be circumcised. On a boat, Victor confronts Gaby about her affair with Carlos and she throws him into the ocean. Later, Bree informs Susan that she thinks Mike is addicted to drugs.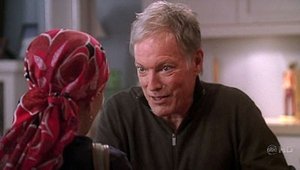 Ep.8

Distant Past
Air Date: 2007-11-25
A mysterious stalker from Adam's past shows up on Wisteria Lane, and they have dinner. Detectives question Gabrielle about Victor's whereabouts. Danielle's baby puts stress on Bree and Orson's marriage. Lynette has a reunion with her long-lost stepfather, Glen. Susan notices Mike is behaving strangely.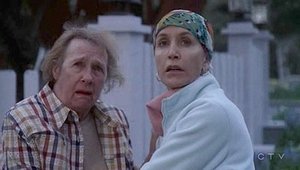 Ep.9

Something's Coming
Air Date: 2007-12-02
A tornado comes to Wisteria Lane, forcing residents into basements, cellars and safe rooms, and destroying homes and lives. Meanwhile, Susan ends up at the hospital after falling down the stairs.
Ep.10

Welcome to Kanagawa
Air Date: 2008-01-06
In the aftermath of the tornado, the residents of Wisteria Lane try to rebuild their lives. Katherine discovers someone may know her secret while Lynette faces the possibility of her family's fate.
Ep.11

Sunday
Air Date: 2008-04-13
Two weeks after the tornado, with Mike still in rehab, Mrs. Delfino gets a visit from her cousin Tim. Meanwhile, Bree desperately awaits to return to her own house. Gabrielle learns that Carlos' blindness is permanent. Katherine is unable to keep some of her secrets from the women of Wisteria Lane. Finally, a surprise wedding ceremony has its own share of secrets.
Ep.12

In Buddy's Eyes
Air Date: 2008-04-20
Gabrielle struggles with the reality of having a blind husband. Lynette is surprised when Rick Coletti shows up at the Scavo pizzeria. Bree and Katherine join forces to plan the Founders Day Ball. As part of his recovery, Mike asks a few people for forgiveness, and Orson starts sleepwalking.
Ep.13

Hello, Little Girl
Air Date: 2008-04-27
Bree and Katherine decide to start a catering business together. Lynette tries to deny her feelings for Rick. Mike learns the truth about his nearly fatal accident. Carlos gets a seeing-eye dog. Dylan meets her estranged father.
Ep.14

Opening Doors
Air Date: 2008-05-04
Susan meets her ex-husband, Karl at a Lamaze class, and finds out that he has remarried and is having another child. Lynette learns who was responsible for starting the fire at Rick's restaurant. Bree wants Orson to turn himself in to the police. Meanwhile, Gabrielle rents a room to a hip artist, Ellie, who has a dark secret. Elsewhere, Dylan continues meeting with her father, Wayne, and Katherine decides to go spy on her.
Ep.15

Mother Said
Air Date: 2008-05-11
Adele Delfino, Susan's mother-in-law, arrives for a visit. Carlos and Gabrielle find out their tenant, Elli, has a dark secret. A full scale war erupts between Bree and Edie.
Ep.16

The Gun Song
Air Date: 2008-05-18
"The Gun Song" is the 86th episode of the ABC television series, Desperate Housewives. It is the sixteenth episode of the show's fourth season, and the first half of the two-hour season finale. It aired on May 18, 2008 in the United States.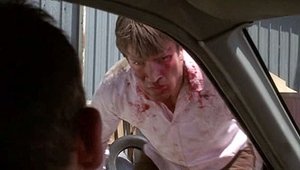 Ep.17

Free
Air Date: 2008-05-18
Susan and Mike try to name their son. Lynette is arrested for supposedly attacking Kayla, and Tom must do what he can to save his family. Bree is being stalked by Orson, and when she meets with Reverend Green, the reverend tries to hit on her. In the meantime, Gabrielle is still helping the police trying to detain Ellie for dealing drugs. Finally, Katherine is visited by her ex-husband, Wayne.