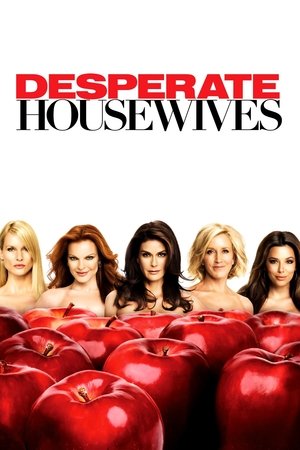 Season 5
(2008)
The season's mystery is centered around Edie Britt's third husband Dave Williams.
---
Episodes List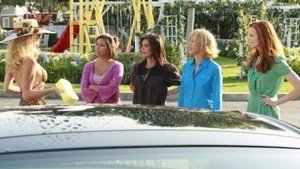 Ep.1

You're Gonna Love Tomorrow
Air Date: 2008-09-28
Five years have passed since Katherine shot her ex-husband as Susan, Lynette, Bree and Gaby stood together in solidarity to protect her. Susan tries to hide her relationship with a new man; Gaby questions her abilities as a mom; Bree is on the verge of publishing her own cookbook as business partner, Katherine, grows envious; Lynette catches her teenaged twins spearheading illegal activities; and Edie returns to Wisteria Lane in jaw-dropping fashion with a new man in tow.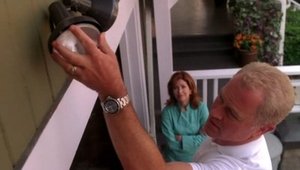 Ep.2

We're So Happy You're So Happy
Air Date: 2008-10-05
Unaware of Jackson's whereabouts, Susan goes to a local bar suspecting that he might be with Mike however, she soon lands herself in-trouble; meanwhile, after spending money that did not belong to her, Gabrielle attempts to get Carlos to get a job at the local country club as it pays better. Bree promotes her cook book on a radio show.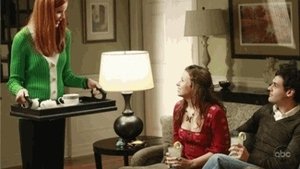 Ep.3

Kids Ain't Like Everybody Else
Air Date: 2008-10-12
Bree's estranged daughter, Danielle, returns to Wisteria Lane and is met with a deluge of criticism. Meanwhile, Gabrielle and Susan find themselves embroiled in a catfight brought on by an altercation between their kids. To her chagrin, Lynette comes home to find Tom and Dave have formed a garage band after she told him to get rid of his old things. Finally, Katherine and Mrs. McCluskey invite Edie to lunch to press her for more information on Dave.
Ep.4

Back in Business
Air Date: 2008-10-19
Bree's new found success causes the rest of the women on Wisteria Lane to feel envious. Lynette longs to return to her days as an ad-executive, and finds an outlet as Bree's marketing manager. Mike feels that he is not a big enough presence in his son's life after M.J. draws a family portrait and leaves him out. Meanwhile, Gaby comes up with a way to have more sex with Carlos.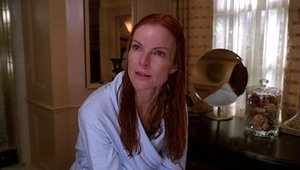 Ep.5

Mirror, Mirror
Air Date: 2008-10-26
Driven by a hidden agenda, Dave convinces Susan to throw Mrs. McCluskey a surprise party for her 70th birthday. Jackson wants to take his relationship with Susan to the next level. Gabrielle's concerned she might be pregnant. Tom tells Lynette he's sold the pizzeria. A startling reason for the bond between Bree and Katherine is revealed. And finally, an outraged Mrs. McCluskey has the entire neighborhood questioning her sanity.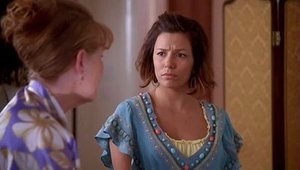 Ep.6

There's Always a Woman
Air Date: 2008-11-02
Gaby is over the moon when Carlos' client makes them an offer they can't refuse, but a startling discovery leaves her second guessing. Lynette grows suspicious that Tom is cheating on her. After breaking up with Jackson, Susan tries to surprise him, only to find the surprise is on her. Meanwhile, the bond between Bree and Katherine grows. Finally, Mrs. McCluskey enlists the help of her sister Roberta (guest star Lily Tomlin) to dig up dirt on Dave.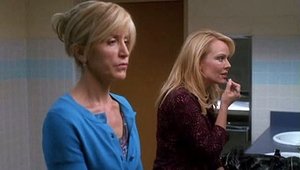 Ep.7

What More Do I Need?
Air Date: 2008-11-09
Lynette and Tom uncover the unsettling truth about son Porter. Gabrielle suspects Carlos' best client, Virginia, has ulterior motives. Bree's moment of weakness could bring her great embarrassment and shame. Katherine's not-so-little secret is unveiled. Susan learns of Jackson's true passion. Finally, Mrs. McCluskey's sister Roberta unearths a disturbing fact about Dave.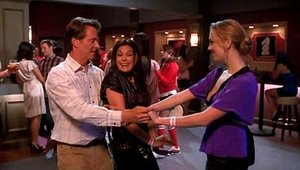 Ep.8

City on Fire
Air Date: 2008-11-16
Susan's daughter Julie comes to visit with her surprising new boyfriend. Gabrielle learns that Mrs. Hildebrand has made her and Carlos heirs of her entire fortune. A reporter looks to expose Bree's imperfections. Lynette learns Porter and Anne Schilling plan to leave Fairview and disappear. Finally, everyone has gathered at a club to see the guys play in the annual "Battle of the Bands" when a fire erupts, threatening the lives of those in attendance. Some will fall as a hero will rise.
Ep.9

Me and My Town
Air Date: 2008-11-30
For Gaby and Carlos, injuries sustained in the fire lead to a fortunate discovery. But for most, the consequences are less forgiving. Lynette and Tom vow to protect son Porter at any cost. Susan must learn to let go of the man she loves. Orson's attempt at a good night's sleep puts Bree in a most precarious, though amusing, position on the day of her big cooking demonstration.
Ep.10

A Vision's Just a Vision
Air Date: 2008-12-07
Lynette takes extreme measures to protect her son. Carlos realizes the extent of Gaby's sacrifices for their family. Bree wants to prove to Andrew that she has accepted him for who he is. Katherine finds happiness, as Susan and Mike recognize the fate of their relationship. Meanwhile, Dave starts to lose his grip.
Ep.11

Home Is the Place
Air Date: 2009-01-04
Bree clashes with Alex's mother for their sons' affections. Gabrielle urges Carlos to take a six-figure job, even though it means spending more time away from home. Susan turns to Lee for company while Jackson is away. Lynette catches Preston talking to Porter on the phone. Meanwhile, Edie grows weary of Dave, whose strange behavior hasn't abated.
Ep.12

Connect! Connect!
Air Date: 2009-01-11
Susan and Edie accidentally lock themselves in a basement; the search for Porter leads Lynette to her mother; Mike and Katherine define their relationship; Dave gets closer to exacting revenge.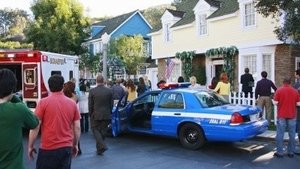 Ep.13

The Best Thing That Ever Could Have Happened
Air Date: 2009-01-18
When Eli Scruggs (Beau Bridges), the neighborhood handyman, passes away, the residents of Wisteria Lane realize how much he affected their lives.
Ep.14

Mama Spent Money When She Had None
Air Date: 2009-02-08
Bree treats herself to a new car; Susan wants to send M.J. to the best school even though she and Mike can't afford it; Gaby tries to get back into shape; Lee wonders if he should tell Tom and Lynette some disturbing facts about Dave.
Ep.15

In a World Where the Kings are Employers
Air Date: 2009-02-15
Susan gets a new job. Lynette tells Tom they need to sell Scavo's Pizzeria. Gaby discovers that Carlos' boss has a dirty little secret; Orson confronts Bree after discovering she has given Andrew a raise.
Ep.16

Crime Doesn't Pay
Air Date: 2009-03-08
Bree tells Lynette she will help Tom find a job; Carlos' adulterous boss puts Gaby in a precarious situation; after a chance encounter with an old acquaintance, Edie looks into Dave's past.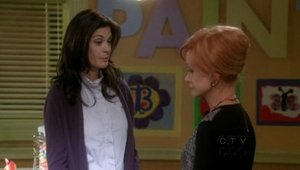 Ep.17

The Story of Lucy and Jessie
Air Date: 2009-03-15
Susan tries to impress a teacher at work, Gaby talks Carlos into hiring Lynette, Edie continues to look into Dave's past.
Ep.18

A Spark. To Pierce the Dark.
Air Date: 2009-03-22
Bree contemplates selling her business in order to revive her marriage. Meanwhile, Lynette is threatened at work; Katherine is caught in an unforseen circumstance; and Edie's worst fear begins to come true.
Ep.19

Look Into Their Eyes and You See What They Know
Air Date: 2009-04-19
Edie becomes the subject as the other housewives reminisce about her: with Susan recalling the first time they met; Lynnette remembers an unforgettable night; Gaby remembers an evening of friendly competition; and Bree remembers how thoughtful she was towards Orson.
Ep.20

Rose's Turn
Air Date: 2009-04-26
Carlos finds Lynette in a precarious position, which she chooses to hide from Tom, and Gabrielle hastily covers for Tom's coy behavior. Orson tries to hide the truth about his wounds from Bree, while Katherine confesses to Mike, which leads to a surprising realization. In the meantime, Susan confides her dark secret in Dave.
Ep.21

Bargaining
Air Date: 2009-05-03
Bree sinks to a new low to retain the best lawyer, and Gabrielle's vanity is put to the test when she makes a deal with her daughter Juanita. Meanwhile, Lynette and Tom negotiate sex, and Katherine deceives Mike to win his heart. Jackson (guest star Gale Harold) walks back into Susan's life with a proposal, and an unexpected visit sends Dave to do some bargaining of his own.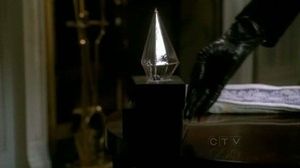 Ep.22

Marry Me a Little
Air Date: 2009-05-10
Bree goes to extremes to hide her true intentions from Orson, while Susan and Jackson put on an act for the authorities. Lynette is shocked at the lengths Tom will go to in order to look younger, and Katherine masks the truth from Mike, afraid to lose him. Meanwhile, Dave is on edge when he learns a key witness to his misdeeds surfaces.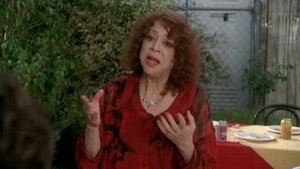 Ep.23

Everybody Says Don't
Air Date: 2009-05-17
Gabrielle becomes upset when Carlos offers to have his not-so-innocent niece, Ana, come and stay with them for a while and disrupts their routine. Meanwhile, Lynette becomes angry at Tom as he desperately tries to hold on to his youth. The brutal battle of the sexes between Orson and Bree gets nasty when Orson discovers what she's been up to. Elsewhere, Detectives Lyons and Collins make headway in the arson fire.
Ep.24

If It's Only in Your Head
Air Date: 2009-05-17
Lynette adapts to Tom's decision to go back to school, Orson takes a beating that Bree cannot comprehend, Gabrielle's niece moves to Wisteria Lane, and Susan and MJ's lives are in grave danger at the hands of Dave.