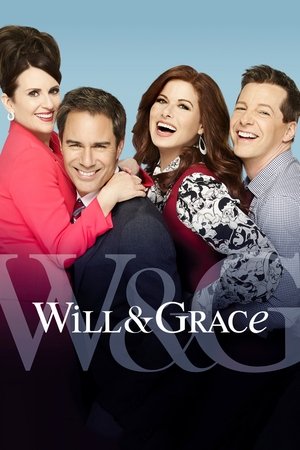 Episodes List
Ep.1

The West Side Curmudgeon
Air Date: 2018-10-04
Grace's accidental run-in with Noah, a curmudgeonly man she follows on Twitter, hints at a possible new love interest. Jack wants to look younger before meeting Estefan's family on Skype but makes a terrible first impression after overdoing the numbing cream before his facial procedure. Meanwhile, Will helps Karen protect the intellectual property rights of her most prized possession.
Ep.2

Where In The World Is Karen Walker?
Air Date: 2018-10-11
Will, Grace and Jack are upset when they discover they've been too preoccupied with the changes in their own lives: Will teaching law at Columbia, Grace running for president of the New York Interior Designers Society and Jack's new relationship with Estefan to even notice Karen has not been seen in days – ever since her husband found out about her affair with Malcolm.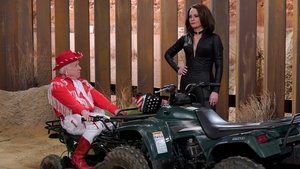 Ep.3

Tex and the City
Air Date: 2018-10-18
Will and Jack visit Jack's grandson, Skip, in Texas to watch him perform at his church's talent show. But when Jack learns Skip plans on singing "Diamonds Are a Girl's Best Friend," he becomes afraid for his grandson's safety. Karen tags along to check out the portion of the border wall she sponsored, only to discover that Beverley Leslie has claimed it as his own. Grace and Noah try to figure out if something is wrong in their relationship because their attempts to have sex have failed.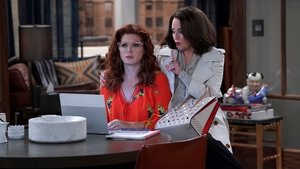 Ep.4

Who's Sorry Now?
Air Date: 2018-10-25
Now a certified psychic, Jack channels Rosario to help Karen open her heart to love again; Grace learns love means having to say you're sorry... to Will.
Ep.5

Grace's Secret
Air Date: 2018-11-01
Grace reveals a secret from her past to her father, changing their relationship forever; legendary drag queen Miss Coco Peru emcees a lip-sync monologue throwdown to determine who will be Jack's best man, Will or Karen.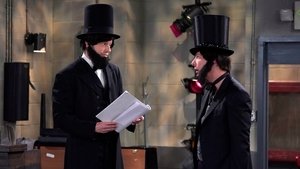 Ep.6

Kid 'n Play
Air Date: 2018-11-08
When Will discovers Noah has a child, he promises to keep the secret from Grace; Karen and Jack's relationship is tested when she fires him from the play she's producing and replaces him with Jon Cryer.
Ep.7

So Long Division
Air Date: 2018-11-29
Will convinces Grace that her boyfriend, Noah, isn't in the wrong by refusing to let her meet his daughter, Katie. When Grace goes to apologize to Noah, she unintentionally meets Katie. Meanwhile, Will's mom, Marilyn, visits after the death of her beloved dog, and becomes upset when she doesn't get the emotional support she expects from her son. And Jack gets into an argument with his rec center boss, Theo.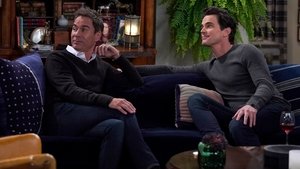 Ep.8

Anchor Away
Air Date: 2018-12-06
In order to land a handsome, gay TV news anchor with a pension for dim, frothy men, Jack convinces Will to not be himself and to act like someone silly and stupid. Karen learns that her alimony will be severely limited unless she can get photos of her ex-husband's affair with Lorraine Finster, so she enlists Grace to go with her to the strip club where Lorraine works. Olympian Adam Rippon has a cameo as a barista with an attitude.
Ep.9

Family, Trip
Air Date: 2019-01-31
Will, Karen and Jack unknowingly take a hallucinogenic drug, which causes Will and Jack to wonder if they're each other's soul mate and has Karen giving her last "performance" as Mrs. Stanley Walker. Meanwhile, Grace is shocked when her high-powered client takes up with her sister Janet.
Ep.10

Dead Man Texting
Air Date: 2019-02-07
Will and Grace's plan to win over Will's new Columbia department head goes awry when he drops dead in their apartment - and they use his phone to text his full recommendation of Will. Karen and Estefan's dislike for each other puts Jack in full damage control mode when he must keep them separate at his birthday dinner.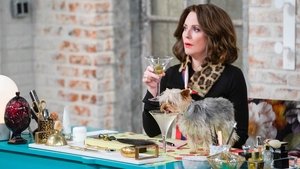 Ep.11

The Scales of Justice
Air Date: 2019-02-14
When Will discovers Karen's estranged stepdaughter Olivia is a student in his law class, he attempts to solve their issues with a mock trial. Grace and Jack go on a diet together, but giving up their eating habits proves harder than anticipated.
Ep.12

The Pursuit of Happiness
Air Date: 2019-02-21
Malcolm enlists Grace to help him win back Karen's affections. Will's flirtation at work lands him in an ethical dilemma. Jack's passion for performing is reignited by a chance encounter with Zusanna, the sister of his former acting teacher.
Ep.13

The Real McCoy
Air Date: 2019-02-28
Will gives local newscaster McCoy Whitman a second chance and, with the help of Jack, finally gets to know the man behind the newsman. Grace's campaign for Design Guild President hits a snag when the deciding vote comes down to her old nemesis, Val. Karen acts as Grace's campaign manager, and attempts to secure Val's vote by any means necessary.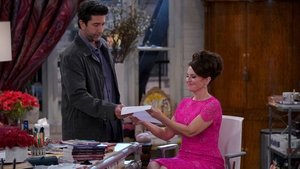 Ep.14

Supreme Courtship
Air Date: 2019-03-07
Jack's insistence that Will be nicer to his fiancé, Estefan, backfires when Estefan thinks Will is in love with him. In a hurry to buy her boyfriend Noah a Valentine's Day gift, Grace unknowingly knocks over a prominent figure while going after a taxi. And when Karen discovers that Noah not only writes her favorite romance novels but also plans to kill off the main character, she forces him to rewrite the story.
Ep.15

Bad Blood
Air Date: 2019-03-14
After her dad, Martin, is rushed to the hospital, Grace is shocked when he refuses a transfusion of Will's blood. Will's mom, Marilyn, uncharacteristically takes Martin to task. Karen's demands cause Jack to uninvite her to his wedding.
Ep.16

Conscious Coupling
Air Date: 2019-03-21
When both of their boyfriends ask to move in, Will and Grace use each other as an excuse to get out of it. A snowstorm traps Karen at the office and Jack in an elevator, where he reunites with old flame Drew and tests his commitment to monogamy.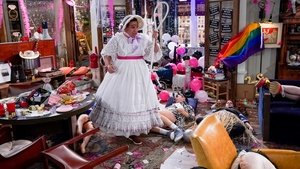 Ep.17

The Things We Do for Love
Air Date: 2019-03-28
Jack realizes he lost 13 gold coins he's supposed to give Estefan at their wedding to avoid a curse. Will is concerned that Grace is the only one compromising in her relationship with Noah. Karen shows up at a dinner party with her new date, Nikki.
Ep.18

Jack's Big Gay Wedding
Air Date: 2019-04-04
Jack and Estefan's wedding takes a detour when they're forced to get married at the airport by their friend Miss Coco. Will's worried his relationship may turn long-distance. Grace meets a charming guy. Karen reconsiders her commitment to Nikki.